Projects
United Salt Co.: B2B Website Rebrand to Focus on the Future
A stylish redesign with customers in mind
Established almost 100 years ago, United Salt is a well-seasoned player in the salt production game. While they are a very customer-centric brand, their website wasn't meeting their standards. Enter: Red Door Interactive. United Salt approached us to quickly redesign their site — and ultimately — elevate the customer experience.
Services Provided
The challenge
United Salt revamped their brand framework to better showcase their commitment to creating strong relationships with both their customers and employees. They needed a website that brings this brand value to life and effectively demonstrates this rich story. They also wanted to recognize their long-standing position in the industry while showcasing a focus on the future of the company.
Our Approach
We hand-picked experts from our team to manage the design, development, and decision-making. After all, redoing a website can be a heavy lift. But that's where Growth-Driven Design (GDD) comes in handy.


Growth-Driven Design


As our preferred web-development approach, GDD allows us to quickly create a beautiful and agile website. Before diving into development, we gathered the top goals for the new site. These included:
Convey that United Salt are experts in their industry.
Show United Salt as a company that puts relationships at the forefront.
Support a variety of stakeholders – from customers to suppliers to existing and prospective employees – in finding the information they need.
​We relied on Reds Door's module library to quickly and easily lay out the site. This is a set of pre-developed modules that are based on usability best practices, designed and built to meet WCAG 2.1 AA guidelines, and are able to be incorporated into a variety of page templates. We then tailored the layout and design to match the United Salt brand.



The Solution


Our team redesigned the site to show that United Salt is the dependable, relationship-focused salt producer that customers want. A simplified user journey helped us accomplish this and included these details:
Clear showcasing of products including usage, brand, and bulk-sizing callouts
Consolidated content pages that let the customer see information up front.
A single "About Us" page to tell the United Salt brand story.
To deliver on our promise of a beautiful website, we implemented a tasteful palette of warm earth tones, fonts that speak to heritage, and action-oriented lifestyle images. The site reads as personable, people-centric, warm, rustic, hard-working, traditional, trustworthy, and honest — a true reflection of United Salt's core attributes.
The Results
Through our creative and web development efforts, we helped position United Salt as a leader in the salt-supply industry — and in putting the customer first.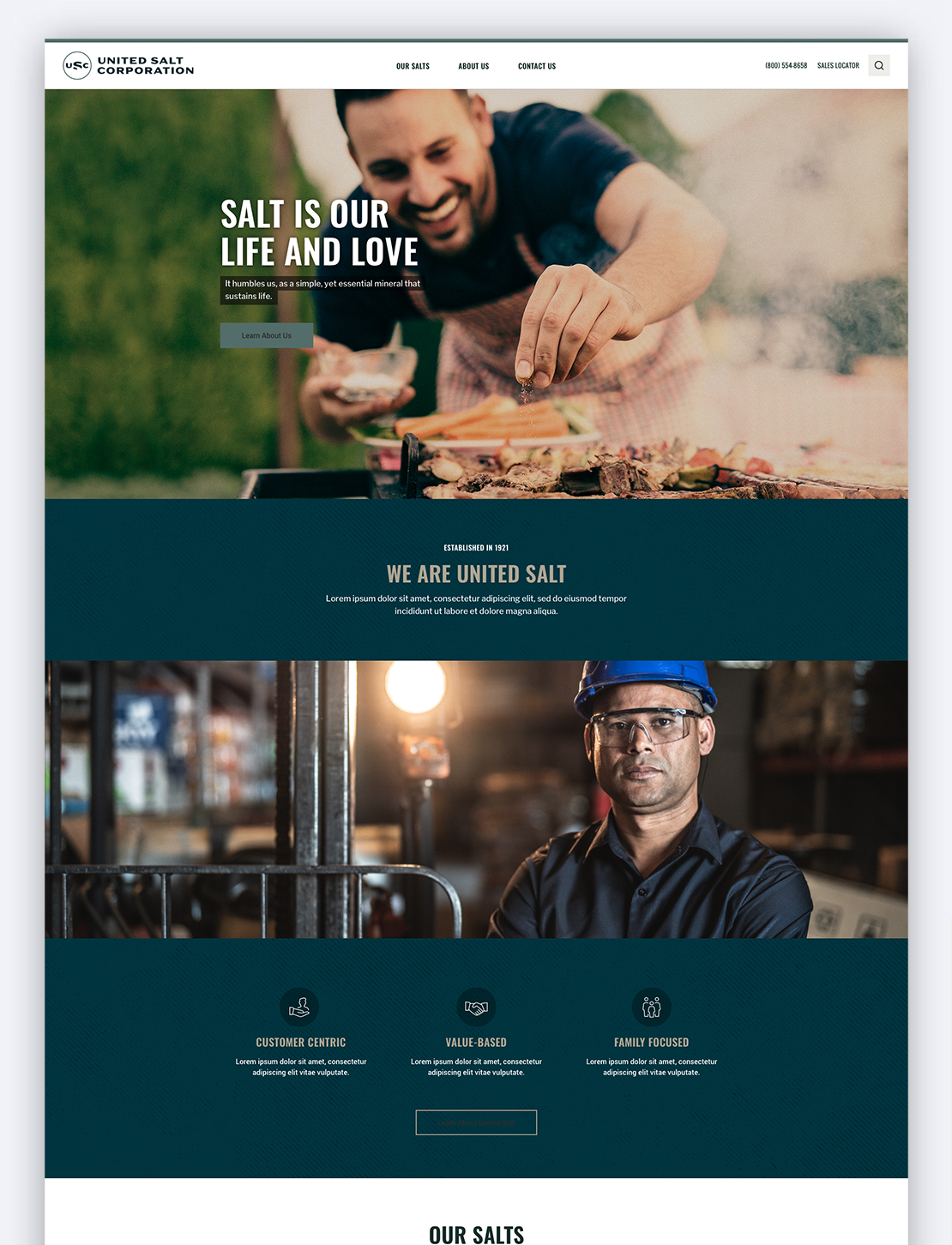 Let's create something meaningful together.
Contact Us