Projects
HEOS: Amplifying the brand
Creating an Immersive In-Person Experience at KABBOO
Hosted annually at the iconic Del Mar Fairgrounds, KAABOO is the ultimate mix-perience, featuring three full days of live music, art, comedy, fine cuisine, top-notch amenities, and more. With its music-loving crowd, KAABOO was the perfect venue to increase awareness of HEOS by Denon products.
Services Provided
The challenge
HEOS by Denon approached Red Door to help support their first ever on-site representation at the Del Mar KAABOO Festival. The ask was to deliver a premium, personal experience for festival goers, with the ultimate goal of capturing email opt-ins, driving sales, encouraging product demos, and boosting social engagement.
Our Approach
With no specific parameters on how to create this experience, and because this was Denon's first time at KAABOO, we pushed the limits to not only create an engaging festival presence, but also a lasting impression that consumers could walk away with.
The Idea
The Red Door team wanted to somehow bring to life the multi-room functionality of HEOS' speakers, and after a series of creative brainstorm meetings, we landed on a final concept: to host the ultimate HEOS House Party. We started by building an actual house within our 10'x20' activation space to create an immersive product experience that felt seamless and not transactional. The structure was equipped with a sound wall of HEOS by Denon speakers, a welcome mat, couches, a front and backyard setup, a neon sign featuring our custom-designed HEOS House Party logo, and a kegerator dispensing craft root beer, poured into branded Solo cups. To feature products and encourage brand recognition, we mounted 50+ HEOS 3 speakers and a flat screen TV paired with a HEOS HomeCinema, demonstrating the power of HEOS sound.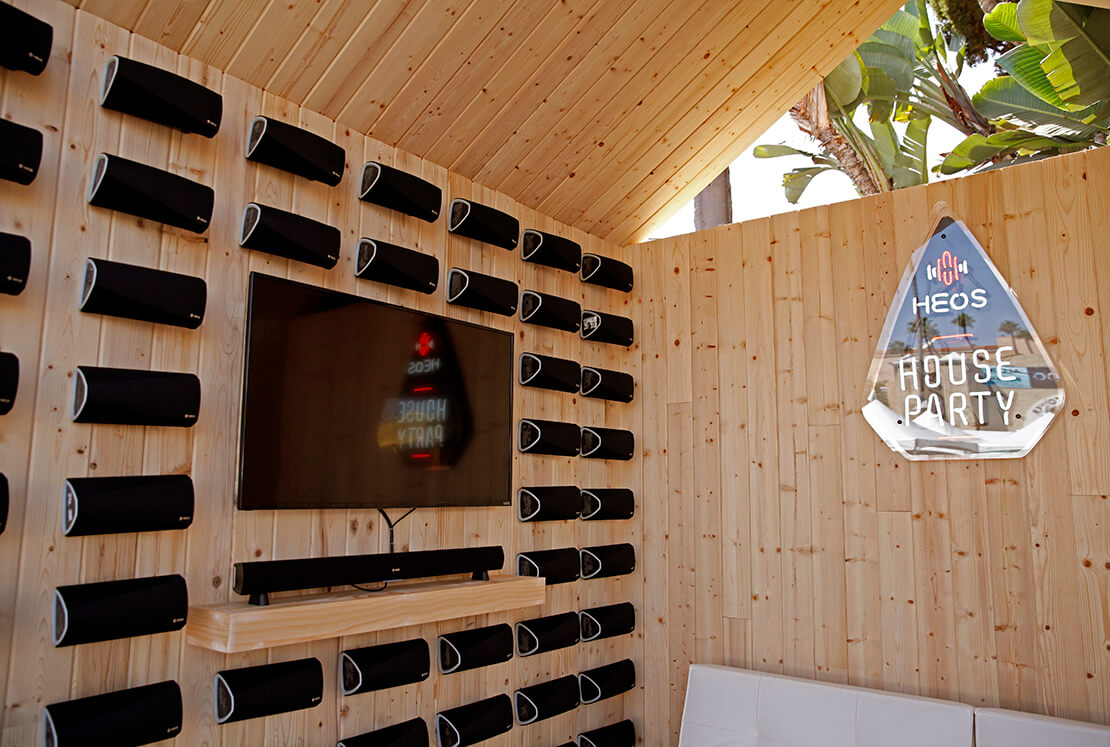 Consumer Engagement

High consumer engagement was integral to Denon's goals for the event. Upbeat energy and an extraordinary aesthetic drew over 100,000 booth visitors throughout the three festival days. Getting these guests to share event photos on social media was a priority, so we made it as easy as possible by incorporating a photo booth, props, and Polaroid cameras. A total of 482 photos were taken using the HEOS House Party photo booth, and through the #HEOSHouseParty hashtag, we were able to search for quality user-generated content on multiple social media platforms. Upon receiving permission from users, we posted their photos and videos on Denon's social media channels.

Booth visitors were also encouraged to enter a contest for the chance to win a HEOS speaker – we gave away one HEOS 1 speaker every hour, and a HEOS HomeCinema at the end of every day, with 33 total winners. Discount codes provided at the booth led to 148 visits to the temporary, promotional HEOS landing page, with 1,550 total visitors entering the speaker giveaway contest. These incentivized contests allowed us the opportunity to capture email addresses from interested consumers, one of our main tasks for the event.

We used Denon's social media channels to spread awareness and engage consumers, reflecting the event experience in a way that was consistent with HEOS by Denon brand standards. Between the three channels, our #HEOSHouseParty promoted hashtag resulted in 106 mentions and 6,215,662 impressions overall, dramatically increasing consumer awareness of the brand. The overwhelming amount of photos taken during the event allowed Denon to use artistic product photos, gifs, and boomerangs for social media posts after the event. We interviewed influencers for real-time video streaming content on Facebook live and invited viewers to ask questions. Interesting moments and behind-the-scenes booth experience footage was incorporated into Denon's Instagram story. Throughout the weekend of the festival, Denon's social media channels received 1,486 active engagements due to the event's success.

Not only was this event a huge success for Denon, but a significant win for the Red Door team, as we successfully executed our first on-site activation experience, giving way to future event marketing opportunities.
Let's create something meaningful together.
Contact Us