Projects
ASICS: Powering SEO with a Pronation Guide
Content that Converts
In our latest SEO project with ASICS, we wanted to develop content that would be ideal for both SEO and conversion with opportunity for promotion across multiple channels.
Services Provided
The challenge
ASICS wanted to consistently increase traffic and conversion for the ecommerce site, so we wanted to identify SEO opportunities for relevant non-branded terms.
Our Approach
We created specific top to mid-funnel content that could work not only cross-channel, but cross-region.
Strategy & Execution
Through an international content gap analysis, we analyzed 200,000 keywords in six languages and nine countries, measured against three competitors in each.
Eventually, we came across a pronation guide that was trafficking differently in the European region than in the others, and converting at a very low rate. It turned out that because the UK version of the content was the most search friendly, US and Australian users were also driven to the UK site, where they were not able to complete a purchase. Recognizing this great content opportunity, we worked to improve the existing pages, add supporting subpages, and roll out to all countries a cohesive ASICS ecommerce presence. We identified the global search volume opportunity at over 100,000 searches per month for pronation related content.
To reach our objectives, we first created a Search Intent Optimization roadmap, uncovering what type of content users were searching for. We identified the need for the creation of four pages to answer the informational intent of "what is pronation" as well as the commercial intent of "under," "over," and "neutral pronation running shoes" keywords. SEO elements, subheadings, and topics were also decided during this time.
Cross-channel collaboration between Red Door's SEO, Social, Content, CRO, and Creative teams allowed us to develop specific strategic inputs from each subject area. Following the creative brief conception, our SEO team worked closely with the ASICS ecommerce team to create supporting product listing pages for each pronation type, offering a linking destination from the guide to serve as an entry page for specific terms. We then created the wireframes and page designs to handoff to the ASICS regions for localization and deployment in 17 countries.
Check out the unique Pronation Guide landing pages for the
US
, and the
UK
.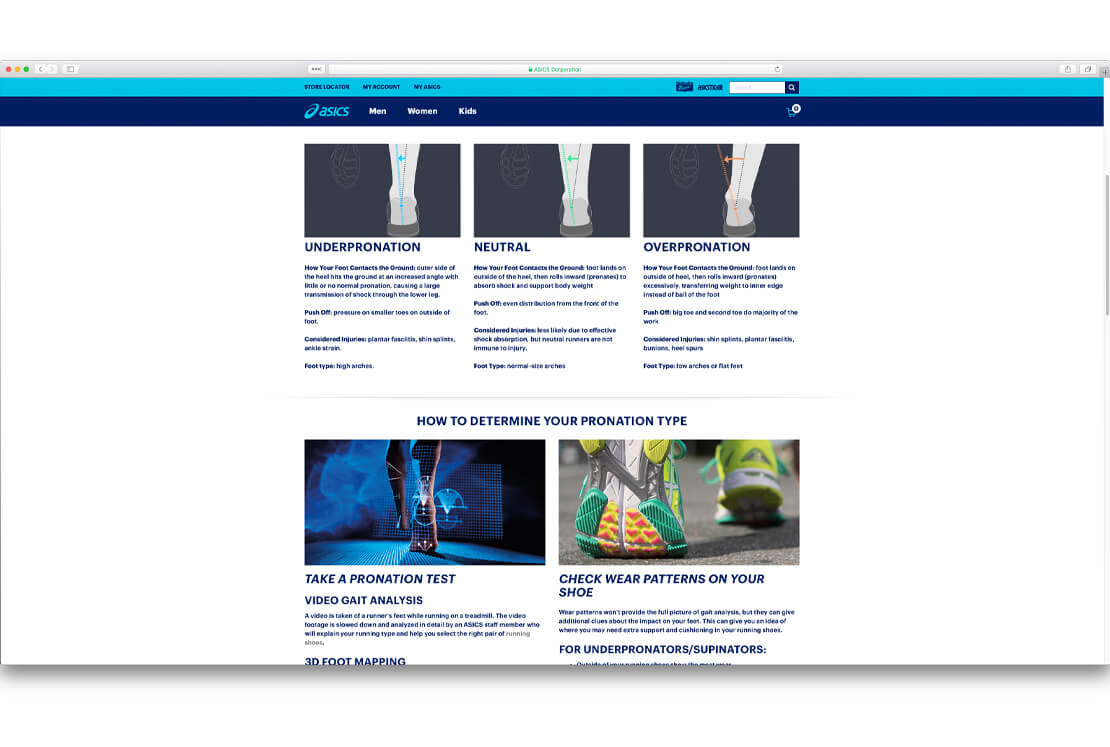 RESULTS & EVALUATION
Since launching in November of 2016, conversion rate of the new pronation hub increased by 151%, and all channel revenue increased by 213% year over year, resulting in an incremental $142,399 in revenue to date. Additionally, the Pronation Guide URL drew a 40.33% increase in organic traffic quarter over quarter, with a 58% increase in revenue for URLs containing "pronation."

The evergreen nature of the page allows it to maintain relevancy, and it is expected to continue to drive revenue for years to come. Meanwhile, we continue to search for opportunities and content gaps to better optimize the site and ultimately drive more revenue for the client.
Let's create something meaningful together.
Contact Us