Programs
HEOS by Denon: Developing a brand narrative
HEOS IS A WIRELESS SOUND SYSTEM, CREATED BY GLOBAL AUDIO GIANT, DENON. AS A NEW PRODUCT IN A COMPETITIVE MARKET, HEOS NEEDED TO NOT ONLY BUILD BRAND AWARENESS, BUT TO STAND OUT FROM THE CROWD.
In 2013, Denon came to us with two things: the empty-shell prototype of a new speaker, and the exciting task to develop a brand identity that could position the product as a leader in the future of sound.

From concept to launch
With the upcoming launch of Denon's new wireless speakers, we saw an opportunity to use the brand's existing reputation of superior sound to make a splash in a new competitive market. To deliver on this goal, we built a strategic launch plan leveraging audience and market research, created a brand identity through naming, logo, and style guide development, and executed all online and in-store promotion efforts.
The HEOS Brand Identity
The branding process started with a naming project. But after rounds of brainstorming different names, we couldn't find a word that felt right—so we made one up. To us, "HEOS" carried the feeling of confidence and sophistication that Denon wanted to achieve, and inspired a sense of innovation as we looked toward the future.
read the case study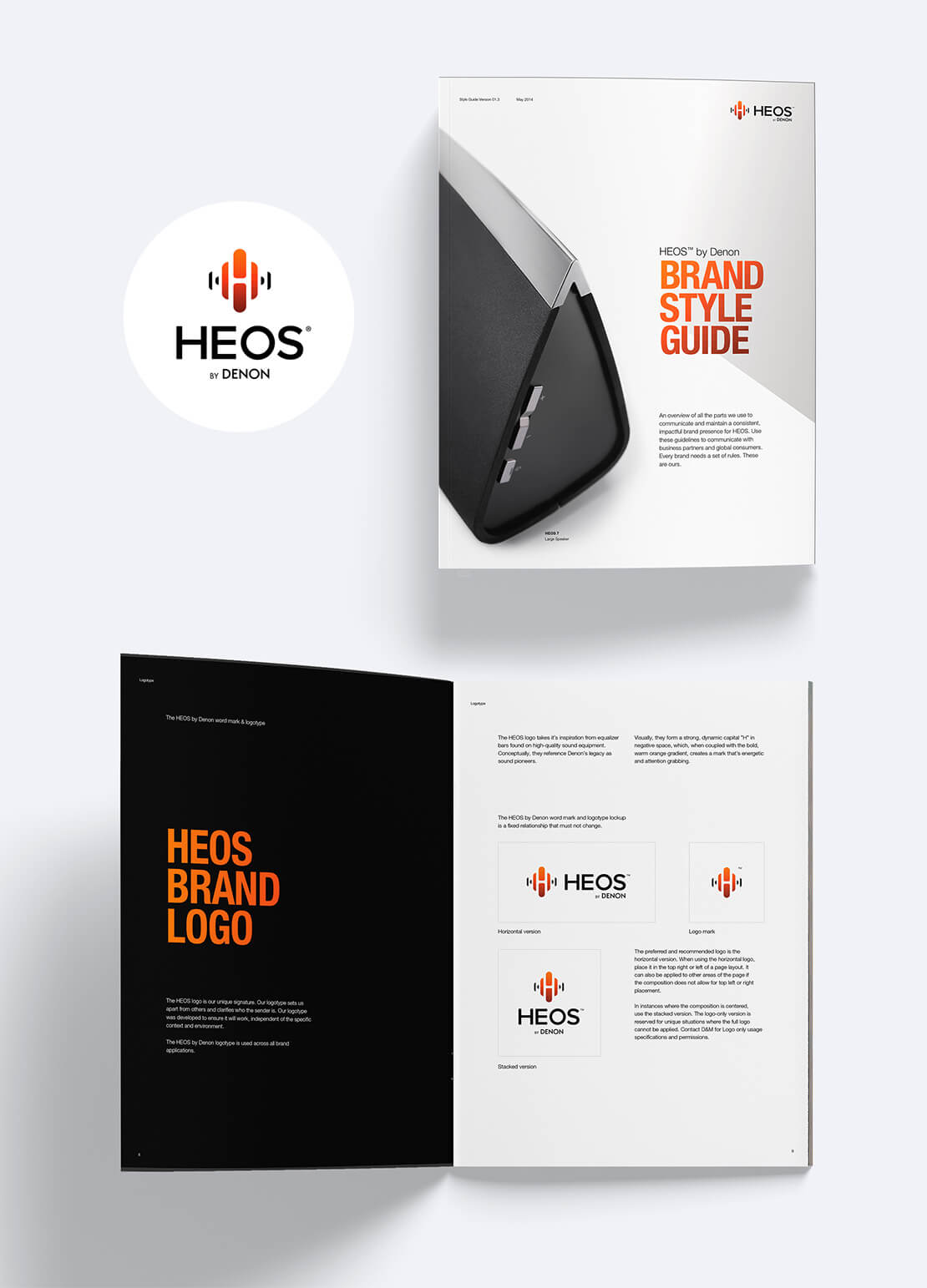 HEOS Promotional Content
Once we established HEOS' brand identity, we got to work building out all collateral to support its product launch and ongoing promotion. This included the design and development of a microsite, the concept and art direction for a video, the planning of an email program, the creation of POP and tradeshow graphics, and more.
read the case study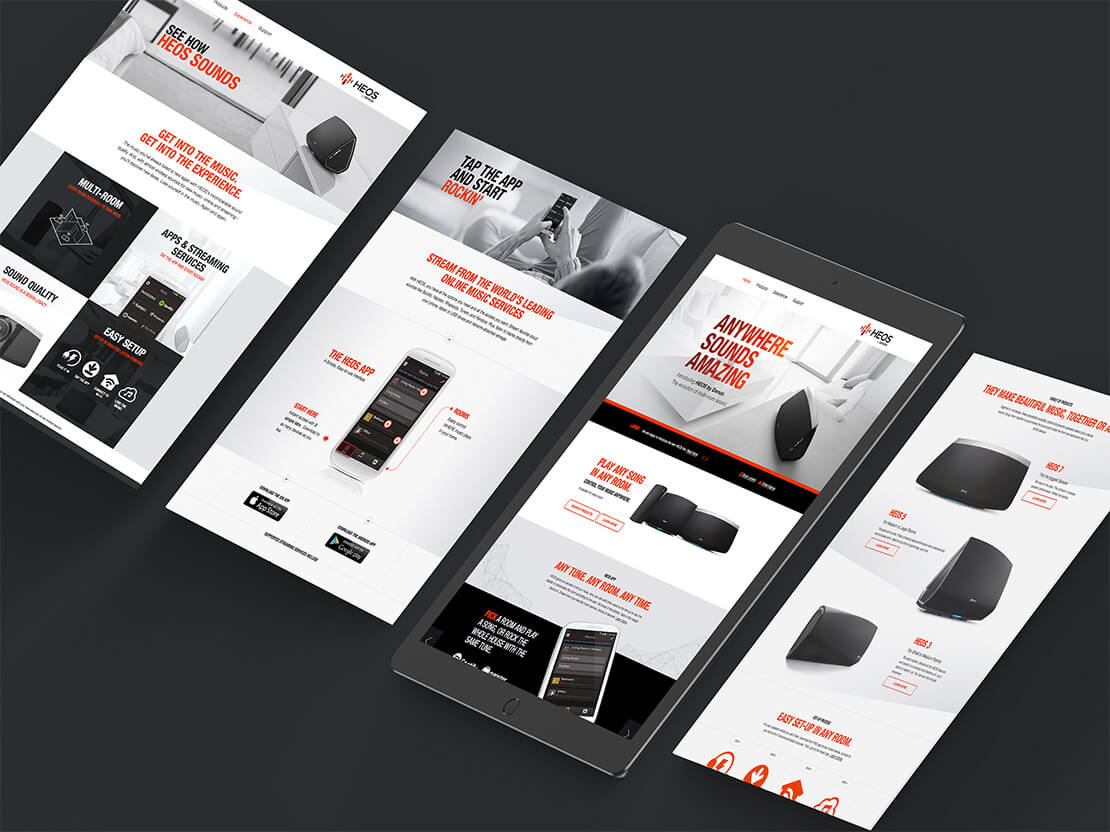 From online to on the ground
HEOS by Denon launched in the summer of 2014, to a lot of positive reception from the music technology industry and audiophiles alike. However, the story had only just begun—as HEOS continued to add to its music services and its line of products, we continued to look for ways to develop the brand narrative and engage a unique audience of music lovers, and in more ways than just online or in-store.
HEOS House Party
In 2016, we supported Denon in their first-ever sponsorship at the Del Mar KAABOO festival. At first, the ask focused on product placement and signage, but we wanted to push the limits, turning a 10'x20' booth space into the ultimate HEOS House Party. With a custom neon sign, a root beer kegerator, and a wall of HEOS speakers, the immersive experience made a big impression that lasted beyond the festival weekend.
read the case study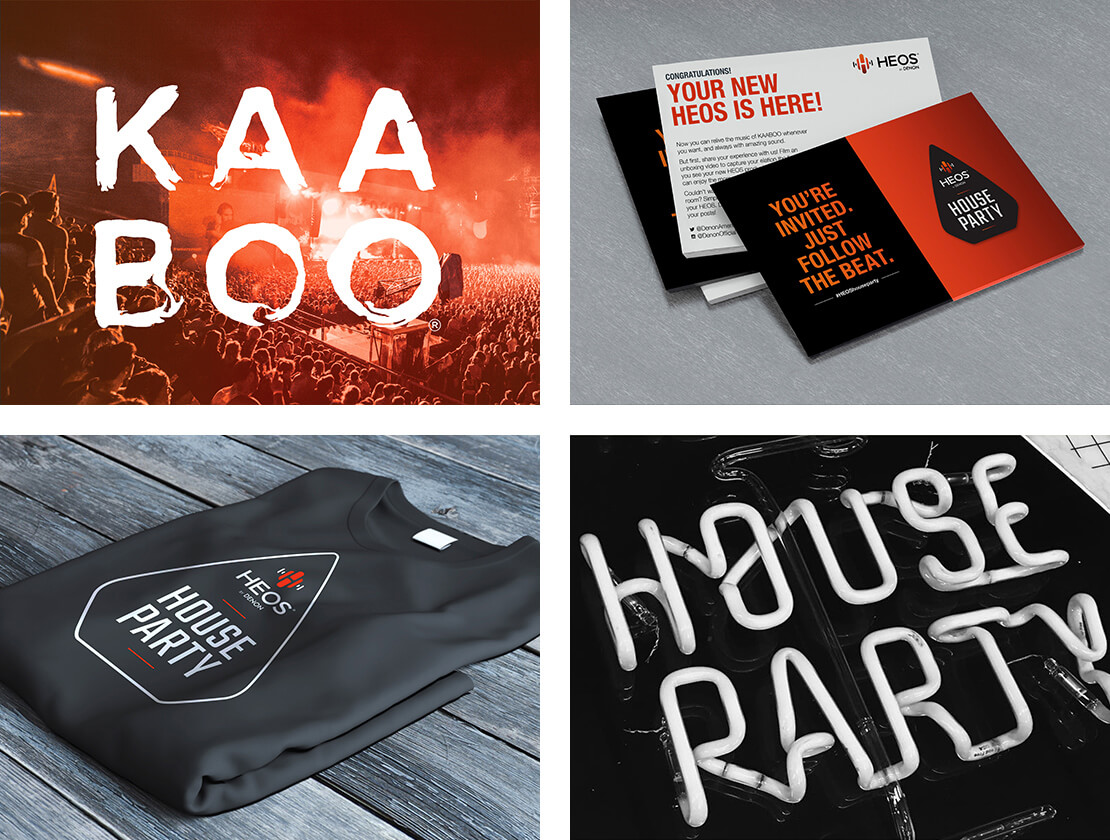 Looking Ahead
From concept, to product launch, to ongoing promotion, our relationship with Denon—and the HEOS brand narrative—is constantly developing and growing. With the same creative spirit that motivated us from the beginning, we're looking toward exciting future opportunities, eager to see how this story continues to unfold.
Let's create something meaningful together.
Contact Us