Social listening is the process of gathering, analyzing, and acting on conversations across the internet. From audience insights to feedback for product development, social listening is more than just social media data. In his guide, we will review all aspects of social listening, from its definition to how to get started using a social listening tool.
Table of Contents
Free Download! Check out our social media trends report, which utilizes social listening data to predict potential online conversation size in various industries.
What is Social Listening?
What is social listening? Put simply, social listening is the process of tracking, segmenting, analyzing, and then leveraging online conversations to evolve your marketing strategy. Another definition by NetBase states that social listening helps "measure brand sentiment, the effectiveness of social campaigns, and to fuel content creation for target audiences." Though this definition focuses on content as the output (which we'll get to later), it highlights that social listening is an input to increase connection with your target audience (which we'll also address later in this guide).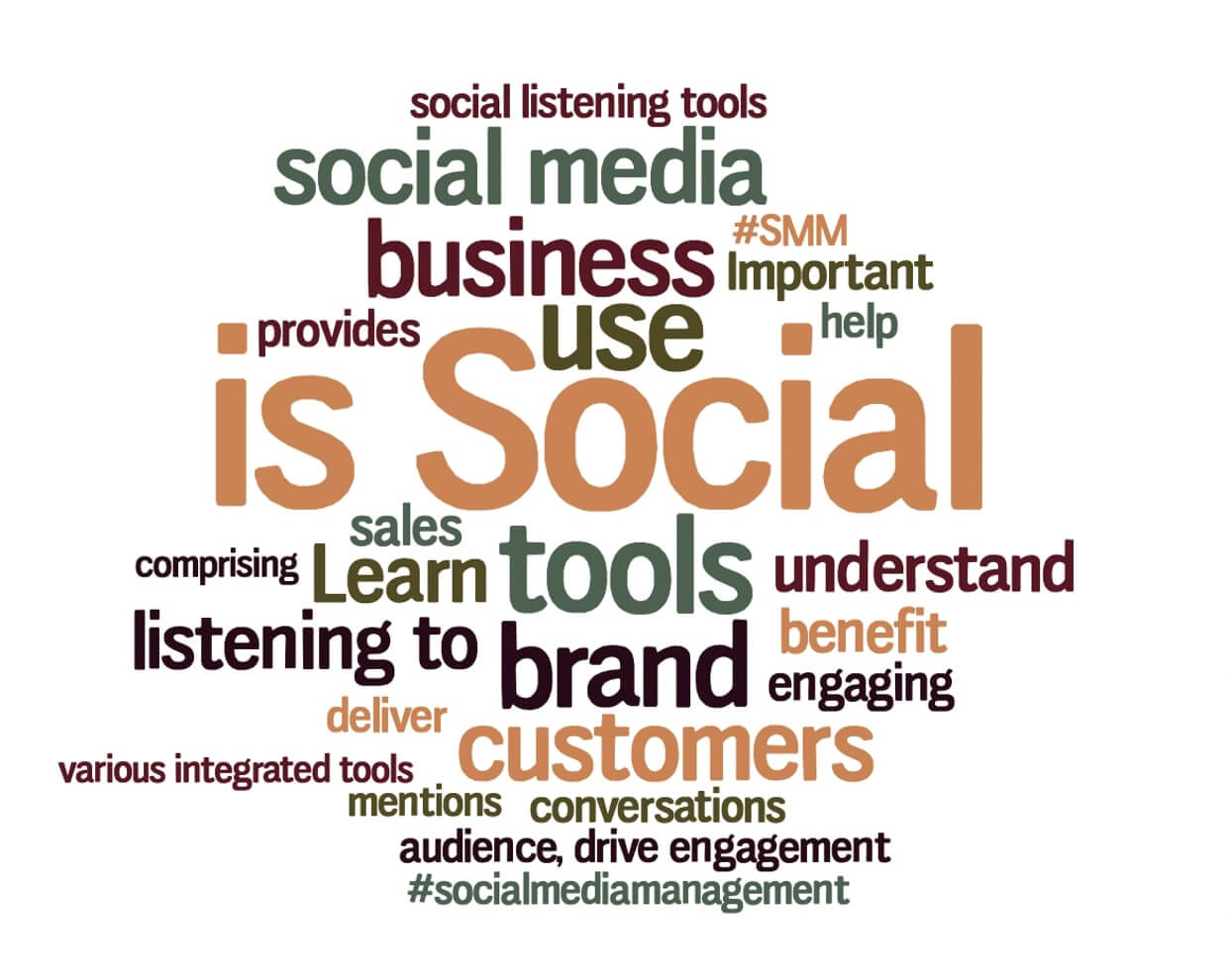 After reading these two definitions, you may have caught on that social listening is generally a three-part process. This process is extremely proactive, starting with a need or hypothesis and then finding the data to either support or refute that. The three parts to social listening are:
Find and monitor conversations: This can be conversations about your brand, competitors, industry, or product—anything you need to better understand or have a hypothesis around
​Segment and analyze these conversations: Find insights that help to answer your question.
Take action: Create actionable insights from your analysis to change marketing messages, materials, products, etc., to solve consumer needs.
The last part is likely the most important. Social listening is not just social media data. Social listening tools scrape the entirety of online conversations (outside of areas with data and API restrictions) to provide a comprehensive view of conversations across the internet.

Below is an example of a data visualization from our social listening tool, NetBase. We created a topic to find mentions of "digital marketing" and then used this image to understand what online sources see the most mentions of digital marketing. While Twitter provides a large amount of data, you can see that the majority of other mentions are found on news sites, blogs, forums (like Reddit or Quora), etc. This gives us a larger view of conversations across all digital properties outside of social media.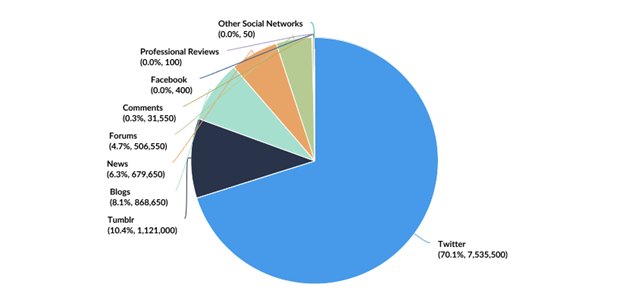 Social Listening Vs. Social Monitoring
Social listening and social monitoring are frequently used interchangeably. However, when analyzing the definitions of each, we understand that they are extremely different. Though monitoring is loosely associated with social listening, it is typically a piece of the whole process. Social listening, as defined above, is the process of tracking online conversations, analyzing them, and then using that analysis to influence marketing efforts.

Sprout defines social monitoring as "caring for your customers by monitoring social media for messages directly related to your brand and responding to those messages appropriately." Therefore, social monitoring is related to the process of community management. Many brands utilize social media as a customer service channel (as you should), and social media monitoring is the process to make that happen.
Hey @RenttheRunway @rtrhelp I was asked to give you 3 dates and times that were good for a supervisor to call me. Nobody called. Your company is absolutely horrible. NEVER rent from Rent the Runway!! https://t.co/Sr0m9axxpq

— BaoWaoWow (@BaoWaoWow1) July 6, 2021
To summarize, social monitoring is about being reactive to conversations happening about your brand or on your brand's channels. On the other hand, social listening is proactive in finding conversations and using them to influence future brand decisions. Social monitoring addresses conversations that have happened in the past. Social listening can look forward and backward to monitor past and current conversations, which helps make decisions in almost real-time.
Why Social Listening Matters
If you aren't currently utilizing social listening, you are missing insights that can inform almost every branch of your business. Why is that? Social listening provides context behind trends you may be seeing in your business. Deep sentiment analysis allows us to understand not just what consumers are feeling but why. For example, social listening analysis shows not just that customers don't like your new menu item, but why they don't. Maybe they loved the fresh ingredients but thought it lacked flavor. These insights unlock an understanding of sentiments behind a topic, enabling marketers to make endless decisions from changes to products to the development of new marketing content.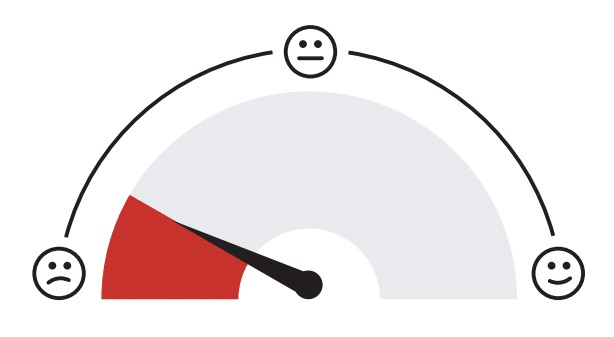 Social listening also allows us to get real-time insights straight from the consumer. Do you wonder what your target audiences care about? After reading audience insight reports or reviewing demographic data, you may still be hypothesizing what they are passionate about. What if you could ask your audience, in real-time, how they feel about your brand or industry? Social listening is the tool to do just that. Real-time data allows you to create queries/topics that unlock your audience's likes and dislikes, their thoughts on your brand, or better understanding other passions they have. This allows you to better predict what they might be receptive to. We view social listening less as a social media tool and more as an audience insights tool that helps us understand our audiences' intent and what might grab their attention.

Lastly, social listening is a proactive rather than reactive process. Typically, we wait to see how much of a certain product sells or what content performs best, then make marketing decisions. Instead, through conversation analysis, social listening allows us to see how consumers react to our marketing messages, products, etc., in real-time. This helps us proactively make data-informed decisions and enhance other learnings from performance data or audience demographic information.
Social Listening Strategies: How Your Brand Can Leverage Social Listening
Now that we know why social listening is so important, we need to understand social listening strategies that can be leveraged to make better business decisions. While the possibilities are endless, there are a variety of social listening strategies that can provide insights that drive results for various business objectives. With its ability to collect information about any audience, topic, or trend, social listening strategies can enhance almost every area of your business, from understanding changes in your brand perception, to identifying an emerging trend in your industry.
Track Brand Conversation & Sentiment
Why is it important to listen to conversations about a brand? We talked about social monitoring and how it is defined as reacting to mentions of your brand. But what about brand mentions that are happening outside of your owned channels? Cue social listening. Social listening allows you to see comprehensive mentions of your brand, service, or product happening outside of tagged posts or @mentions. This helps you understand the ebbs and flows in brand conversation, which can affect everything from traffic coming to your website to the sales volume of a certain product. This also allows you to identify real-time conversations happening about your brand and decide whether you want to jump in and participate.

Tracking brand conversation allows you to:
Understand how users are feeling about your brand: what do they positively and negatively associate with your brand?
Gauge brand interest: is interest in your brand increasing or decreasing?
Explore audience intent: what type of actions are users stating they are doing in relation to your brand? Are more users just learning about your brand or are they actively researching your products?
Social listening metrics to track for brand conversations:

As a general note, we recommend tracking the percent change in these metrics over a given period of time. We also recommend looking at earned metrics, meaning conversations that truly come from users and not your brand channels. Looking at all conversations, including conversations from your brand channels, can skew metrics for brand health:
Total earned mentions
​Trending earned conversation (key terms associated with your brand that have increased in use over a short period of time)
Conversations associated with your brand + behavioral terms (buy, want, looking for, etc.)
Understand Your Target Audience & Find New Audiences
Social listening data provides a pulse on how your desired audience, or any audience for that matter, feels about your brand, industry, product, or other topics that could be associated with your brand. Social listening tools allow you to understand your audience in a few ways. You can create topics that pull mentions of your brand, industry, or product and see what consumers are saying about that topic. You can also create topics that pull all conversations that come from a certain audience or channel. For example, a topic could be created that looks at all conversations coming from audience members that have "#fitmom" in their profile. This allows you to get hyper-focused on your target market in relation to brand or industry and understand their other passions.
Analyze your audience and their conversation around specific topics to:
Receive direct feedback from your audience around your brand or a topic: what do they like and dislike about this?
Understand additional interests or passions of your target audiences.
Discover new untapped audiences that align with your brand or industry: do you notice profiles or people talking about your brand or industry that you wouldn't have considered in your market?
Social listening metrics to track for audience conversation:​
Top terms: what are the top terms that your audience uses when describing your brand, product, or industry?
Earned conversations by sentiment: what positive and negative words is your audience using with your brand?
Top authors by total mentions: who is talking about your brand or industry most frequently? What are they talking about and what other passions do they have?
A brand that is WONDERFUL at using social listening to better understand their audience is Glossier. This cult beauty brand frequently listens to their audience, understanding their passions inside and outside of the beauty world, and creating products that align with what their audience clearly states they are looking for. How else would they have known their audience would love to visit a fake Antelope Canyon in their L.A. retail store, causing a line around the block?

Stay on Top of Crisis Management
Social listening can be used for crisis management, alerting you of any influx in brand conversations or increased negative sentiments around your brand. Getting these insights in real-time allows you to stay on top of crisis communications and should be a part of any comprehensive PR program.

Use social listening for crisis management to:
Be alerted when your brand is experiencing an influx of negative conversations.
​Address conversations in a timely manner to decrease potential damaging impacts to your brand.
Keep track of the syndication of large (negative) stories published about your brand across a variety of platforms.
Social listening metrics to track for crisis management:
Trending conversations by mentions: have mentions of your brand increased above normal in a short amount of time?
Mentions of your brand + crisis key terms: this list of crisis key terms (like fire, explosion, sue) should be determined with your crisis communications team
Rapid decrease in net-sentiment score
As outlined by Spiralytics, Olive Garden faced quite a crisis in 2019 when #BoycottOliveGarden began trending on Twitter, following rumors that the restaurant chain was donating to a presidential candidate. By staying on top of brand conversations, Olive Garden understood the conversation and directly addressed it to its fans.
We don't know where this information came from, but it is incorrect. Our company does not donate to presidential candidates.

— Olive Garden (@olivegarden) August 26, 2019
Identify trending topics and real-time conversations
How does a brand know that the tortilla challenge is trending on TikTok? Or how might a brand know that consumer speculation is increasing around a product drop? The answer is by listening. Social listening helps brands stay on top of trending topics and real-time conversations that are essential to connect with various audiences and create a relatable brand.

Use social listening to identify trending topics and real-time conversations to:
Be notified of trending topics and who is participating in them creating a data-driven decision if your brand should participate or not.
Identify real-time conversations happening about your brand and quickly determine how to respond.
Increase content ideation and generation
Social listening metrics to track for crisis communication:
Trending topics: most social listening tools allow you to track what is trending on Twitter
Trending conversation related to industry or non-brand topics: has conversation increased in a short time frame around a certain conversation related to your industry or a non-brand topic?
Engagement in trending conversation: is this trend gaining traction and attention? Or has it ended almost as soon as it began?
What's better than Miley Cyrus tweeting about you? Immediately creating a product just for her. What started as a gag tweet turned serious when Miley Cyrus responded to Chipotle's wish to create a Miley burrito on their app. Not only did Miley directly respond to Chipotle's tweets, but fans were going crazy across various networks begging for Chipotle to list the new menu item. Chipotle was able to list the menu item nearly in real-time, capitalizing on the trend and earning engagement (and sales).
We weren't kidding @MileyCyrus pic.twitter.com/pznBGw1U5E

— Chipotle (@ChipotleTweets) December 9, 2020
Track Competitors
Tracking competitors is a large advantage to using a social listening tool. Instead of manually going to your competitors' channels or websites to understand what they are doing, you will have competitive insights that can be delivered directly to your inbox. Staying abreast of competitor messaging and updates allows you to better understand how to position your brand in the market or take advantage of where competitors are falling short. This makes your brand a solution for your competitors' unsatisfied customers.

Use social listening for competitive research to:
Understand the positive and negative attributes consumers are using to describe your competitors to find a unique positioning for your brand.
Analyze competitors' content and messaging to see what is performing well for them and how you could emulate that success.
Receive real-time updates on competitor product releases, campaigns, and company initiatives.
See how consumers describe your brand in comparison to your competitors relating to a certain topic, industry, or category.
Social listening metrics to track for competitive analysis:
Share of voice: total mentions of your brand vs. competitors related to a certain category.
Sentiment drivers used with competitor names*: what positive or negative attributes, emotions, or things do consumers use to describe your competitors or your competitors' products
Top content by engagement: review your competitors' owned content and see which pieces of content receive the highest engagement.
*Note, sentiment drivers are a metric specifically offered by NetBase
Product Insight and Development
As we've mentioned earlier in this article, social listening is not just a tool for understanding social media conversations. This tool provides product insights, creating a view of product feedback and reviews from social media, review sites, forums, etc. This can be a goldmine for your product development teams, allowing them to take a comprehensive look at a product's feedback and make changes to better align with customer desire.
Use social listening for product insight and development to:
Segment conversations using filters to understand feedback by product attribute (like color, product type), category (like running, weightlifting, etc.), or part of the product/service (for example, shoe sole vs. laces).
Analyze the positive and negative attributes consumers use when describing your product/service.
Understand unique ways consumers are using your products/services to evolve marketing messages.
Social listening metrics to track for product insight and development:
Sentiment drivers used with product names*: what positive or negative attributes or emotions do consumers use when describing your products/services?
Product passion index**: what products are consumers most passionate about? Which products do consumers describe passionately (ie. Love or hate) vs. which products do consumers describe plainly (like vs. unsure).
Top terms: which terms do users most frequently use to describe your product/service?
​*Note, sentiment drivers are a metric specifically offered by NetBase.
**Passion index is a metric specifically offered by NetBase
A great use case for this type of listening is understanding how consumers feel about a new product or a new version of a current product. One RDI client noticed a change in sales and sentiments after releasing a new version of their cult-favorite products. We knew that social listening could help provide information around why this may be happening. We created a product feedback report with a comprehensive social listening analysis comparing mentions of various product attributes to consumer sentiment. When overlaying sentiment and attributes, we understood what consumers' exact pain points were with the latest version. We then provide insight to the marketing team and product development teams for the advancement of future versions.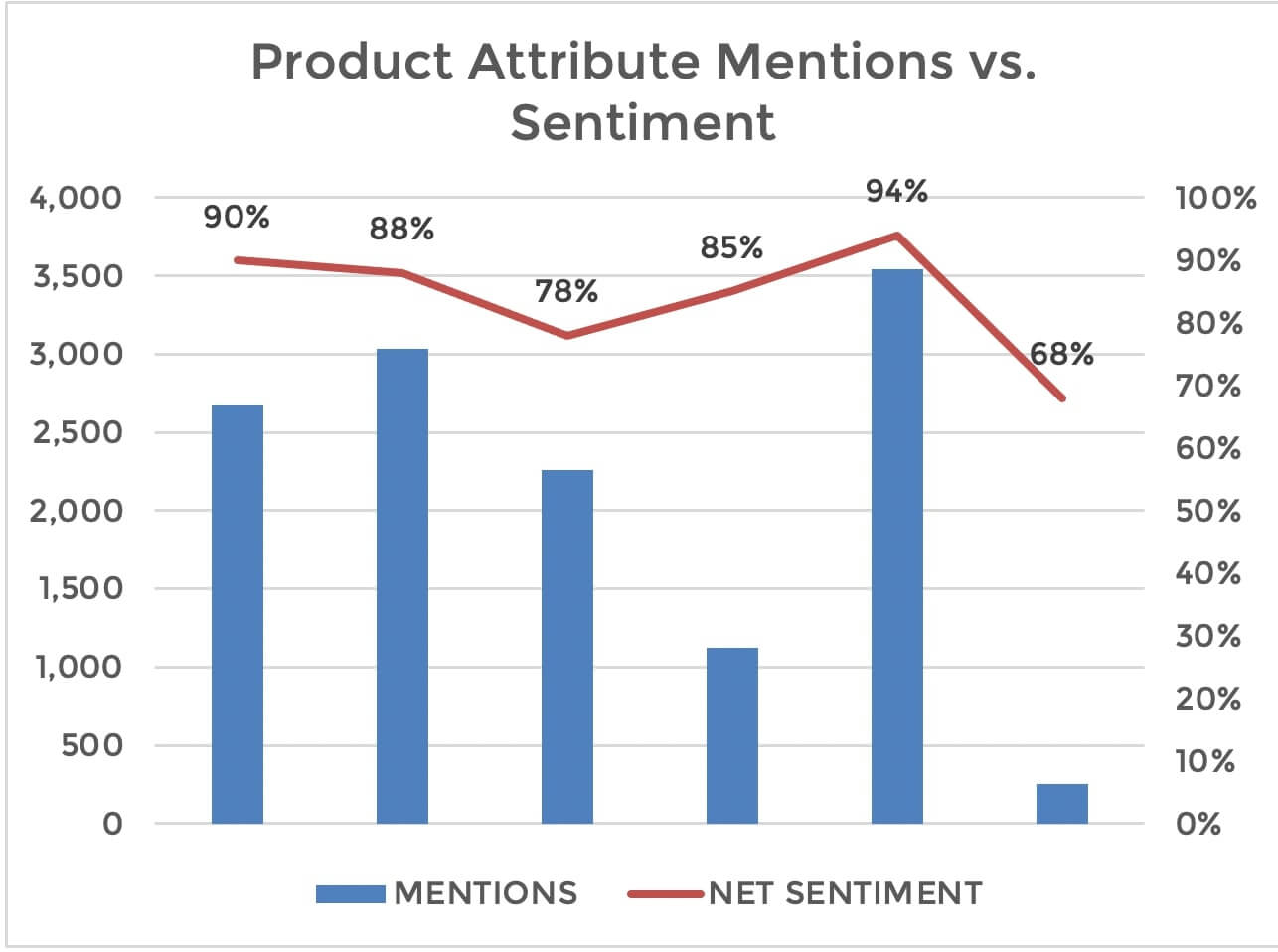 Develop a Content Strategy
Using social listening to develop your content strategy or improve a current one provides an advantage by creating the content your audience is asking for. A content strategy should be developed with a variety of insights, like keyword research and past performance. However, social listening allows you to hear directly from your audience what they care about related to your industry and provide additional context/sub-topics for content development that keyword research alone cannot provide.

Using social listening for content strategy development allows you to:
See what your audience is talking about concerning your industry, product, or brand to make content more relatable and useful.
Provide context to keyword research, understanding nuances, sub-topics, or sentiment around a specific keyword opportunity.
Learn more about what your target audience cares about and additional topics they would be interested in receiving content around.
Social listening metrics to track for developing a content strategy:
Top terms & things: what are the top terms and top things users are discussing regarding your desired topic/industry?
Audience interests: what interests does someone in your target audience group have? How can this help you create non-brand content that your audience will enjoy?
Top sources: where are users talking about your desired topic/industry? Where should your content be published and promoted?
Identify and Learn from Influencers
Using social listening as a strategy to identify, learn from, and work with influencers can allow you to pinpoint who is most influential to your target audience quickly. Influencers can be important for making connections to promote your brand. Additionally, you can monitor influencers, learn from their successes, and emulate them within your marketing efforts.
Use social listening for influencer identification to:
Find influential people in your industry or align with your target audience to promote your brand to an engaged community.
Identify & build an army of brand advocates by finding influencers who are already discussing or using your products.
Analyze influencers' content to understand what content topics, mediums, or channels are performing well for influencers.
Social listening metrics to track for identifying influencers:
Top authors of a specific topic: which authors publish most around a certain topic? Which ones receive the most engagement when publishing about a particular topic? Which influencers have the highest follower count who talk about a specific topic?
Top content by engagements: review a specific influencer's channel to see the content most engaged with.
Top authors, brand mentions: who is talking about your brand, product, or service frequently? Which ones are the most influential?
When Cannondale Bicycles wanted to promote their new fitness-oriented bike, we had to start from scratch with our influencer identification. Being a heavily performance-oriented company, Cannondale typically had relationships with professional athletes and amateur cyclists, but not fitness influencers. Using social listening, we were able to find a variety of fitness influencers, including mom fitness influencers, looking for a workout that could be challenging yet also low impact. Using the bike outdoors with their children was also a plus for many of our mom fitness influencers! Check out our case study here.

An Example Utilizing Social Listening Strategies
In order to provide an example, we decided to look at conversations around something we are passionate about—desserts. Specifically, desserts that are low-calorie and don't sacrifice taste. If we were a brand in this industry, we would utilize social listening to understand which flavors our audience liked most, what they love or dislike about our flavors, and what our competitors are making. This analysis would help our brand better position our products in marketing content.

Firstly, we would look at which flavors are mentioned most. We could use this to compare to online sales to understand demand or which flavors should be used as tasters in an in-store sampling.

Next, we would look at which flavors receive the most engagement. This means which flavors does the brand talk about, either on their website or social media channels, that receive the most engagement from fans. This may tell us which flavors increase conversation around the brand, helping determine everything from which flavors should be used in social media content to which products we should seed to influencers based on popularity.

Once we understand which flavors are seeing the most mentions and most engagement, it is time to understand the sentiment behind each flavor. We want to know why mint chocolate is the most mentioned flavor. What attributes about this flavor do users like and dislike? This can be used to update descriptions on website product detail pages or the packaging, along with other uses.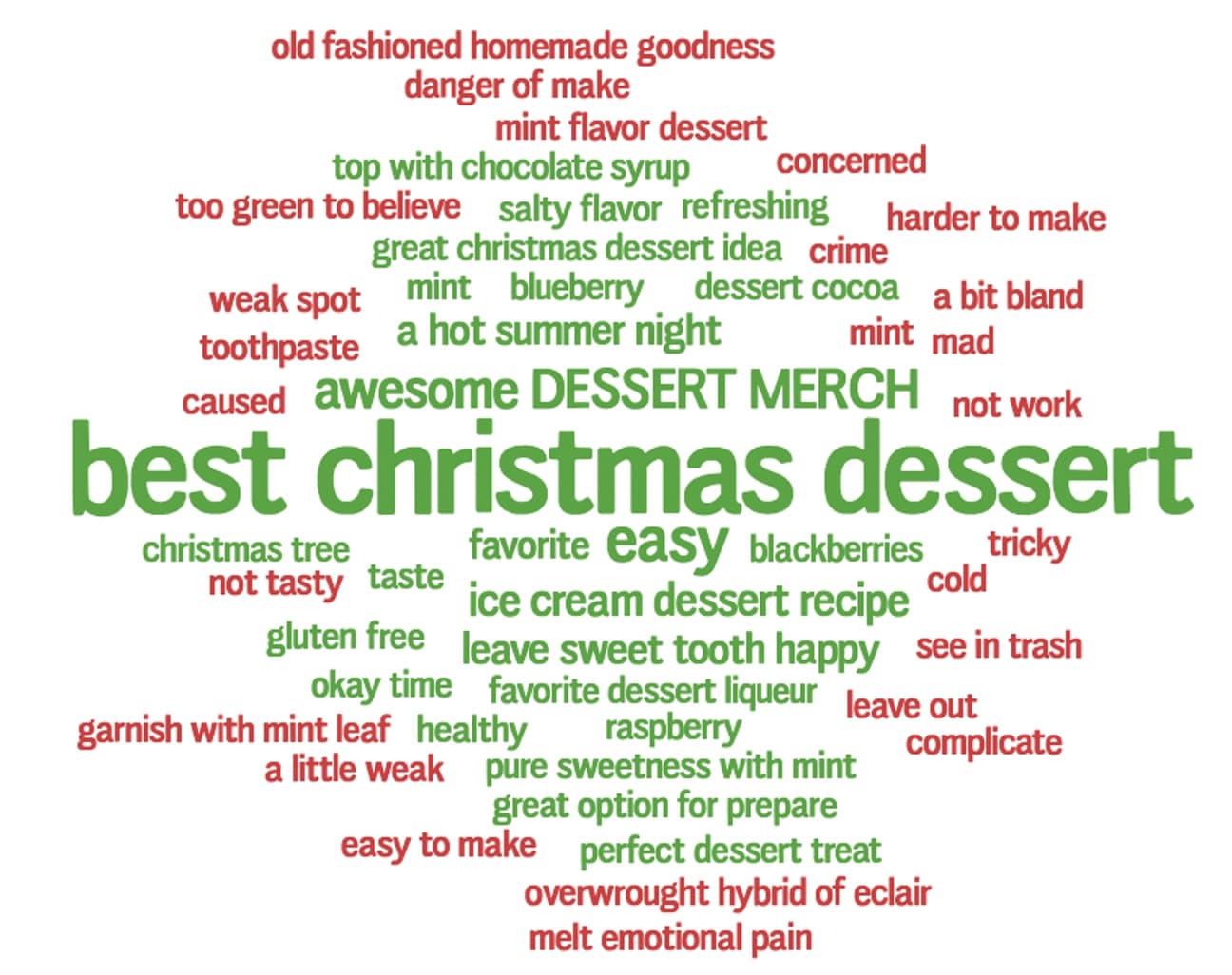 From this example, you can see that the options are endless for analyzing social listening data and using the insights to inform various marketing decisions. However, there is a very distinct process to ensure you are set up for success and using social listening to the fullest potential. We'll discuss this more in the next two sections, walking through how to choose a social listening tool, as well as setting up your social listening process.
Choosing A Social Listening Tool
Finding a social listening tool is the first step to setting up a social listening program for your brand or company. When it comes to evaluating social listening platforms, it's important to understand what you want to accomplish with a social listening tool, how you want to be using it long-term, and what teams in your organization will benefit from it.

While evaluating social listening tools, you'll likely find that many tools have similar offerings. There may be differences in metrics available, how dashboards are built, or how much data is offered. Still, typically, tools are similar in data sources and types of insights that can be extracted. Finding the right tool for your martech stack is extremely important and should integrate easily with your current technologies and into your existing processes.

Feeling lost in the evaluation process? Contact our marketing technology & data science department to learn about our unbiased platform evaluation process.
Questions To Ask Yourself When Evaluating Social Media Tools
There are many factors to consider when evaluating a social listening tool. As seasoned experts, there are a few key questions that we've identified to be extremely important to ask during a demo:

It would be great if we could make a graphic with these three questions on a check list. That would break up the text a bit.
How much data will you have access to? When it comes to social listening tools, it isn't a free for all. To scrape the internet for keywords, social listening vendors must work with social networks, forums, and other entities to retrieve data for you to analyze. This takes time and money for the vendors, meaning that this will likely get passed on to you in terms of a data-limit. Ask your vendor what a typical plan includes. Pricing usually is segmented by either:
Number of topics: you will be able to create up to XX social listening topics in your plan. o
Number of mentions: you can pull data around any topic, but only up to XX mentions (or posts) will be pulled in.
What data sources does the tool give you access to? Remember the saga that was Cambridge Analytica + Facebook? This case, among many others, have led to various data restrictions from social listening tools. For example, most tools only allow you to access hashtag mentions on Instagram, not tagged posts or mentions of keywords in captions. Some tools also have data restrictions on historical data.
What managed services would you have access to in your contract? While there are many resources around the internet to get your social listening tool and program up and running, it can still be an extremely lengthy and complicated process. Many times, knowing where to start and what needs to be set up is the most complicated part. Not to mention, every tool has its distinct nuances during set up that could mean the difference between getting accurate data vs. skewed or limited data. When signing a contract, it is important to consider if the software can or will provide a managed service or consulting hours to help you with set up. If your tool does not, you can consider finding an official partner of that tool or an agency that has experience setting up a social listening program.
Social Listening Tools We've Used or Evaluated
At Red Door, we pride ourselves on objective tool identification. As we mentioned, we offer platform evaluation as an RDI service, and we use this approach to evaluate all software solutions we use at our agency. Our marketing technology team works with each service area at RDI to helps every department at RDI objectively evaluate technology vendors to ensure we are using the best possible tool for our business goals and requirements.
Currently, Red Door utilizes NetBase Quid as our social listening solution. Why NetBase Quid? We have been using NetBase for over 6 years at RDI, and we consider it a top-tier tool. NetBase has unique analysis, particularly when it comes to sentiment, that allows us to quickly understand what emotions, attributes, or behaviors consumers use to describe our brands, which can quickly impact marketing decisions. NetBase's products provide us the ability to glean insights quickly. We have also spent years building out our infrastructure of topics and dashboards in NetBase that allow us to provide social listening analysis to many of our clients.
Outside of NetBase, we've evaluated or used other social listening tools, whether it be internally or for a client, including:
Getting Started: How to Set Up a Social Listening Program
Deciding on a social listening tool is step 1. Receiving access to your social listening tool is like getting the keys to a brand-new car. You need to learn how to drive the car and navigate towards your destination. Though it can seem overwhelming, creating your brand's social listening strategy can be easily done with proper planning. Not only that but as you begin to integrate social listening into your daily tasks and monthly reporting, it becomes easier to execute. The below information will walk through a deeper "step-by-step" of key items to look towards for content ideation.
1. Set Your Goals
Like every successful project or campaign, before setting up your social listening program, start with identifying specific goals for how you want to use your social listening tool.
Do you want to stay on top of industry news and updates?
Do you want to better understand how consumers feel about your products?
Do you want to track campaign success?
All of these things are possible and need to be determined from the start. This will help ensure that you have the right topics and dashboards created to measure these things. This example from NetBase's AI studio showcases how we track consumer emotion about various industries. In this example, we set a goal to better understand how consumers felt about the current beauty landscape.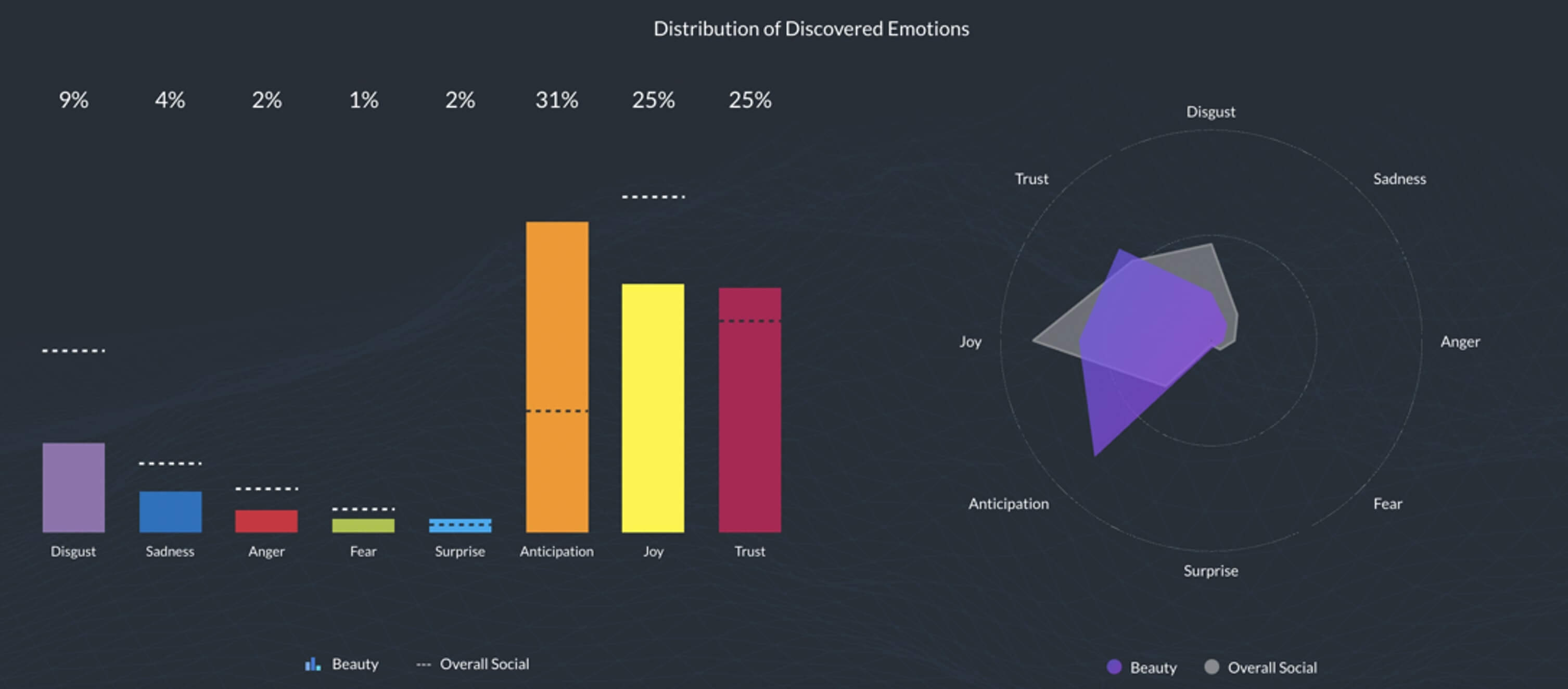 Along with creating goals for using your social listening tool, you should also consider how your social listening tool can help measure your company's business objectives, strategies, and tactics. Some examples include:
Increased brand awareness -> measure increase in earned mentions
Increase brand sentiment -> measure % change in net-sentiment
Increase brand loyalty -> measure total earned engagements
2. Plan For Proactive vs Reactive
After determining your goals for using social listening, it is essential to distinguish between proactive vs. reactive listening. As mentioned in this guide, social listening can look back at conversations or evaluate real-time conversations to identify trends. Ensure that you outline areas where you use your social listening tool for both proactive and reactive analysis.
An example of reactive listening is shown here, as we monitor past conversations (January- May 2021) to understand performance.

Proactive listening is monitoring trends in conversation to understand what real-time decisions need to be made. This module from NetBase analyzes trending conversations, letting us see what conversations have increased in mentions over the last week.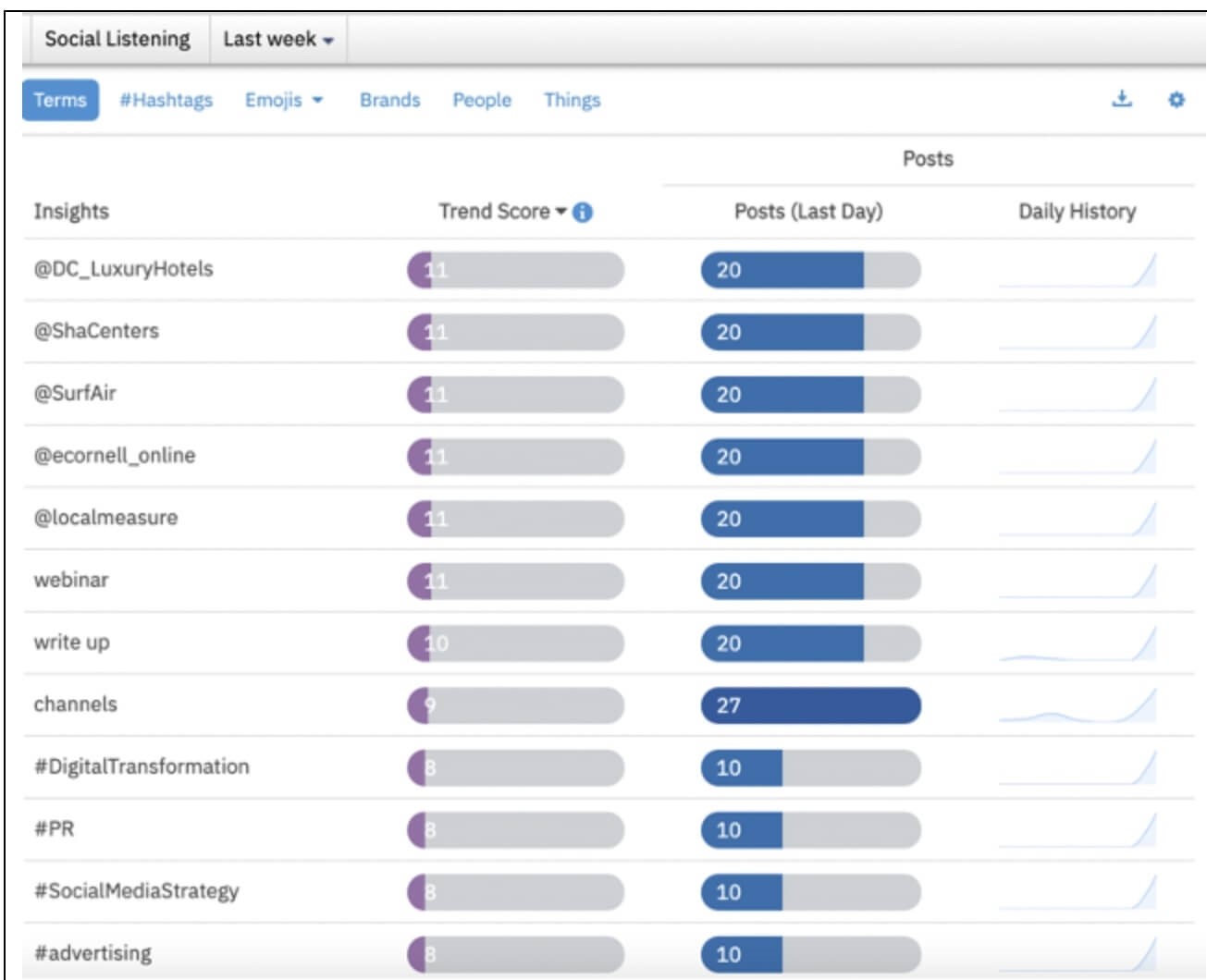 3. Identify Your Desired Social Listening Topics and Build Them
After determining your goals, and your types of proactive vs. reactive topics, it is time to make your list of desired topics and build them out. A social listening topic is essentially a query of keywords or keyphrases that you want your social listening tool to pull data around.
If you are just onboarding a social listening tool, there are likely various topics you need to build out to get started. Below is our list of must-have topics to set up when you are starting out:
Branded topics: A topic that includes your brand name, brand hashtags, and brand channels
Product topics: Topics that include the names of your products/services
Competitor topics: Create a topic for each competitor, including their name, hashtags, and brand channels. Create a separate topic for each competitor
Campaign topics: If you are launching a campaign in the near term or launch campaigns annually, create a topic with keywords or hashtags to track that campaign.
Industry topic: Create a topic with keywords or hashtags from your industry or industries that align with your brand. For example, a topic with keywords related to fitness or food.
When creating a topic, we recommend keeping them as broad as possible, as you can further filter these topics during analysis. Keep in mind that there are likely a number of keyword variations needed to track your topic. For example, if you create a brand topic, there may be various ways a consumer would reference your brand. Include all variations necessary to capture as much conversation as possible. In NetBase's example below, we showcase how we use various keyword variants to cover all possible mentions of social listening.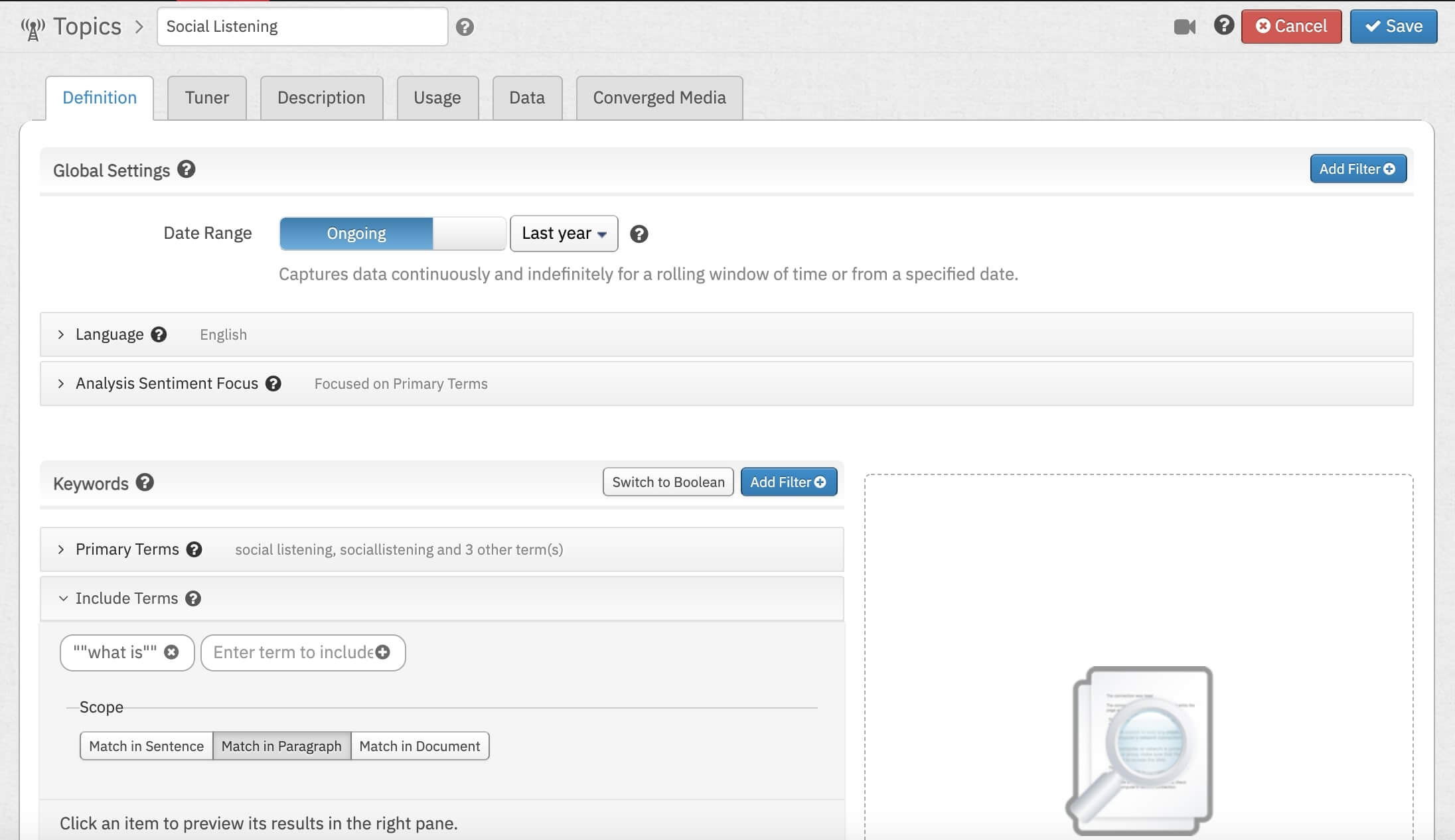 You can also create themes or filters in your social listening tool that will further segment your conversation. In the example above, we are looking for all mentions of social listening, but we can further segment the conversation by filtering it with the keyphrase "what is" to listening specifically for "what is social listening?"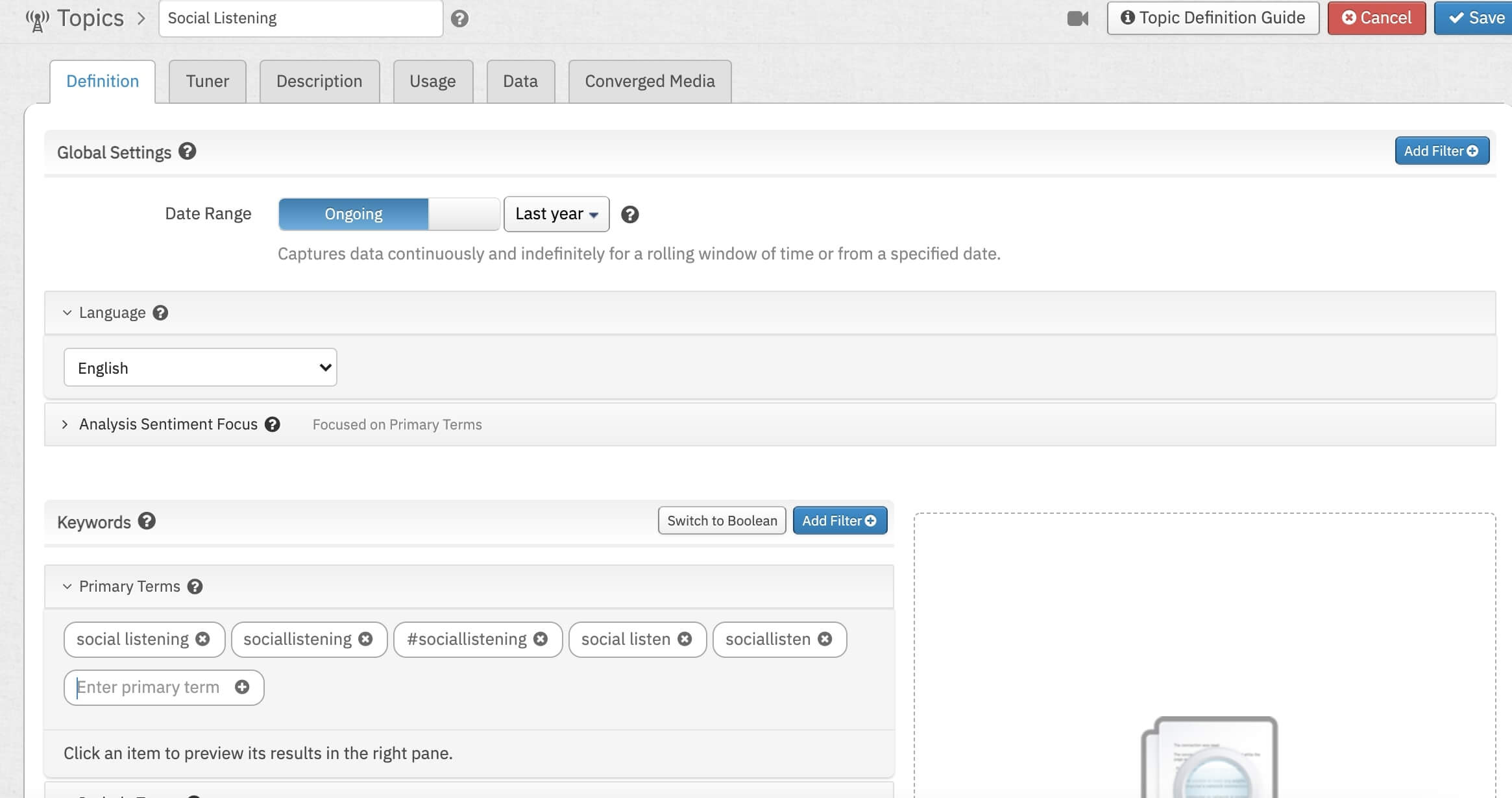 4. Determine Social Listening Cadence
The biggest issue we see, and have experienced, with integrating social listening into a marketing program is falling into the 'set it and forget it' trap. It is fairly easy to set up a social listening topic or create a dashboard to visualize social listening data. It is difficult to remember to do the analysis or integrate it into your current reporting schedule. As marketers, we need to create habits to do ongoing analysis and find intentional integration points for social listening data to be valuable.

Make a plan for how you are going to use social listening data and when you will collect this data. Here are our suggestions for ensuring your social listening data is actionable:
Determine how frequently you will analyze each topic and set reminders. You might want to check your industry and brand topic daily to view industry trends, manage crisis communications, or identify influencers to engage with. You may want to review your campaign topic weekly or monthly to see progress over time. Set intentional times to review your social listening data, making sure it aligns with your goals for what you want to get out of your social listening program.
Set up alerts and automated reports. Most social listening tools allow for alerts to be set up. If your brand net sentiment dips below a certain threshold or an influencer/celebrity of a certain following mentions your brand, an email alert will be sent to you immediately. You can also create dashboards/reports (we'll cover this in the next section) that are sent to your inbox at a certain cadence.
Find areas where social listening can be integrated into current reports or reporting cadences. Social listening data can be easily integrated into a campaign report, monthly report, or industry update. Determine which reports you currently have that could be enhanced with social listening data.
5. Analyze Your Data and Share with Stakeholders
After setting up your topics and determining your cadence for using the tool, it is time to analyze and share your social listening data!

To analyze your data, you will likely use a standard dashboard (these will be offered by your social listening tool) or a custom dashboard that visualizes your social listening data, easily collecting insights to share. These dashboards can be made into monthly reports that review a variety of metrics or examine social listening data about a specific product or campaign.

Social listening data is meant to be shared! When first starting a social listening program, determine who in your organization would benefit from or needs social listening data. Ensure that those members either have access to the tool and accurate topics or send them data and analysis in a certain cadence. We often find that social listening tools live with one team, and the data is not utilized to its greatest potential. The more teams who have access to and use social listening data, the more informed every team will be.
How Red Door Interactive's Cross-Channel Marketing Team Leverages Social Listening
We approach everything with a data-first mentality to ensure we are as informed as possible. Social listening is a form of data—rich, detailed, beautiful data that is key to staying top of mind with your target audience. We view social listening as a tool to uncover audience insights, brand reputation, industry trends, and share of voice. Nothing about it is social media-only. Therefore, we pride ourselves on integrating social listening into many departments at RDI.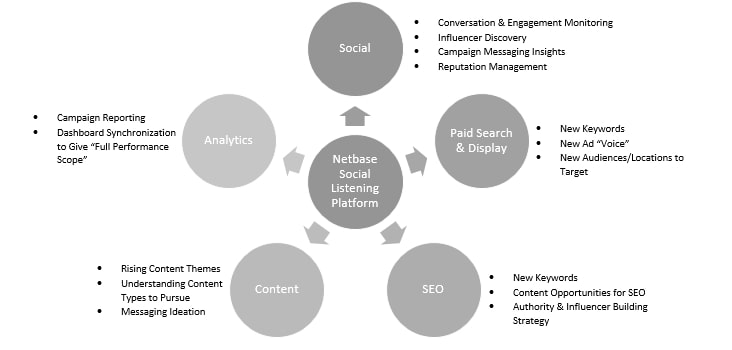 The Paid Media (Search and Display) team uses social listening mainly in the media planning phase. This helps the team identify emerging keyword opportunities ripe for bidding, understand various audience segments, optimize channel strategies, and understand the creative types needed for ads to resonate with target markets.

The SEO team leverages the platform to understand the context around keywords or keyword themes and understand trending topics that provide opportunities for increased organic visibility. The tool can also identify what is happening with competitors from an "authority" perspective, impacting external links back to a client's site.

Social listening insights are a goldmine for the Content team as conversations open new themes and understandings of which content types are getting the most play. This helps us decide whether we should deliver a message through video or not, if there's an opportunity to create an infographic with a link back to the site for SEO, what level of paid promotion effort we recommend, and so on.
To showcase just how insightful it can be for content development, we conducted an experiment to show the effectiveness of using social listening to identify content trends. We uncovered insights that "Rosé All Day" was what any client in the food & beverage space needed to talk about.



Finally, the Analytics team uses social listening for specific campaign reporting and to extrapolate audience insights.

As you can see, setting up specific social listening dashboards helps all teams cut through the online noise and focus on the data points that are relevant to our clients and their target audiences.
Ready to Start Utilizing Social Listening?
The options for how to use social listening data are endless. It all comes down to knowing how to utilize the tools and set goals to get what you want out of a social listening tool.

Our team is invested in using social listening data to make informed marketing decisions and audience-driven campaigns. We even took home gold in the 2020 US Social Media Awards for best use of research and evaluation, utilizing social listening to inform our campaign for SDG&E.

Need some help getting started? Our social media and content marketing team is here to help! Reach out with any questions about this post or inquiries about our social listening services.