A LOOK INTO RED DOOR'S HIRING PRACTICES
At Red Door, we believe in matching A-players with the right opportunities. Because of this, we're constantly on the lookout for talented, qualified individuals, even when we don't have a position open for them at the time. To find these people throughout San Diego, Denver, and beyond, and to best be able to fit their talents to their ideal career, we created our "Virtual Bench" (VB).

If you've been perusing the Red Door careers page looking for an open digital marketing job, you may have seen the Virtual Bench position and been left with a few questions on how this opportunity works. So, we're here to answer a few of the commonly asked questions about our Virtual Bench process.
FAQS RE: THE VB
Why is it called the Virtual Bench?
It's actually a term from Topgrading, so we can't take credit for coming up with the name. As you might have guessed, it's a sports analogy. Our employees are players in the game of marketing, and our Virtual Bench is filled with people who are ready, willing, and able to play for us as soon as we have a position on the court ready for them. They've already gone through their "try-outs" (interviews) and have the skills necessary to complement our team's playbook.

What can I expect the Virtual Bench interview process to look like?
The process varies slightly based on department, position, and other factors, but it follows the same general interview structure:
Preliminary Phone Screen

Hiring Manager Phone Screen

Face to Face Interview 1

Face to Face Interview 2

Reference Checks
While this is the basic process, you can also expect ongoing outreach and check-ins from our HR team, as well as the hiring manager, to keep in touch about your career goals, current position, and just to occasionally chat about neat things.

Do I have to go through the Virtual Bench process? Can I wait until a position is posted and apply then?
Our goal is to already have identified our final candidate before we even post a position. Because of this, we highly recommend going through our Virtual Bench process and not waiting until a position is posted if you're interested in working at Red Door Interactive. But, of course, if you see the perfect open position on our careers page right now, don't hesitate to apply!

How long after going through the process can I be hired?
It depends on the position, business needs, and seniority—we've seen it take as short as two weeks and as long as five years! That being said, there are no guarantees with timing.
A LOOK BACK AT THE VIRTUAL BENCH
Now that you have a little background on the Virtual Bench process, we wanted to give you some insights about the experience from one of our past candidates—who is now our Talent Manager and actually in charge of our current Virtual Bench!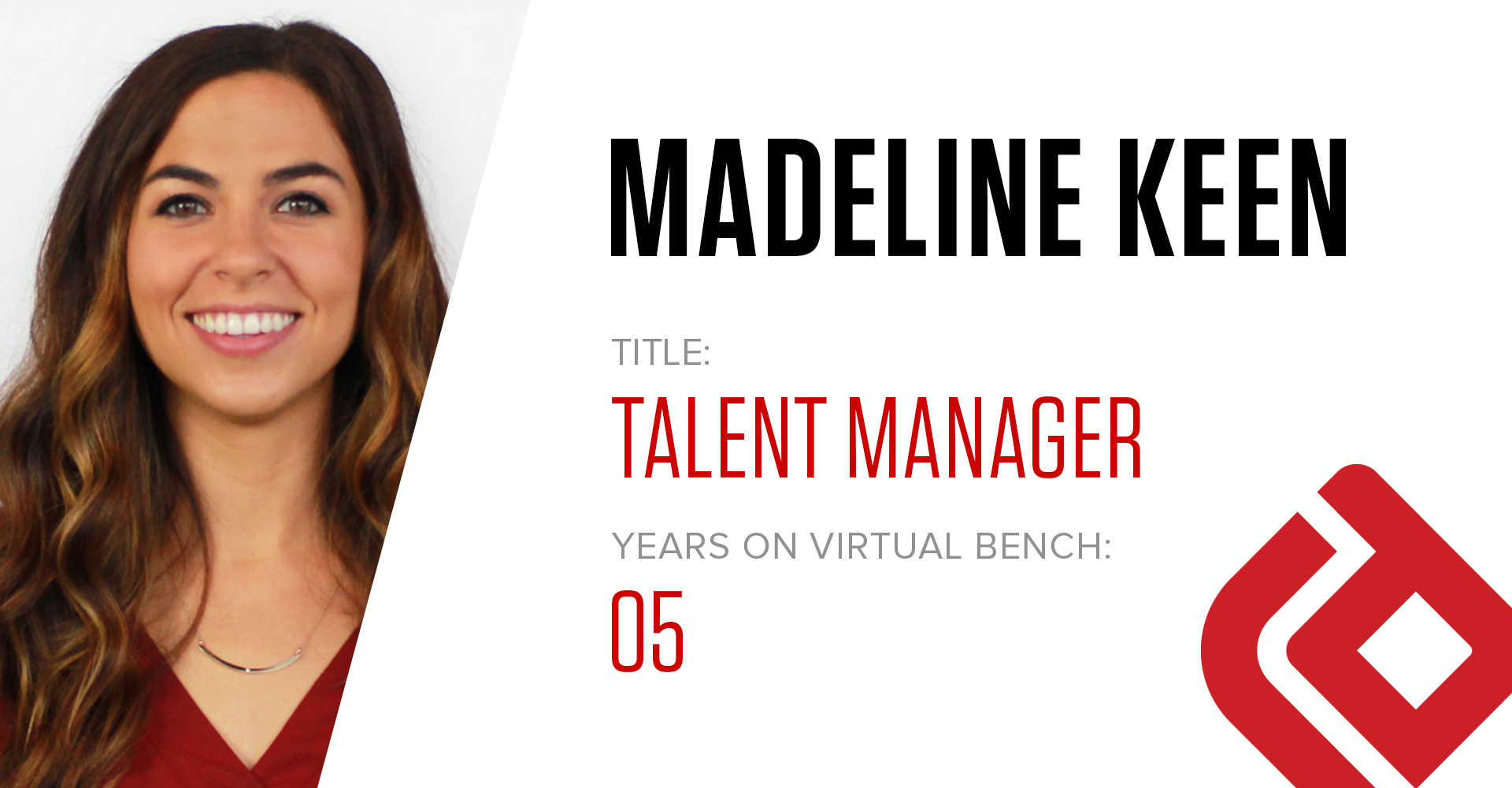 In 2012, Madeline moved to San Diego with some ad agency experience in the recruiting and HR department, and decided to reach out to a few agencies here on the West Coast to inquire about opportunities. Red Door was the only one to respond, piquing her interest in the company.

However, at the time, the Red Door HR department didn't have any available positions, so instead, she kept in touch with our Executive VP for five years until just the right opportunity opened up. Over that time, she met with Red Door team members for lunch or coffee and attended some of our hosted events to keep in touch and see how the company was progressing. Because Madeline was on the Virtual Bench, she was the first to know about a new HR position that hadn't previously existed at Red Door, and it was the perfect fit for her career aspirations!

So, now that Madeline is technically in charge of our Virtual Bench, we wanted to ask her some questions about her experience with Red Door and how the Virtual Bench process operates today.

Q1: Did you feel the VB process was strange, especially for such a relatively long period of time?
Madeline: Not really, but with HR positions, hiring is often different. People stay at their jobs for much longer than in other careers, so following up and keeping in touch with colleagues is necessary.

Q2: What would you like people to know about the VB?
Madeline: Every single Virtual Bench application is looked at here at Red Door—they don't just end up in some black hole of nothingness, so the work you put into your application doesn't go unnoticed.

Q3: Any tips for people applying for, or who are on the VB now?
Madeline: I have two main tips to share that really pertain to applying to any job, whether on the Virtual Bench or not:
When you're asked about what jobs you are currently interested in, be specific about what you want to do and what you're passionate about. If you can tell us your interests, it's more likely we will know what hiring manager to put you in contact with and what roles would suit you best.

Follow up with someone at the company. It may feel odd at first, but don't just send in an application online if you are really interested in working somewhere. Follow up with hiring managers or other contacts to say you're interested and to share your qualifications.

Q4: What is the best thing about working at Red Door?
Madeline: Definitely one of the best things is the learning and development aspect of the company. Many companies say they want you to learn and grow, but here it's really ingrained into the culture. In an industry that changes so quickly, the Red Door employees and executive team truly support and encourage personal growth, discovering new career paths, and overall self-education.

Have any more questions? Drop us a line at @RedDoor or leave us a comment below. If you're ready to join the team, take a look at our careers page, including the opportunity to join the Virtual Bench.