Picture this: You're in sunny San Diego, reimagining the paid media strategy for one of the biggest dishwasher brands (rhymes with "Posh"). You're surrounded by seriously nice humans, who, just like you, are hip to the latest search tactics. You break for burgers — dockside — then it's on to crushing those KPIs. This is life as a Red Door Paid Media Strategist. Want more? Let's hear from two members of the team.
Meet India Upton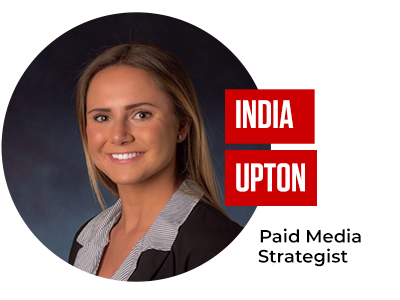 India works at our Denver, Colorado office. Those mountain views are beautiful, and according to her, so is paid media. "I love that it allows us to be creative in our choice of messaging, assets, and platforms, as well as analytical, in the way we make sense of behaviors, demand, and engagement," she said.
Meet Jennifer Aicega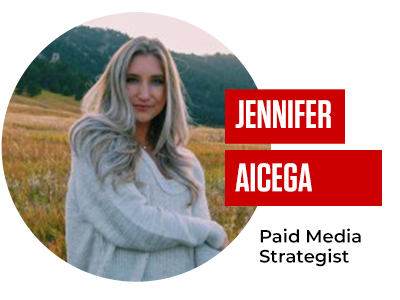 Also based out of The Mile High City, Jennifer enjoys making Red Door's clients happy by helping them grow their business, partnering with them on strategy — and watching her hard work pay off. All while working with exciting clients like Stone Brewing.
India On: A Typical Day at Work
At Red Door, there's no right or wrong way to get it done. Want to work from the comfort of your couch? Go for it. Prefer in-person collaboration? That's cool, too. Just as long as you're tending to clients and co-workers. India has her system down pat:
Budget Pacing
India makes time every morning to track how her clients' ad dollars are doing. "Budget pacing is the most important part of my job," she said. We agree. After all, it is another company's money we're talking about.
Touching Base
She keeps the lines of communication open with the team. Sometimes, literally through Teams, the app. "I check in on what I owe people, prep for conversations, and make sure I'm available for questions," she explained.
Checking On Industry News
A lot can change — and quickly. By doing what she calls "social listening," India doesn't miss a beat. She checks alerts for news or publicity around platforms she uses and stays up to date on industry trends for her clients.
Campaign Optimization
India spends the rest of her day optimizing brand and performance marketing. She does this across all channels — paid, earned, and owned — for large clients. In her own words, "Bigger clients equal more opportunity for testing and fun."
Just like India, you'll find Jennifer optimizing, optimizing, optimizing. Not just campaigns, but herself, too.
Jennifer On: Leaving Her Comfort Zone
We encourage all Red Door employees to be their best selves. When that happens, "WE Evolve to help each other Win." This saying gives us the energy to keep collaborating, create better work, and wow our clients.
For Jennifer, it was monthly KPI meetings that helped her evolve. "I have always been on the shyer side and am definitely not the first one in the room to speak up, but since developing my career with Red Door, I have been able to come out of my shell more and share my opinions," she said.
When you have an idea, point of view, or philosophy, or even a special talent, skill, or expertise, we say, put it out there and share it! We believe in teamwork and elevating each other to achieve our best.
What They Love Most About Red Door
India On: Collaboration
Every day, our Paid Media Specialists get to collaborate with everyone on the Client Services team. India said it best: "There is so much opportunity to work with people outside of Paid Media. I have learned so much about SEO, business, sales, data analytics, creative, copywriting, and more."
By working across teams, we take work to the next level.
Jennifer On: The Fast-Paced Environment
One thing's for sure: You won't be bored here. Tuesday, you could be working on a famous athletic brand. Wednesday, a new VR bar concept. Or both in one day. Yes, the pace is fast, but it pays off. Just hear what Jennifer had to say: "I have grown professionally very quickly due to the fast-paced environment."
Why They Applied to RDI
"Cool clients! Cool work! Nice people. <3" - India
India On: Branching Out
Change — we love it. We embrace it. We thrive in it. In order to grow and create, we foster flexibility, open-mindedness, forward-thinking concepts, and taking creative and strategic risks. India is all about change, too.
Years of working strictly on eCommerce accounts pushed India to seek out something different. Fiercely independent, we fit the bill. "I was looking through highly-rated agencies for blog content and stumbled upon RDI. I immediately went and hid in a WeWork room and applied," she said.
Not beholden to shareholders or a holding company, we have the freedom to experiment. India knows this first-hand: "RDI provided me with the opportunity to touch all channels and try new, really awesome things."
Jennifer On: The Clients
We touched on this earlier, but can't say it enough: We're lucky to work with top brands, like Vokey, Shea Homes, and California Avocados — just to name a few. Our client roster sealed the deal for Jennifer: "When looking for a new job, I stumbled upon Red Door's website and saw that they worked with a lot of cool, reputable companies. I was hooked."
We're glad both India and Jennifer found us. They've been going above and beyond since day one. As we always say, reaching a goal is just the beginning. We take it a step further, looking for ways to improve, to better our best, to surprise even ourselves. Then we celebrate our success and start over again.
Their Advice for Applying to RDI Positions
India On: Zooming In & Out
If you want to get your foot in the Red Door, India recommends honing "the ability to dig deep, but also zoom out at a higher level." Our Paid Media Specialists do this on the daily, when looking at data, reporting, explaining project plans — the list goes on.
She also touched on one of our Core Values: Exceed. "Know the importance of different channels, stay up to date on the capabilities of individual platforms, and be ready to be a strategic partner to a variety of clients — beyond launching new campaigns and spending more money."
India gets it. No wonder she's right at home at RDI.
Jennifer On: Problem Solving & Analytical Thinking
Just like India, Jennifer recommends being ready to go beyond the client's ask: "Be willing to put in the extra work, as that will help you stand out."
She adds that "Paid media can be unpredictable, so it's important to be able to problem solve and find the best solutions possible. Analytical thinking is helpful, too. You will have to be able to look at data, figure out the source of that data, and know how to make it better or explain what the data shows and why."
One thing to add, and we can't stress this enough — kindness. It's right there in our Core Values: Be 100% jerk free. We support a culture of open-minded acceptance and respect, 100 percent of the time.
If you were nodding along thinking, "Yes! This is my kind of place," then dig into our open gigs. And all the sweet perks.