Every Wednesday at 3:30 we get together to celebrate an employee who exemplifies our core values to inspire, share, evolve, exceed and be 100% jerk-free. Our weekly Share and Tell invites an employee to share something that inspires them. We hope you enjoy these recent We:30s about some very special furry friends just as much as we did!
Tyler Hustwick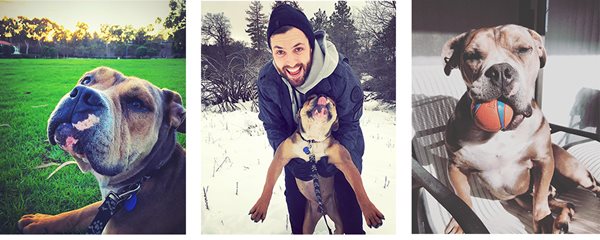 This share goes out to my boy, Boris (a.k.a. Bo).

Bo is the ultimate comeback story. After his last owner abandoned him, he spent a little over a year in shelters and was really sick. Volunteers at the shelter said that he didn't care much for people, other dogs or toys and spent most of his time alone. Boris seemed like a grumpy dude, but his squishy face said otherwise.

Fast forward two years and things done changed. Bo is stoked on life! He spends his days sunbathing, going on walks, rolling in the grass, chewing on bones, napping and above all, cuddling on the couch. He never wants to leave my side and is always up for an adventure – he's particularly fond of road trips, days at the dog beach and the occasional snow day. And if I'm working from home, he works too, as the world's laziest assistant…

From his hilarious personality and gentle soul, to his wiggling butt and giant smile, I've never met a dog quite like Bo. It is so inspiring to reflect on how much he's evolved in the past two years. His life is a constant reminder that sometimes all it takes is a little time and whole lot of love to turn things around. Boris, you truly are this man's best friend.
Bradley Copeland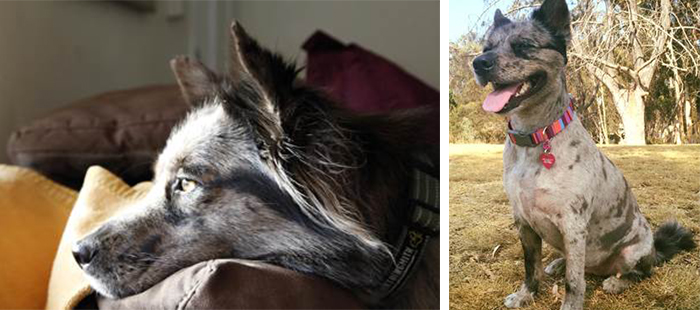 My share is my beautiful adopted daughter Jessie. This wasn't your typical adoption; she was in a very bad place before we took her in. In 2010, Jessie was taken from a home in Calexico that raised dogs for working. She was neglected and abused and as a result, all the dogs were confiscated. It sounds great to get them out of such a horrific situation, but the sad side of the story is that the county doesn't keep them alive for long. Jessie was going to be euthanized. Even at her young age of 8 months, no one would adopt her out in the valley.

I took one look at her sweet face online and drove out to the desert to save her. I brought her back home and spent the first three nights sleeping on the floor with her in her new home. Since that faithful day, Jessie has been the sparkle in my eye. The little girl I always wanted. She's overly sweet and energetic towards petting. She whimpers like she wants to talk to you and say, "Everything's going to be all right, let's just go play fetch and it'll work out."

Jessie is a special breed. A mix of Australian Shepard (Smart, Herding, Neurotic) / Catahoula Leopard (Work Ethic, Tough, Hunting). As a puppy full of energy, I quickly learned all the best places to take her for running around. Our favorite spot has to be Fiesta Island or OB Dog Beach. A little known secret about Jessie is that she loves the water! I quickly picked up on her amazing skills and we practiced retrieving and open swims. Jessie has even been sweet enough to rescue other dog toys from the water. One of the best feelings I get is when she comes out of the water and shakes herself all over and all over me.

She is always up for an adventure. Inquisitive as a 6 year old, she loves to explore and is always up for a road trip or a camping trip. Jessie has been backpacking in the Sierras and has been snow camping in Idyllwild. She even brought dinner back to the camp one night in the desert, although I don't eat rabbit, she thought it was funny. There is always a good story when we get together. I'm looking forward to the next chapter. I love you Jessie, you actually saved me.