YouTube, Facebook and Instagram continue to be highly utilized platforms, continually releasing new functionalities, like Instagram Reels, to encourage video consumption and distribution. We've also seen growth in platforms focused solely on short-form video. In a recent Emarketer report, the TikTok app reportedly reached 28 million users, growing 30% from January 2020 to March 2020. With such a prime marketing opportunity, how can agencies swiftly, adeptly, and affordably implement strategies and best practices to create effective social video content?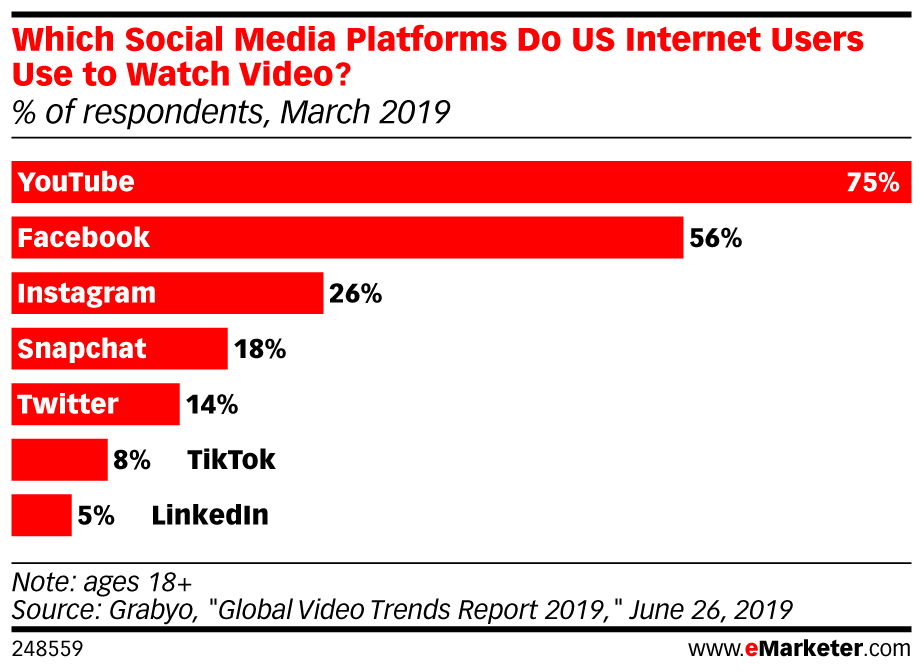 Social Media Video Consumption by Platform chart courtesy of eMarketer

While there will always be a need for a full-scale Creative team to plan and execute national TV spots or videos as part of a larger rebranding effort, an agency can produce most social-ready videos for a fraction of the price – and time. Some of the deliverables that could be created at a lower level of effort include, but aren't limited to:
Social media videos to support cross-channel campaigns

YouTube videos for paid advertising

GIFs for social sharing

Embedded videos on a blog or other website content
In this blog post, we'll identify the various aspects of social media video production and share with you some tips and best practices:
Creating team alignment

Practicing without fear of failure

Utilizing the appropriate resources

Finding cost-effective video technologies

Pre-Production Planning
Establish the Goal & Foster Team Alignment
Before you move into any planning, filming, or editing, it's important to consider the goal of the video and make sure your team is aligned, both in terms of the strategy and overall production logistics.

Each team member must know the parameters of the video strategy. Is the ultimate goal of the video to raise brand awareness or brand affinity? Is it to get the user to convert? The goal will largely influence the content of the video, so it's important to have the same understanding of what you're trying to achieve.

Another component that may largely influence the content of the video is considering where the video will be played. Will it be a non-skippable ad that the consumer watches before a YouTube video on their mobile device? Or will it be a video that lives in a blog accompanied by page copy?

Lastly, a team must align on the overall aesthetic and quality. For example, when we consider the quality vs. success of videos on a platform like TikTok, we take into account that polished videos sometimes won't change how a user engages. By creating alignment on the production process and user preferences across social platforms, we can make "shortcomings" easier to accept – or, in some cases, expand upon.

These considerations should be the basis for decision making around the video's contents, and potentially a point to re-evaluate the level of production required to meet its goal.
Get to Know Trial & Error
Although the 10,000-Hour Rule has been debunked, the idea that a person or team needs practice to achieve quality is in fact, true. Practicing, failing, dealing with constraints, and learning from them are longstanding components of success, and this is certainly no different for video production. There will be times when equipment unexpectedly stops working, ideas don't align with shifting client expectations, the team has disagreements, or the weather changes the day you were scheduled to shoot. The important lesson to learn here isn't in trying to avoid the unexpected: it's tailoring the effort of a production to accommodate all of the things that can – and will – go wrong, and being flexible enough to adapt accordingly.

At Red Door, one of our core values is to "evolve," and this mindset helps us to stay open to changes, especially in such a dynamic process as video production. The hallmark of evolution is seeing a trial or error as an opportunity to learn, do something different, and, perhaps, inspire others to do the same.
Consider Contractors
Through trial and error, your agency video production team could be all you need to produce stellar social media videos. However, if a client comes to you with a lofty project that requires extra hands, you might want to consider contractors. Start networking and building a list of local and remote experts, like videographers, editors, animators, and on-camera talent. Day rates for these types of individual roles range from $250 to $2,000, so be sure to factor that into a budget, if necessary. If you're in California, be sure to read up on the new laws regarding hiring contractors, to ensure you're compliant.

If you are using a contractor, it's important your team is aligned on how this person will be utilized in the project. Another tip is to assign a specific person on your team to be the point of contact for the contractor, which will help streamline their contributions. And if the partnership works well, you can consider them as your go-to person for future projects, eliminating the need to research and qualify additional contractors in the future!
Get Familiar with Gear Rental Services
Similar to needing a contractor, you might find your agency doesn't have the necessary tools to carry out a video production. While social media video doesn't necessarily require top-of-the-line equipment like RED cameras or studio backdrops, some additional lighting, lenses, or microphones may prove useful. Always run a location test to see what the situation is like, and only rent if you absolutely need to in order to prevent inflated costs. If you're shooting an interview outside in a busy street, a lavalier microphone might help capture better audio. If you're shooting a scene at night, extra lighting may be necessary.

Whatever the circumstance, make a list of local and online rental services, like BorrowLenses.com. Each time you rent equipment, be sure to acquire it a few days earlier than the scheduled shoot so you can properly test it. Later on, if you find yourself renting the same equipment two or three times and are adept at using it, you might consider purchasing a version to keep on hand – especially if it's a crucial item like a lens or tripod.
Plan and Don't Rush
Even with the appropriate people and equipment in place, if there's not enough planning or time for a shoot, it may work out the way you had hoped. This planning involves more than just day-of preparation. Some important best practices to consider when planning a shoot include:
Creating a storyboard, script, and shot list

Determining and purchasing props

Establishing the approximate length of the video

Scouting the location

Finding talent

Determining the correct video dimensions

Allowing enough time during the shoot for multiple takes

Determining if there needs to be any motion graphics or voice over added to the video

Searching for and purchasing stock music, or having custom music created
Ultimately, these considerations should all be planned for in pre-production, and the team should have constant, easy access to documents containing this information.
Always Think of the Viewer
At the end of the day, you can have the best equipment, videographer, video editor, and do the right planning, but your video still may not perform well. Why? Because the most important part of creating a video is the story. What are you trying express to the viewer? What do you want them to feel? What problem are you trying to solve?
A lot of marketers create video because it typically performs better than a static image. But while video can draw the consumer's attention, only good video will keep the consumer's attention. It will teach them something. It will evoke a certain emotion. It will unite them in something bigger than themselves. This should be top of mind in the upfront planning of the video content, and throughout production.

Producing ad-hoc social media videos is entirely possible for an agency. However, don't forget that though the creation of social videos may be non-traditional in terms of scale and quality, the encompassing strategy, message, and story shouldn't be compromised. Align your team, integrity, and goals, and you'll set your agency up for success.

Red Door's Social and Content (#SoCo) wing offers social media video strategy, production, editing – and much, much more. Take a look at our Social and Content services page and let us know how we can help!