What is Social Listening?
Social listening is the process of tracking online conversations around a specific word, topic, or phrase, then using it to leverage opportunities for your brand.
Basically, it's how a brand knows a millennial girl will like anything with pineapples on it, and that a "Bronie" is a man who likes My Little Pony (hey, we accept all consumer segments). And at Red Door, social listening is one of the keystones to how we strategize for a client's marketing initiatives.
Why Brands Should Care: "Social Listening" is More Than Just "Social"
We approach everything with a data-first mentality to ensure we are as informed as possible. And social listening is data. Rich, detailed, beautiful data, key to staying top of mind with your target audiences. Understanding the ebbs and flows in conversation related to your brand (or relevant to your target consumer) can help determine whether you should to jump into a real-time conversation or stay away. And also how to jump into the conversation.
The Social Team at Red Door uses social listening to monitor consumer conversation, engage with users, find influencers, and adjust social campaign messaging based on the audience's sentiment. Social listening is also used for proactive reputation management as well, alerting you of any influx around critical or negative sentiment for a brand that may arise, or if an individual with a large following mentions a brand. (We're all waiting for Beyoncé to mention our product, right?)
In order to realize the full power of social listening data and leverage it properly, Red Door has integrated Netbase (our current social listening tool of choice) across our different channel teams.
How RDI Channels Leverage Social Listening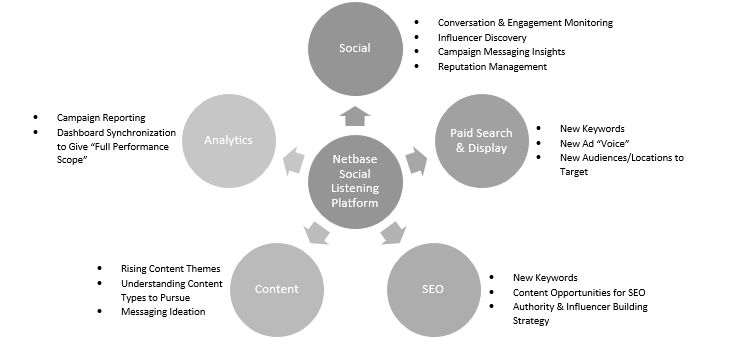 The Paid Media (Search and Display) team uses social listening to help identify emerging keyword opportunities ripe for bidding, new audience segments to target ads to, new locations to reach out to, and creative ideas used in the ads themselves.

The SEO team leverages the platform to determine keyword themes and trend opportunities, helping us inform our clients on how to stay ahead in the quickly shifting SEO landscape. The tool can also identify what is happening with competitors from an "authority" perspective, which impacts external links back to a client's site.

Social listening insights are a goldmine for the Content team, as the conversations open new themes and an understanding of which content types are getting the most play. This helps us decide whether we should deliver a message through video or not, if there's an opportunity to create an infographic with a link back to the site for SEO, what level of paid promotion effort we recommend, etc.

Finally, the Analytics team uses social listening for specific campaign reporting, and for extrapolating audience insights.

As you can see, setting up specific social listening dashboards helps all teams cut through the online noise and focus on the data points that are relevant to our clients and their target audiences.
Social Listening in Action: A Comic-Con Use Case
With Comic-Con International in our backyard, we were curious as to what users were anticipating, enjoying, interested in, or even disappointed by throughout the event. To collect the ultimate social listening dataset, we built a Netbase Live Pulse to get real-time feedback from users either attending Comic-Con, or talking about it from afar.
The Findings
We uncovered a lot of interesting things being discussed online via our Comic-Con Live Pulse. Some key takeaways from event weekend were:
Winning Lego's was a large draw on Thursday, with "Duck Mini Figures" becoming an emerging topic that trended most of the day.

An unexpected reunion for MTV's Teen Wolf sent fans' conversation through the roof (the most popular MTV posts had 16 M+ impressions on Twitter).

Pop Vinyls are all the rage with this target consumer (Comic-Con goers). If your brand doesn't have one, you may be irrelevant.
Creating Live Content
One tactic brands can utilize (like we did in the ASICS Power of Fans campaign) is the creation of real-time content straight from the consumer. For Comic-Con, we created various visual assets to act as templates that would showcase the data from our Live Pulse. Then, our Social Media team collected the data in real time and sent it to our Creative team to update the imagery accordingly. This allowed us to contribute to any conversation that was happening, as it was happening.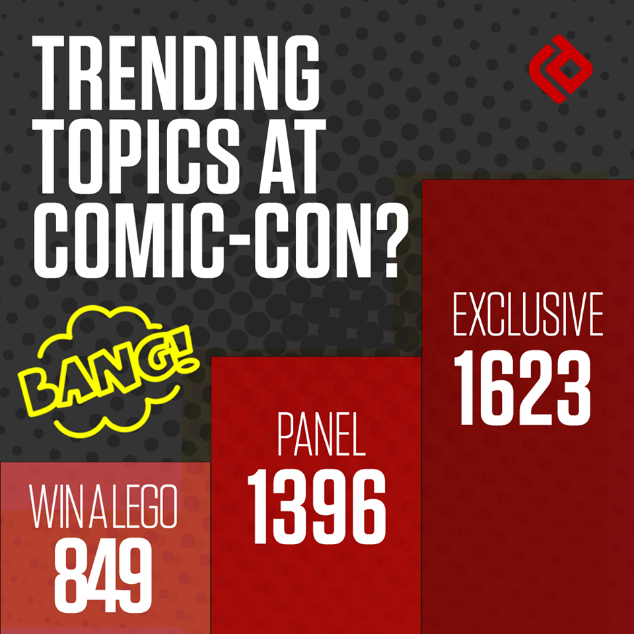 Not only did we take data in real time and turn it into content, we also went out into our own backyard to capture footage from the actual event. Our monitoring dashboard helped our Marketing team understand what events were happening, what people were here to see, and what we might see on the ground, allowing us to get our photo crew over to where we thought there would be the most action.
What topics or events would your brand want to monitor conversation around? Comment below or tweet us @reddoor.