Please Note: This piece does not express political siding on behalf of Red Door Interactive or its employees. Rather, it uses Red Door's practices around data visualization and storytelling to uncover findings that are both interesting and relevant.
The 2016 U.S. Election will go down in history as one of our most memorable. Both parties have been giving it their all, through presidential debates, TV ads, town halls, and Twitter wars. If we look at it from a marketing perspective, we'd see that a presidential campaign is just that, a campaign—or, more specifically, a project to garner the awareness, consideration, conversion (the biggie), loyalty, and ultimately, advocacy of the fine citizens of these United States of America.
This is where Red Door comes into play. As a data-driven marketing agency, many of the tactics and approaches enlisted in this election are ones that Red Door is all too familiar with. So we've decided to join the conversation of the year to help shine some light on how our two candidates are performing from a cross-channel marketing perspective.
SITE PERFORMANCE
Site Performance, and specifically site speed and user experience, is a great place for us to start because it's so much more important than it may seem. Page load speed is one of Google's ranking factors, and has become more crucial over the years. While a three-second load time used to be the standard for a sufficient site, we now consider the one-second mark to be the ideal load time before user abandonment occurs. User experience is also a factor in ranking, and is essentially the thesis of Google's algorithms, and thus at the core of SEO (or at least it should be).





Looking at Hillary Clinton's website using Google's PageSpeed Tools, we see that while the desktop site scored an alright 72/100, the mobile site received a poor 50/100 for speed, but a great 96/100 for user experience. Render-blocking JavaScript and CSS in homepage content appears to be the culprit here, which is a common issue for mobile sites.

SOURCE CODE EXAMPLE FROM DESKTOP SITE
The solution would be to externally reference both of these elements, which would allow the page to resolve more quickly and a search engine's crawler to get through the code of the page more quickly.





The same can be said for Donald Trump's site, which also received a decent desktop score of 66/100, a poor mobile speed score of 36/100, but an impressive 99/100 for mobile user experience. Overall, Trump's site passed fewer "mobile rules" or best practices, such as minifying CSS and HTML, and optimizing images. His site suffers due to a large volume of JavaScript and CSS information not being externally referenced.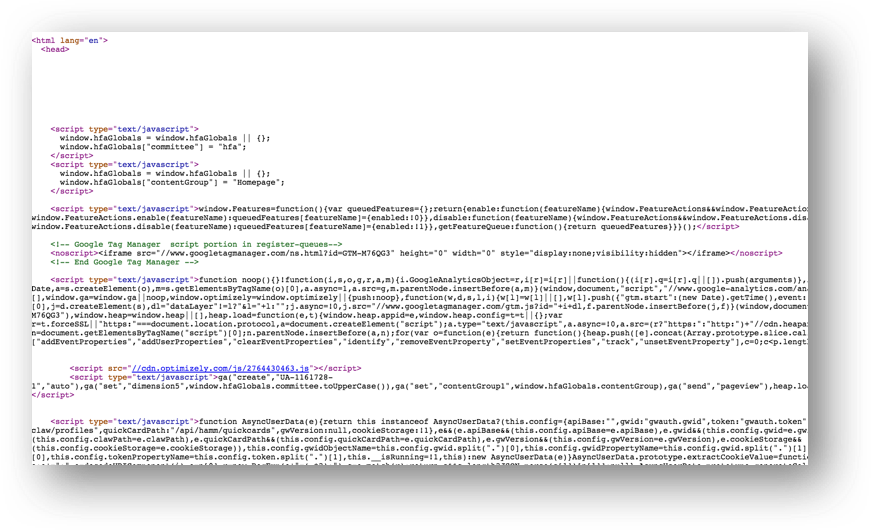 SOURCE CODE EXAMPLE FROM DESKTOP SITE
While only being bested in user experience by a small percentage, Hillary Clinton's website skates past Trump's for site performance. Interested in the details? Give Google's PageSpeed Insights a whirl, either on these sites or your own.
-Winner: CLINTON-
SEO
Although organic search may not be the most imperative aspect to a presidential campaign (these two don't need help hitting page one on Google), organic data can help illuminate trends and voter interest, and can maybe sway some undecided voters before the big day.
To keep things simple, we'll primarily be looking at search interest and authority. Search interest is the estimated interest a keyword or topic has, based on how often it was searched. We use Google Trends to provide this data. Authority, not unlike Google's PageRank, is a metric established by SEO icon, Moz, which logarithmically scores sites and individual pages on a 100-point scale to determine how well a site will perform with search engines.
Looking at trending interest, Trump (in red) has held a solid lead in search interest for the better part of the past two years. You can dig into more interesting points with Google Trends' Elections in Search 2016, and it's worth noting that although interest is high, not all of it is good, per se. We'll dig into sentiments here in a bit.
-Winner: TRUMP-

The following table breaks down how each site performs for both domain authority (the overall site) and page authority (each site's homepage). Additionally, we've looked at linking root domains, and specifically educational (.edu) and governmental (.gov) backlinks – external inbound links to our sites.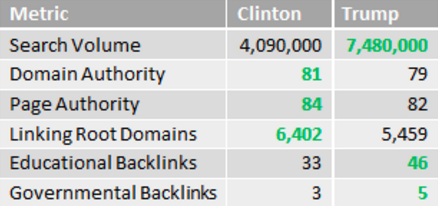 Linking root domains make up our backlink portfolio—which includes all other sites on the internet that reference your page. We look at .edu and .gov pages segmented out because of the authority these pages grant. These types of websites are held to a certain standard, which means they're likely links that can be trusted and are given weight.
As seen above, Clinton takes the lead in both Domain and Page Authority, as well as linking domains. However, Trump wins in search interest by almost double, as well as in .edu and .gov backlinks, but only slightly.
-Winner: CLINTON-
SOCIAL MEDIA
To gauge social media performance, we'll look through two lenses: volume and sentiment. Volume is our quantity factor, looking at followers, likes, shares, etc. For quality, we look at sentiment of users and the overall tone of the conversations around the candidates.

Trump not only beats Clinton in terms of followers, he also kills it in conversation rate per post (comments, replies), amplification rate per post (shares, retweets), and applause per post (likes, favorites) for Twitter, Facebook, and Instagram according to TrueSocialMetrics data (Twitter data pictured above). This one is no contest; Trump wins content engagement.
-Winner: TRUMP-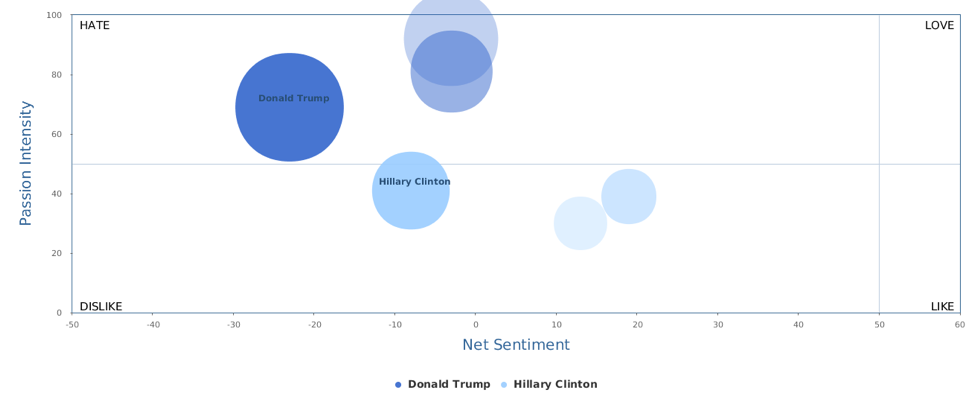 Using NetBase's Brand Passion Index, we can map the net sentiment and passion intensity of conversations around our two topics. In terms of sentiment, both candidates are seen unfavorably, but this isn't surprising given the mudslinging that goes on during campaign season. Interestingly, Trump beats out Clinton in passion intensity, meaning he's landed in the "Hate" sentiment with Clinton under "Dislike." It's debatable whether anyone really won this contest, but if we assume that being disliked is slightly better than being hated, we're giving this one to Clinton.
-Winner: CLINTON-
OVERALL DIGITAL WINNER: CLINTON
Although Trump excels in engagement and overall user interest, Clinton beats him out in terms of site practicality, authority, and a healthy backlink portfolio, and of course being disfavored just that much less than Trump. For these reasons, she wins Red Door's 2016 U.S. Election Digital Campaign. Now we just have to wait and see what November 8 holds for the real results.
As noted, this is just some good ol' data storytelling fun. Got a metric in mind that we missed, or just want to talk data? Tweet us @RedDoor and let us know.
Insights
Social Media
Marketing Technology
Search Engine Optimization