How It Started: The Decision
In case you missed it or saw the recent news, here's more about our decision to build Red Door's new San Diego headquarters in the historic neighborhood of Sherman Heights.
On February 25, 2020, Red Door announced the purchase of 3 buildings in the Sherman Heights neighborhood.

The 0.4-acre lot, located at 2436-2450 Market Street, will become Red Door's new headquarters. With 17,596 square feet of space, it's perfect for our growing team.

Designated as an Opportunity Zone by the U.S. Department of Treasury, Sherman Heights is the ideal place to build Red Door's new home.
We have been witness to the incredible growth of San Diego's East Village, and now we're excited to bring our diverse team of talented, creative minds to a new neighborhood.
Reid Carr, CEO, Red Door Interactive
How It's Going: Breaking Ground
The construction of our new campus was originally expected to begin in July 2020, but like most things during the pandemic, it faced delays due to stay-at-home orders. After months of anticipation, construction finally broke ground in April 2021, with the goal of moving in by January 2022. The whole Red Door team couldn't be more excited! We'll be updating this post as the project unfolds, so be sure to sign up for our newsletter below.


What It Will Be: An RDI Campus
Ahead of construction by Swinerton Builders, Red Door worked with AVRP Studios to conceptualize the look and feel of the campus and its three buildings. Each unique building is designed to serve a purpose for our operations — and eventually — the community.
"The House" – This is our "meeting wing" that includes both indoor and outdoor conference rooms and meeting spaces. It's a hub for collaboration and a place where all of our tactical teams can come together to create for our clients. We've designed the look of The House with a craftsman feel to embrace the aesthetic of Sherman Heights architecture.

"The Garage" – This is where we convene from all areas of the property and community. The space features an auditorium-style meeting venue with retractable seating to provide flexibility for a variety of activities, ranging from all-company gatherings and group fitness classes, to dinners, debates, and presentations. It also includes a robust online A/V set-up, allowing for seamless remote participation, as well as a full kitchen for our staff and guests.

"The Workshop" – This is intended for "heads-down" team-level work. It's our employees' space and allows individuals to do the work they need to do on any given day. This wing of the campus also features an outdoor gathering area (complete with a bar), where our team can feel comfortable working, socializing, or both, virtually year-round. It also includes our media studio where we'll record podcasts/audio, shoot photography, film, etc. We hope to open this studio to the outside as well, to help teach multimedia students our tools of the trade.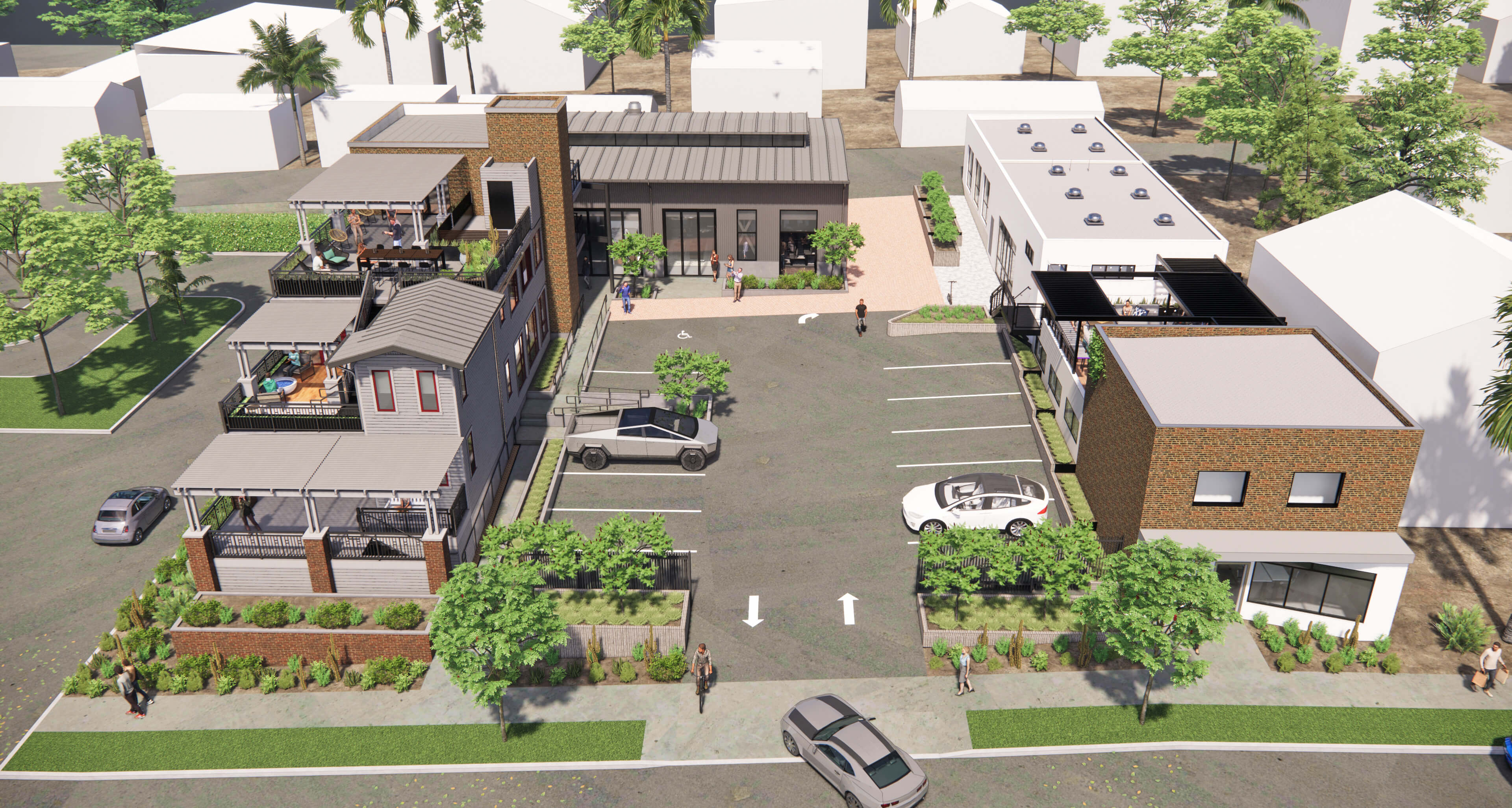 More Than Just an Office Space
In the spirit of community, connectivity, and collaboration, the new Red Door campus will include features beyond the traditional "office space." These are some of our favorite amenities:
Corporate garden

Central, outdoor courtyard for events and team activities

E/V charging stations

An open campus layout, built with self-driving cars in mind for "pass-through" drop-offs

8 outdoor patios – most of which will have both shade and heat, so we can use those spaces year-round

The view! Panoramic views of Downtown, San Diego Bay, Coronado, Mexico, Balboa Park, and more

Proximity to Balboa Park, Petco Park, and other San Diego landmarks for walking meetings, and central to a wide range of coffee shops, bars, and restaurants for off-campus social getaways
"We're going into this authentically, because we want to create this as our home, not just because it's an opportunity zone."
Reid Carr, CEO, Red Door Interactive
As we settle into our new home on Market Street, we can't wait to open our doors to Sherman Heights and its surrounding communities. In doing so, we hope to not only contribute our uniqueness and personality to the community, but also honor its rich history, tradition, and vibrant aesthetic.