The pace in which Marketing Technologies progress continues to accelerate. Everything from website platforms, software architectures and frameworks, methodologies, costs, and marketing's relationship with IT continue to rapidly evolve and change year to year.

If you haven't revisited your website strategy in the last few years, you could be missing out on some of these opportunities:
Gaining and retaining customers
Increasing revenue(s)
Communicating your brand
Gathering analytics and intelligence
Optimizing performance and integrating with other channels
Even if you've addressed these areas in the past, technologies and platforms keep changing. If you opt to stay on older technologies, you could be diminishing your bottom line with inefficiencies such as additional maintenance costs and time required to deploy improvements.
Should you redesign your website?
If you've been wondering if it's a good time to update or redesign your website in 2021, here are nine things to consider:
1. Design leads to conversions.
Beauty is in the eye of the beholder – and definitely in the eye of your website visitors. According to research by Missouri University of Science and Technology, users will spend about 2.6 seconds scanning your website to find the information they are looking for. The longer the user stays on your page, the better the impression – and design plays a large factor in keeping visitors on-site. People are more forgiving of well-designed pages, and that first impression can be made within 50 milliseconds of visiting a site. These are significant statistics that lead to an immediate drop in conversions if your website visitors don't make it past the first page they visit. Design is how visitors judge your credibility, website security, and make decisions about your brand. Even minor changes to design can lead to an uptick in visitor engagement, retention, and trust.
2. The need for speed.
With the amount of content on the Internet, our attention spans have gotten shorter and shorter. You already know website visitors make snap decisions about the look and feel of your website, but that's amplified by how quickly your website loads on desktop, mobile, and tablet platforms. A recent article from Nielson Norman Group has some scary statistics. Despite all the broadband and internet speed improvements, website speed has not improved much in the last ten years. BBC's user testing showed that for every second a page takes to load, 10% of users will leave. These statistics show that your website's performance is critical to your conversion rate optimization. Now more than ever, people expect instant results (just think how frustrating it is when you see a loading spinning wheel). Regardless of what the final step of your website's user journey is, if your website isn't performing quickly and efficiently, it will be difficult to retain the visitor to make a conversion.
3. Think mobile-first.
Have you ever pulled up a website on your phone or tablet and couldn't quite read the content? Whether it's because the text was too small, or you couldn't find the links you wanted, making sure your website is optimized for more than the desktop experience is increasingly important. In a world that is shifting to mobile-first, your website needs to be responsive for consistent user experience. According to CIODive, 70% of all internet access comes from mobile phones. With so many existing and potentially new visitors who will be checking out your website on their phones before their computers, make sure you optimize the mobile experience to ensure a positive lasting impression for your visitors.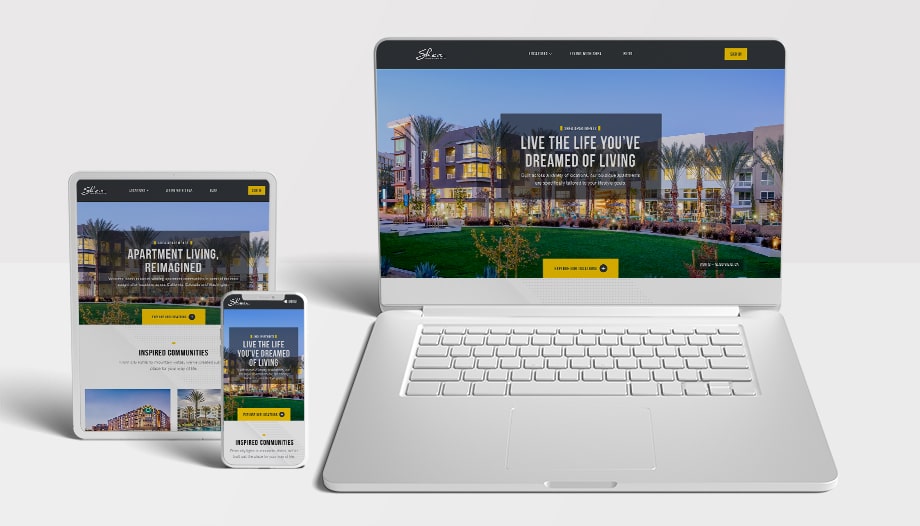 Case study: Shea Apartments Website Redesign
4. Consistency is key.
In a digital world, you're juggling a lot of platforms, social media channels, and varying content. It can be overwhelming managing messaging across your website, paid media ads, Facebook, Twitter, Instagram…just to name a few. Strategize consistent messaging, as well as the look and feel of your digital marketing efforts, to use across all your platforms and channels to funnel customers through one journey. It's confusing to see one message and design in an email newsletter and something totally different on your website. Build content for your website that can support your other digital and non-digital marketing efforts. When you have seconds to make an impression, maximize the effectiveness of your marketing efforts by having your messaging and look and feel of your content be consistent across all your channels.
5. Address various audience segments.
The content on your website shouldn't be focused on only one type of visitor. If your goal is to convert a customer to buy a product, look at creating content that also addresses others who aren't ready to buy, or have already bought. Maybe have a sign-up form for tips and information, or informative landing pages that will guide the customer to eventually convert. If not, then a visitor may not return to your website frequently if there isn't relevant or updated content beyond the one action. Conversion also may not happen right away—so covering your bases by having content that addresses all types of users can help lead towards actual conversions. By having content that covers different audience segments, you'll keep a wide visitor base who will stay engaged beyond the main goal.
6. Examine the user journey experience.
Whether you have the latest bells and whistles or not, examining the user journey on your website determines your success for CRO. Does your website clearly guide users to your ultimate goal? Is there too much information (or not enough?) and the user is overwhelmed? Call to action (CTA) links should be clear, leading visitors to the next step – and try to avoid multiple CTAs in one spot, as it can be confusing what the next step for the user is. Imagery, headlines, copy should all inform and guide users. Too many steps on the path, including having too many form fields, can decrease user engagement and cause drop-off before conversions. Reducing these potential blocks and making things as easy as possible has the potential to increase conversion rate. It's important to test out the user journey on your website and find the decision points, copy, or call to actions that are leading to failed conversions.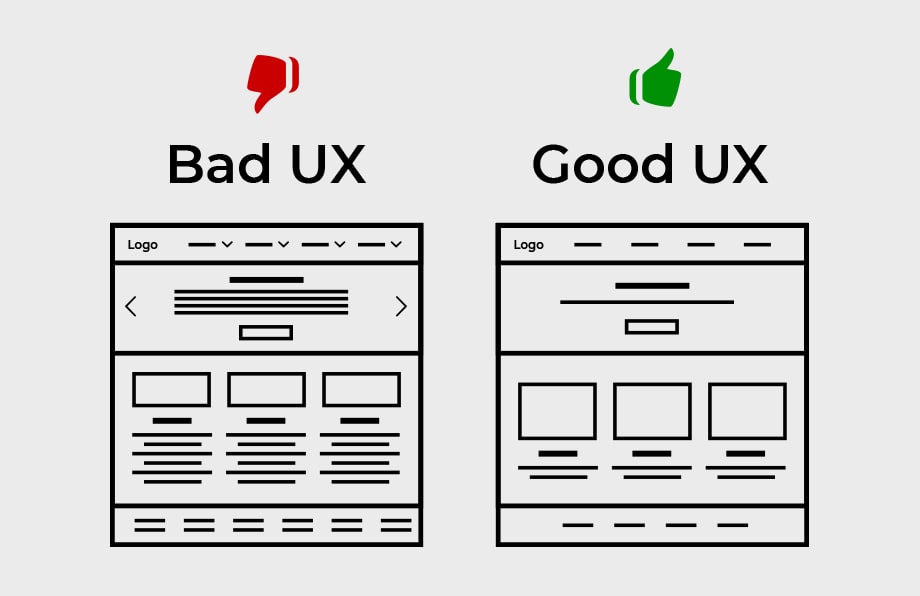 7. Find ways to keep people engaged.
There are a number of tools and applications that analyze and provide analytics about what's happening on your website. A couple of critical metrics to examine for your CRO are bounce rates and point of entry. What and where are the highest rates where visitors are leaving before completing the user journey? Look at what pages have the highest bounce rates, and where visitors typically enter your website—it may not always be the homepage. Examine why visitors are leaving and strategize what can be optimized or modified to keep the visitor until they convert. Your bounce rate can also be a useful metric as you make changes to your site; as it fluctuates up or down, it can be a helpful baseline as you experiment.
8. Don't let a difficult CMS create process roadblocks.
Your website's Content Management System (CMS) should be a robust, flexible, and responsive tool that allows you to easily update your content. A difficult CMS makes it complicated for your content editors to add or update content. Ease of use means your company can be responsive when updates are required; you don't want to get backlogged because you are dependent on IT or one team member to make updates. CMSs have changed to allow for ease of use for strong content management by multiple users, as well as the ability to track key data to analyze and optimize customer experience on your website. A CMS that allows you to push out strong content easily, and track your customers' experience so you can optimize their future visits, is a critical foundation for your website.
9. Keep the trust...be secure.
Customers are more and more concerned and aware about privacy and security as they visit and take actions on websites. Even if you aren't storing user data on your website, it's important to do what you can to make sure your website is secure for multiple reasons: your SEO ranking on Google and other search engines can be affected if your website is marked insecure without SSL (https); a hack happens every 39 seconds (and hackers aren't just looking for credit card information – usernames and passwords are desirable, too); and your website visitors are aware of key factors to look for to make sure your website is secure. Security of your website is critical to build trust, engage, retain, and convert your website visitors.

Another thing to consider is if your website meets web content accessibility guidelines (WCAG). This report documented that by the end of 2019, there were 2,235 legal cases filed against ADA web and app accessibility (60% against retail companies). There are various tests that can be conducted to see where your website is or isn't compliant. Some industries that are being sued include clothing/apparel stores, consumer goods, and e-commerce stores. It's important to evaluate if your website is accessible to your customer base by making sure your website is WCAG compliant as much as possible.
What's next?
Your website serves as the center of your digital marketing ecosystem. It's a critical component of driving revenue and meeting your business goals, so it's important to make sure that you're hitting the major areas when redesigning your site. If you have questions or need support determining next steps for your website needs, let us know – we're here to help.