Content marketing continues to function as a critical foothold in the climb for audience attention and a fundamental way for brands to support the customer journey, establish early trust and drive awareness. As such, it is well worth taking a step back from all existing efforts to examine whether current strategies align with consumer expectations and preferences and what emerging technology and user fluency is now available to support content production.
The truth is that many of the shifts for the content marketing industry are subtle, which is why we've taken our team flashlight to shed light on the 5 digital content marketing trends we believe warrant your consideration.
1. Interactive Content is IN!
So, what is interactive content exactly? After all, content consistently invites in – and is in part measured by – interactions done by the part of the receiver - clicks, taps, comments, etc.
In this context, interactive content refers to an increased element of interactivity and immediacy in terms of a delivered result back to the participant. Quizzes that deliver a needs assessment – from what haircare is best for a specific type of curly hair, to what type of rental insurance is best for a particular set of circumstances. Interactive content sets the stage for a personalized, engaging, and ideally, fun way for a consumer to receive brand education and product or service recommendations.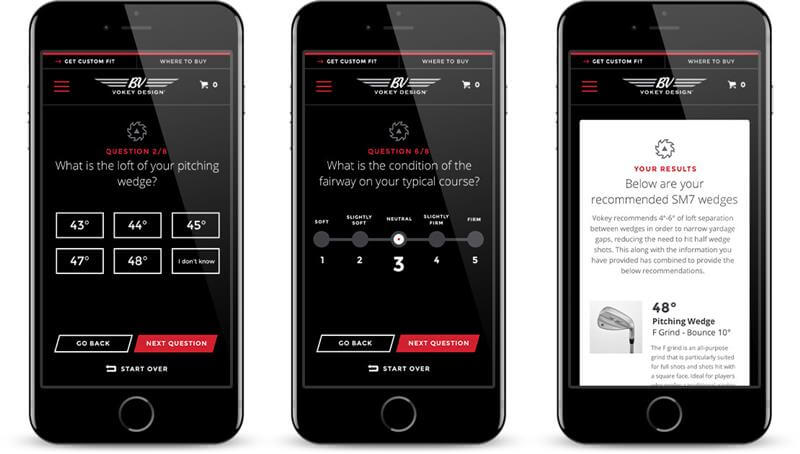 Titleist Vokey's award-winning Wedge Selector Tool developed by Red Door Interactive.

How to implement: A quick way to explore interactive content is to review FAQ-style content and key sales objections – areas where prospects drop off in a funnel – and consider how to address these challenges head-on with an interactive, content-rich experience that delivers the best recommendation or result to help the consumer make a confident buying decision.
2. The Power of Personalization
We mentioned in a bit up above, but personalization – from custom-fit clothing to welcoming a repeat customer with their name when they visit your homepage after making a purchase – is a powerful way to establish greater rapport and invite customers to co-create their brand experience.

Personalization doesn't always have to happen at the individual user level. Consumers may not even be aware it is happening. For example, Netflix regularaly switches the cover image of a show (based on demographics and viewing behavior. This type of A/B testing supports better performance, and a more personalized user experience.

How to implement: Start small and identify one area where your marketing communications can help customers feel more seen and heard. For example, if you did a personality-style quiz as your interactive content, you could design multiple site experiences that speak directly to that quiz result and provide further custom content.

3. Utilizing AI for Content Development
Recently, comics artist Ilan Manouach and AI engineer Ioannis Siglidis created The Neural Yorker, New Yorker-style cartoons with computer-generated captions. Not surprisingly, the results were…funny in a different way! But that doesn't mean that we aren't going to see marketers experimenting with various AI software to solve their content conundrums in the years to come.

After all, AI-created content development – from optimized-blog articles to sales pages, and of course chatbots – allow marketers to create and optimize content efforts from the powerful data analysis and pattern recognition such tools provide, while also streamlining the copy creation process and accelerating delivery timelines.

How to implement: Experiment! Choose a project and give it to a bot. Notice what about the result works, and where the human touch is still required.

4. The Rise of Audio & Video Marketing
About a decade ago, as our phones morphed into cameras, the photograph became a new focus for marketers, primarily distributed through Instagram and Facebook. While podcasts are nothing new, the combination of audio and video marketing, and the inclusion of multi-media content pieces is certainly on the rise. From Clubhouse to TikTok we are engaging with audio in new ways. Video-based storytelling, particularly in the vertical format, has nearly eclipsed all other forms of content on social channels, and with it the need to plan for and understand accessibility.


How to implement: Take a piece of cornerstone content or your top-performing post and develop versions that are audio-only (perhaps the option to listen as well as read a blog post), and video-specific (perhaps a visual breakdown of the blog article's main thesis). Then take it a step further and consider what owned media might be created to support the increasing expectation that consumers can dig into a brand's digital footprint through a mix of content delivery systems.
5. The return of the Newsletter
As creators and businesses alike struggle to ensure social content makes it to the feeds of followers, we are seeing a renewed enthusiasm for email marketing and anticipate a greater consideration and increase in spend for email in 2022.
Why? Email allows for hyper-segmentation of audiences (including personalization) and robust analytics, with a higher ROI than social media efforts from a sales standpoint. Technological advances allow for video embeds and SMS updates that are both educational/inspirational and transactional in nature, with ESPs allowing greater cross-deployment via text as well as email. From re-engagement to long-form trust-building sequences, short-term launch programs and punchy welcome sequences, email deserves a greater share of the marketing spotlight.
How to implement: Audit your existing email program with your current goals and audiences in mind. Are you doing enough to deliver specific, actionable content based on demographics, defined interest buckets or other markers of subscriber need and preference? Are you capturing the most useful data at the point of sign up? With your findings in hand, look to improve!
Well, that's plenty to keep you busy! Red Door has a full content team that would love to help ensure you are capitalizing on all the potential for growth that lives in your content strategy. Reach out today!