What is Email Marketing?
Email marketing refers to the process of engaging your target audience through valuable messaging that builds relationships to convert and retain customers via email. Unlike other forms of digital marketing, email provides a unique opportunity to personalize messages to individual audience segments and have them delivered directly to inboxes. As a result, email marketing should be an important part of your digital strategy. Email can work together with acquisition strategies, like digital advertising, SEO, and social media, to create a full-funnel approach to your marketing. While digital advertising, SEO, and social media can attract new audiences (something email is unlikely to do), email works as the closer to convert these new audiences into customers and build loyalty with past customers by continuously providing them value.
10 Benefits of Email Marketing
When done right and in conjunction with other acquisitional marketing efforts, email can be an extremely useful channel or instrument in your marketing toolbox. If you're still not convinced, here are 10 benefits of email marketing:
1. Consistently Used Communication Channel
Chances are, if you have access to a computer and the internet, you use email regularly. Think about it - when's the last time you went a day without checking your email? In 2021, there are a reported 4 billion people that use email daily (Statista). On top of that, consumer research has shown that people prefer email communication for receiving promotional offers compared to any other channel (V12, 2020). Let's face it, email has become entrenched in our daily lives, and because it is the main communication channel for business, it's not going away anytime soon… Unlike social media, which can change at the drop of a hat. Anyone remember Vine or when Tik Tok was a hair away from being cancelled?
2. Direct To Inbox
We said it above, but we'll say it again, email is the only marketing channel that can provide messaging directly to someone's inbox. Take social media for example--due to their algorithms, content posted on social media is not guaranteed to be seen by your followers or target audiences. In fact, on average, content posted to Facebook reaches only 6% of your audience (K6Agency), and around 20% of your Instagram followers (Chloe Digital). When it comes to search marketing and SEO, it's also an ever-changing landscape with no guarantees on when you'll show up top of page compared to competitors. When email is executed correctly, your messages will always be delivered to your audience. Now getting your audience to read those messages is a different story…

3. Highly Measurable
Email is a highly measurable marketing strategy that allows you to collect copious amounts of data to track your effectiveness. Email engagement metrics are very robust and provide real-time information around when someone interacts with your messages, how they interact with your content, and where they're led onto your site (effectively deducing where they're at in the funnel).

A couple of key metrics that could help you evaluate include:
Open Rate: The number of emails that were opened out of the total emails delivered. Open rate can be a good indicator of an email subject line & preview text's effectiveness. Are you speaking their language?
Click Through Rate: The number of unique click through actions in an email out of the total emails delivered. This is a good indicator of how well your content aligns with your audience's interest. Are you giving them what they need?
Click to Open Rate: The number of unique click through actions in an email out of the total emails opened. While this is also a good indicator of interest alignment, it can also speak to your subject line & preview text's alignment with the content. If people are opening an email but not clicking any of the links, it's possible there's misalignment in what they expected from the content based on the opening information. Does the content match the pitch?
Top Engaged Users: The people in your list that consistently engage with the content you're sending them. It's important to then align them with your target audiences to understand who your emails are working best for. When top engagement doesn't align with target audiences, that insight can help implement a more successful messaging strategy to your audiences. Does the messaging align with your target audience?
Top Clicked CTA: The call-to-action button or link that has the highest number of total clicks. This helps identify what your audience in a specific email stream are most interested in receiving from your communications. Knowing this can help identify content format, content topic, and more. What content should be featured in email?
Unsubscribe Rate: The total number of people who unsubscribed from your email communications out of the total emails delivered. This helps identify any issues with the content you're sending or the cadence of your messaging. High unsubscription rates signal unwanted communication. Does the audience want to hear from you?
Traffic Attribution: The volume of traffic (pageviews, sessions, users, etc.) to your website that comes from email messages. This information will identify how effective your email marketing is to the bottom line of your business. Are they converting onto your website? It's important to note that not all emails have the end goal of driving website traffic.
Beyond this, email reporting provides you with granular behavioral insights of every customer on your list. Unlike other marketing efforts, where reporting focuses more around aggregates and total volume, email reporting can be easily filtered down to each individual recipient. Not only is there a breadth of data available for measurement with email, but most email marketing tools offer easy ability to track these engagement metrics. Additionally, when email is integrated with a customer relationship management (CRM) solution, you're provided with an even more detailed picture of your customer interaction that can help improve sales visibility.

4. Targeted Messaging
Since email marketing provides a plethora of data points that can be drilled down to each individual recipient, it provides the opportunity for highly targeted messaging through audience segmentation. Using shared attributes of past behavior or demographic data, you can separate your audience and tailor the messaging that is sent to them. You can tailor email messages to consider:
Content Interaction with past emails.
Website Behavior to understand funnel stage.
Demographics from market research or surveys/forms.
Email interaction timing.
With all the available data, your target messages can consider who the recipient is, what type of content/messages they like, where they're at in the buyer journey, and how they prefer to receive email messages to ensure you're communicating in the most effective way for moving them through your sales funnel. We challenge you to a name another communication platform that can do the same… we'll wait.
5. Testable
But wait, there's more… Think email couldn't provide any more data, think again! Most email marketing platforms allow the ability to A/B test your messages. Essentially, you build two different versions of an email and determine how you'll send to various portions of your audience. Email platforms often provide multiple test options. Take HubSpot for example, they offer a 50/50 audience split send or a "winner takes all" option.
50/50 Split: 50% of your audience is sent Version A and 50% is sent Version B. Then you can compare the target metrics to determine which version performed best.
Winner Take All: A portion of your audience (TBD at send) will be chosen for your test. Half of this group will be sent Version A and the other Version B. After a determined amount of time (4-100 hours) a winner will be chosen based on predetermined metrics. The rest of your audience will then be delivered the winning version of the email.
While you could send two totally different emails in an A/B test, a best practice is to choose one item to alter and assign it a corresponding engagement metric to track effectiveness. For example, if you wanted to test a subject line, you'd make a second version of your email with a different subject line phrase and set the observable metric to open rate. The important thing to remember is to alter one aspect at a time in A/B testing. After all, if we changed more than the subject line (Header Image or Preview test), how could we attribute any differences in open rate between the versions?

6. Top Level Performance
When it comes to actual performance for meeting your marketing objectives, email continues to be an industry leader. Things you should know: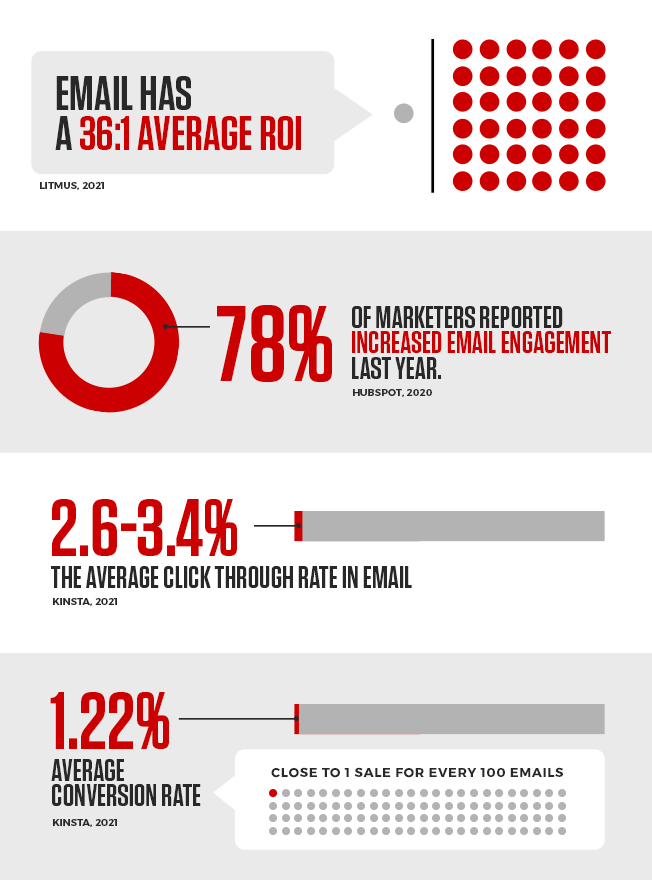 While that last point may not seem like a shining star of excellence, it brings us to our next point…

7. Cost Effectiveness
Unlike other marketing platforms, email is cost effective. Instead of paying by impressions or clicks, email marketing solutions typically charge a monthly fee that can be standard month-to-month or dependent on your contact database size. Whatever the case, since you don't pay per email or for each engagement, sending 100 emails is a viable tactic to get that one sale. Additionally, the high ROI tells us that transactions from email tend to have a higher value – so that one sale is probably worth it!

8. Automation
We understand marketers have a lot on their plate, so another benefit of email marketing is the ability to automate messaging. While we don't recommend taking a "set it and forget it" approach to your email strategy, there are some instances when automating the process of getting messages to your customers, at the exact right time, can be useful! Luckily, most email platforms provide you this opportunity. You can automate messages around any number triggers. So, when someone from your list meets that trigger criteria, they're automatically sent a specific email. This can be extremely useful in pushing considerers into converting!

9. Integration
You might be thinking to yourself that email sounds AMAZING, but you already have a sophisticated marketing strategy and it'll be too hard to integrate email into the mix. Luckily for you, the last benefit of email marketing is its ability to be easily incorporated into your existing marketing efforts. Email marketing is not effective at replacing other marketing channels; in fact, it wouldn't work as a replacement in most cases. Instead, it's made to work hand-in-hand with what you're already doing to add value when possible.

Other marketing channels (Paid, SEO, Social) work best to acquire new leads or audiences. They typically put a message "out there" and wait for someone to get hooked based on search, social behavior, or other browsing activity. Since email requires someone's direct address in-hand, it's not the preferred method to find your audience and pull them in. Instead, emails works with these other channels to begin reeling someone in once they've been caught. With email you can provide them direct resources (information, education, links, etc.) that nurture their needs to push them down your funnel.

10. You Own Everything
We'll say it again… YOU OWN IT ALL. Think about this, if a social media channel were to die tomorrow, what would you lose? Your follower list doesn't provide you with any personal information about your audience, nothing that can be exported or used elsewhere. Everything lives in that channel. Beyond that, the channel is ever changing with the whim of its creators. So, nothing about social media is yours, it's owned by someone else. But with email, no matter what provider you're using to host your contacts, at the end of the day, they're yours and can move with you wherever you go. At the end of the day, email is an owned media channel (like your blog) where everything you do and have is yours alone.

Effective Types of Email Marketing

Now that we've convinced you that email marketing is necessary for an effective digital marketing strategy in 2021, it's time to start thinking about what types of emails your brand should be sending. And we wouldn't leave you hanging… So, here are six types of email messaging strategies to get you thinking about what your brand needs.
Promotional Emails: Promotional emails can be stand-alone offers or multi-drop campaigns that disseminate a one-time offer, feature a new product, introduce an upcoming event, or just highlight new educational content on your website. In the end, no matter the subject matter, all promotional emails are focused on informing your audience of a way they can interact with your business.
Email Newsletters: Email newsletters are typically a compilation of various information that are routinely sent to someone's inbox. While they can contain a multitude of content types, their main purpose is to educate the audience about your brand/business.
RSS Feed: An RSS Feed email sends a feed of items to your specific audience. All you do is set up the frequency of this email blast. This email messaging is typically used to promote a blog or educational series that is consistently published.
Triggered Emails: Triggered emails are exactly what their name suggests… They're messages that are deployed (or triggered) based on someone's actions. Sometimes also referred to as transactional emails, these emails are automated and delivered to appropriate contacts once specific conditions are met. Because triggered emails can be sent due to any trackable behavior of a subscriber, the messaging opportunities are vast. Some typical triggered emails include:

Welcome: These messages welcome new subscribers to your list. They're focused around retaining newly acquired contacts to the next stage by letting them know you're happy they're here and prepping them for what to expect.
Lead Nurturing: These messages are focused on moving someone from the consideration to conversion phase of your sales funnel. They can be automated around known interaction conversion points and provide information that convinces a lead to convert.
Post-Purchase: These emails are sent after a customer makes a purchase and help build loyalty. They can confirm the receipt of order, include a thank you note, or more importantly provide MORE to customers with vital follow-up information about their purchase.
Re-Engagement: These emails communicate with inactive users to provide information that reinvigorates their interest in your brand. While they typically only refer to re-engaging email subscribers, we think broader and include other opportunities to re-engage, like the abandoned cart automated email.
Next Steps for Email Marketing – IdentifyYour Audience(s)
Now that you know why email marketing is important, the question is where to start. Before you jump right into sending emails, we'd recommend starting by identifying your target audience(s). Before you can determine the messaging, here are some things to consider:
Who do you want to communicate with?
Why do you want to message them?
How will you identify them in your contacts?
What value can you offer them?
While this information is likely to evolve as your company grows, making sure you're covering the foundations from the start will set you up for success in the future. Once you've outlined all this information, you're ready to start thinking about building emails and lists!
To learn more about using email marketing for your company, check out our other educational resources:
Still not sure how to reach your customers with email marketing? We're here to help. Contact us today!