CHOC: Partnering with a brand to amplify its mission
Children's Hospital of orange county (CHOC) has been committed to providing the highest quality of pediatric care since 1964.
Children's Hospital of Orange County (CHOC) is committed to being a leading destination for children's health by providing exceptional and innovative care. The pediatric healthcare system includes two state-of-the-art hospitals, a regional network of primary and specialty care clinics, and several programs of excellence providing the highest levels of care for the most serious pediatric illnesses and injuries. CHOC turned to RDI to help further strengthen the healthcare system's position as a strong category leader. CHOC and Red Door began partnering in 2019 with a focus on improving the online patient experience through increased tracking and data analysis, SEO optimization, and strategic content development. Quickly, Red Door's passion for CHOC's mission along with the strength of our initial recommendations amplified the partnership to now include a full suite of services as CHOC's primary digital agency partner.

defining a foundational strategy
We worked with CHOC to audit their existing digital marketing program to inform a multi-pronged strategic plan for the upcoming year. This new framework set the groundwork for an integrated program that captured a long-term vision for years to come, and surfaced quick wins for immediate impact. We now repeat this assessment annually to ensure our current program continues to directly address CHOC's biggest goals.
creating the patient connection
Early on, it became clear to the CHOC marketing and Red Door teams that CHOC needed a more effective way for connecting marketing efforts to appointment calls. To manage this, we implemented call tracking, allowing us to follow a customer's entire journey through a marketing channel, down to the act of calling CHOC's key appointment destinations. Call tracking soon became critical to driving steady growth through optimized marketing efforts, understanding the effectiveness of our media campaigns, and gathering countless insights about the patient experience.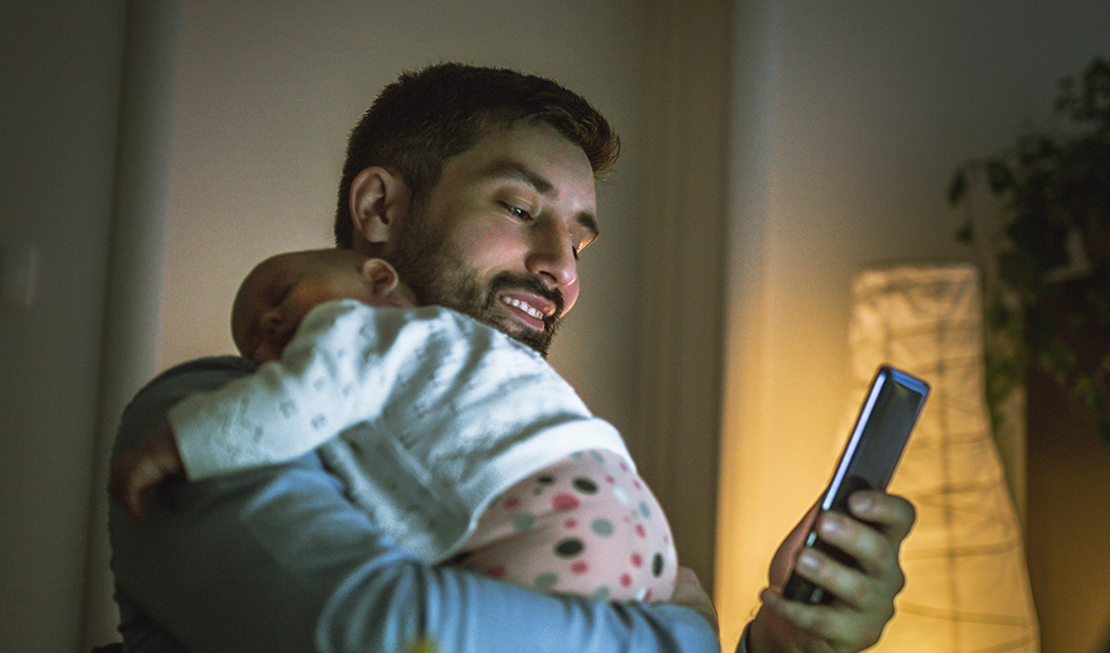 prioritizing for impact
To help CHOC prioritize marketing investments in their numerous service lines, we established a Prioritization Matrix: a simple, data-driven, and interactive tool that allows us to assess program opportunities daily, and in an objective way. Using this organized data, we identified the areas of CHOC's business that would allow us to make the most impact, helping us understand where we should allocate resources, and why.
sharing a compelling, connected story
Using our strategic framework as a guide, we implement a robust digital marketing program that involves content & SEO strategy and development, media planning and management, creative strategy & production, and website user experience optimizations – all driven by daily data analysis to advance CHOC's strategic goals.
elevating the content ecosystem
As the virtual meeting place for patients and families, CHOC's website must provide the information caregivers need to best provide for their child no matter what age, stage, or part of their health journey they are in. Red Door and CHOC have focused on building a center of wellness information that is easy to find, easy to navigate, and relevant to the answers caregivers need.
Ultimate Guides
A one-stop shop for information about common symptoms and conditions allows parents to see CHOC as a trusted partner in their child's care.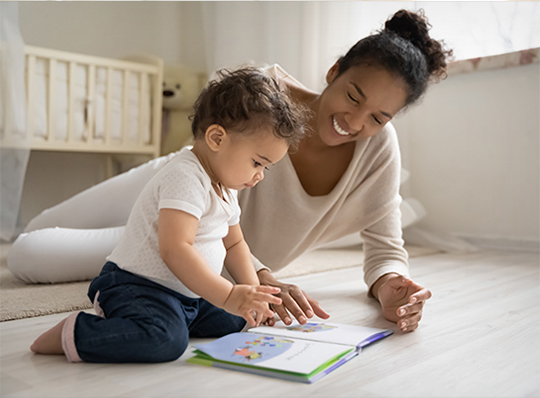 Ages & Stages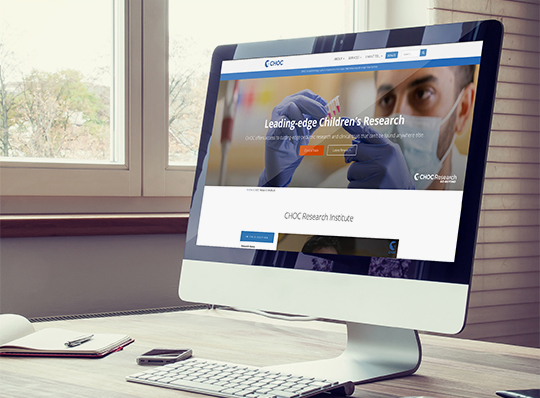 Service Line Experience (CDH, Fetal, Research)
reaching with emotion & consistency
Red Door worked with CHOC to identify areas of greatest impact, and focused paid media efforts on getting the right messages in front of those who need to receive them the most. From maintaining wellness visits during the COVID-19 pandemic to providing lifesaving cancer treatments for young adults, we paired leading research with emotional messaging so patients and their families can find the care they need.
primary care campaign: Childhood doesn't pause. Neither does our care.
Social, programmatic, and search efforts drove caregivers to a dedicated landing page to raise awareness and action around the safety of CHOC's facilities and importance of maintaining wellness appointments during the pandemic. Since launch, the campaign has generated more than 5,300 highly qualified calls to CHOC.

cancer campaign: Advanced research meets compassionate care.
Display, social, search and audio streaming efforts elevated awareness of the physical, mental, social and all-encompassing holistic care provided by the Hyundai Cancer Institute at CHOC. Within three months, the campaign drove a 268% increase in engaged users on key cancer site pages and 68% increase in calls to the Cancer Institute.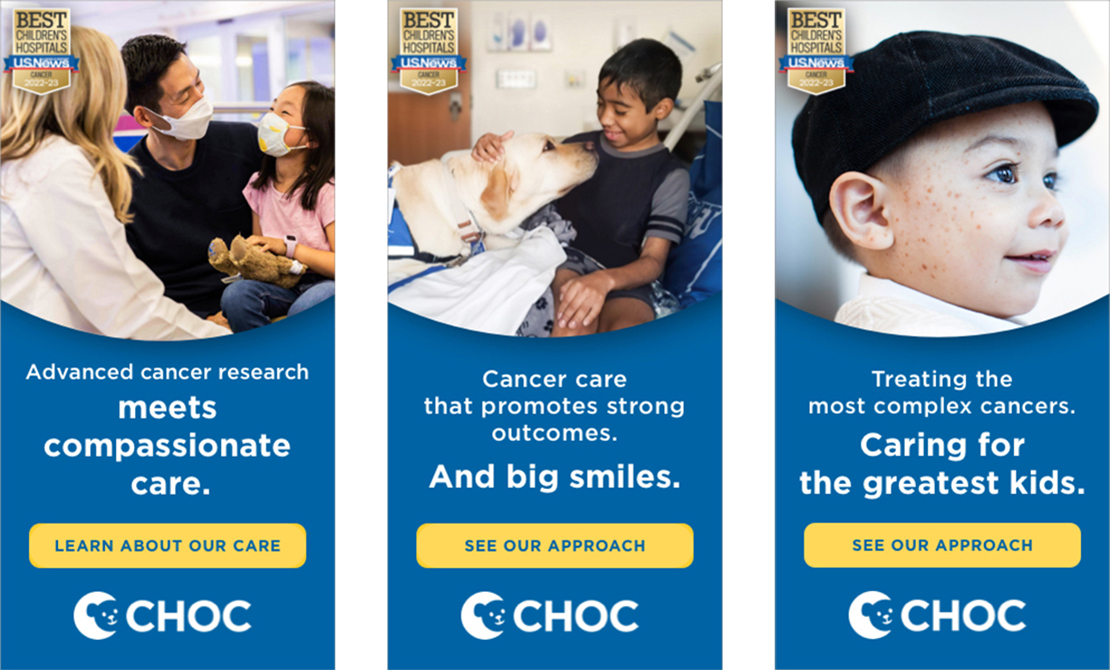 emergency care: fever education campaign
Display, social, search and audio streaming efforts drove families to a dedicated landing page for education on the correct care for fever, to help decrease non-urgent cases in the Julia and George Argyros Emergency Department. Within two months, the campaign converted almost 8,000 users to learn more about appropriate fever care.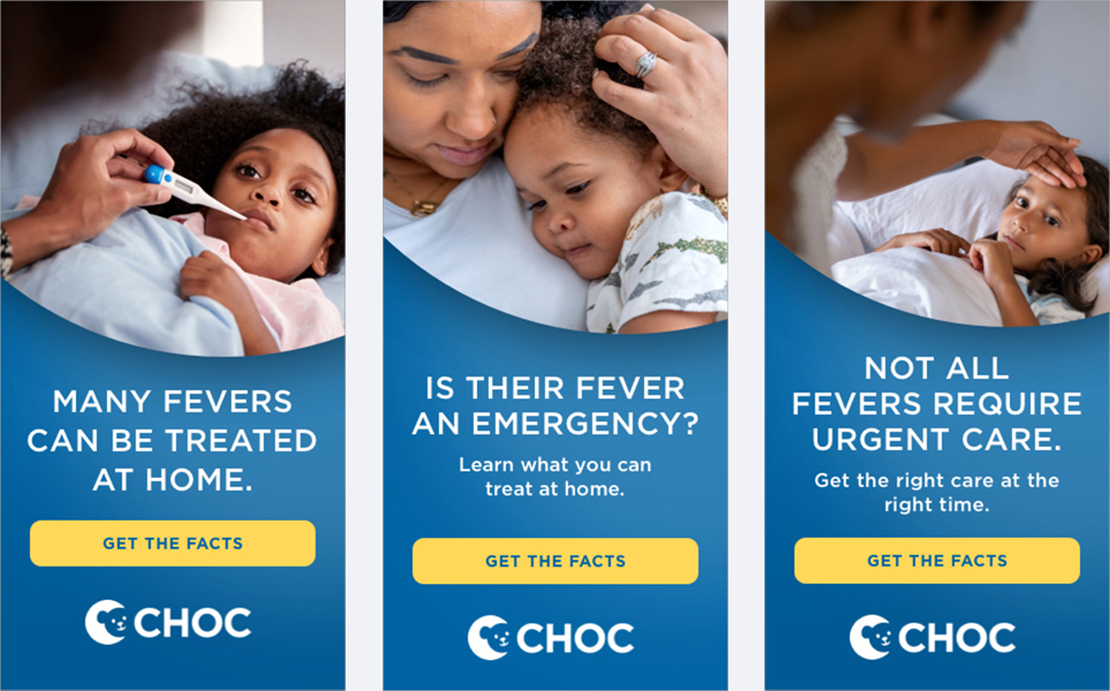 mental health campaign
Display and search efforts drove caregivers to a dedicated landing page outlining CHOC's mental health resources. Since launch, the campaign has increased engagement with CHOC's online mental health resources by 22%.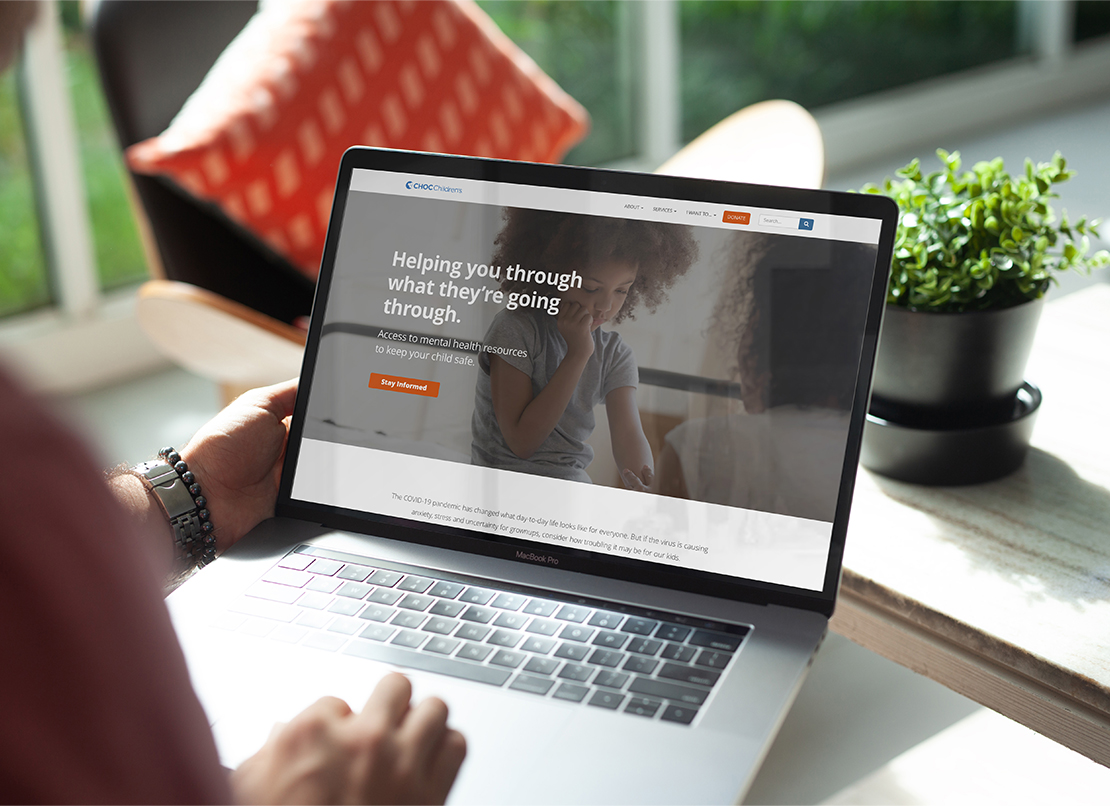 integrating the multi-audience experience
Referring physicians and donors are vital to CHOC's mission. To ensure we were delivering the most optimized experience for both audiences, we worked with CHOC to audit the online journey of referring or supporting a CHOC patient and identified opportunities for improvement. From there, we developed campaigns to keep CHOC top of mind and implemented optimizations to simplify the steps to convert for each of these audiences.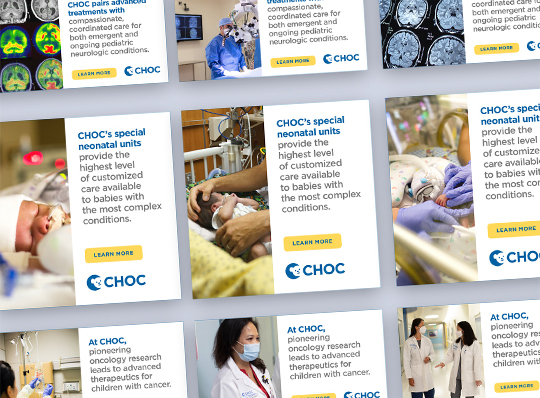 Providers
A paid and email campaign targeting physicians in the fields of neuroscience, neonatology, and oncology encouraged physicians to vote for CHOC in the U.S. News & World Report's Best Children's Hospital Survey and helped boost CHOC's reputations in the featured specialities. Optimizations to the Referral Portal allow physicians to easily send their patients to CHOC's specialty care services.
donors
Through a program marketing strategy, annual paid media campaign, and social and email event promotions, Red Door has helped the CHOC Foundation increase online donations by 165% over the past three years.
looking ahead
Through our strong mutual partnership with CHOC, we're able to ensure we're constantly aligned on key success measures, up to date on organizational and industry happenings, and positioned to always evolve. Managing this relationship as an intentional, data-driven program has allowed our team to focus on what matters most: providing strategic expertise and support that benefits CHOC and the patients and families they serve.
LET'S CREATE SOMETHING MEANINGFUL TOGETHER.