Agency to release customer journey app as part of its Domo Solution Suite
SAN DIEGO — March 22, 2017 — Today, Red Door Interactive, a Domo Select Solution Partner, announced that they have entered their new Competitor Customer Journey app into the Domo Appstore. As a Select Solution Partner, Red Door Interactive offers a full suite of Domo services to their customers, including business consulting, Domo technology and apps. The Competitor Customer Journey app leverages data from social listening platforms, and allows marketers to better understand how their brand measures up against key competitors. Armed with visual layout, this app helps brands determine where their social voice ranks among competitors at each phase of the customer journey.
"We orient our clients around their customer's journey through the marketing funnel, so a tool like this can help marketers quickly spot areas to focus their efforts in order to increase their effectiveness and ultimately drive more sales," said Reid Carr, Red Door Interactive's CEO. "We are excited to announce this app today. We frequently help clients identify how their marketing tactics perform related to their competitive set, so we are glad we could respond with this type of 'always-on' customer journey app for other Domo customers."
This application requires brands to have access to a social listening platform supported by a Domo connector and will assist in making informed marketing decisions related to their competitive ecosystem.
"Domo's Business Cloud empowers our customers to make data-driven business decisions in a highly scalable, easy-to-use platform," said Chris Harrington, president at Domo. "Red Door Interactive is an integral solution partner that is unleashing new value and innovation to their customers leveraging our platform."
Domo helps all employees – from the CEO to the front line worker – optimize business performance by connecting them to the right data and people they need to improve business results. Domo's Business Cloud is the world's first customizable platform that enables decision makers to identify and act on strategic opportunities in real time.
For more information about Red Door Interactive's Competitor Customer Journey, contact us to receive a demo.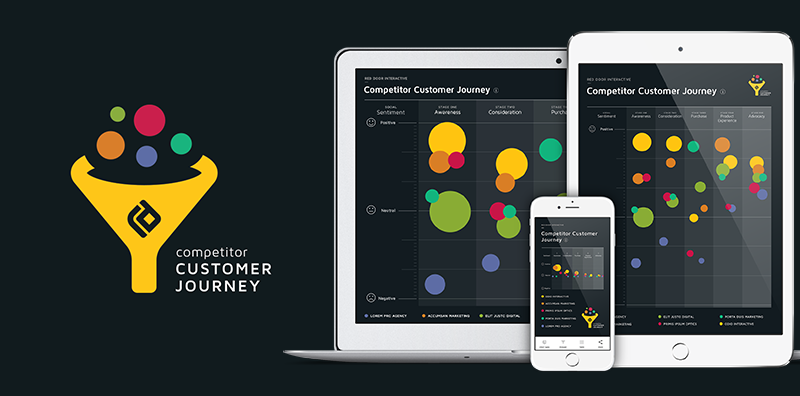 About Red Door Interactive, Inc.
With offices throughout Southern California and the Mountain West, Red Door Interactive is a national, award winning, full-service marketing and advertising firm that utilizes an informed storytelling approach for mid-market brands looking to increase market share. Through an integrated, analytics-based system, the agency leverages its clients' brand narratives alongside a disciplined, data-driven process that delivers the right message to the right audience at the right time. In doing so, Red Door stirs the desired emotion within audiences, driving them systematically down the sales funnel. Clients include Titleist, Astroglide, Bosch & Thermador, Shea Homes, and ASICS. To learn more, visit www.reddoor.biz.