Agency purchases land for new office space in emerging neighborhood
SAN DIEGO — Red Door Interactive, a national marketing firm based in San Diego, announced today it purchased three buildings in the neighborhood of Sherman Heights, a designated Opportunity Zone, for its new headquarters.
The office, which will be designed by the locally-owned AVRP Skyport, marks a bold move to a new neighborhood for the company with more than 80 employees, the majority of whom are local. Eighteen years ago, Red Door Interactive opened its doors in East Village and has been there ever since, moving to a larger office four times as the company steadily grew.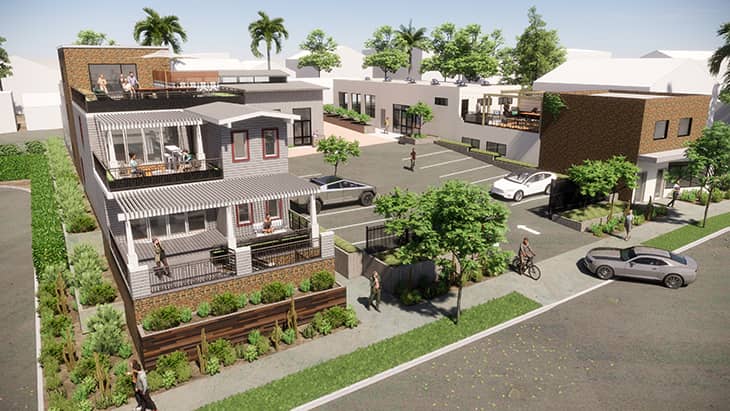 Conceptual sketch of future San Diego headquarters
"We have been witness to the incredible growth of San Diego's East Village, and now we're excited to bring our diverse team of talented, creative minds to a new neighborhood," Reid Carr, CEO and co-founder of Red Door Interactive, said. "Sherman Heights is more than a vibrant, historic place with fantastic views of downtown, Coronado, and the Bay — it also gives us easy access to everything that our employees love about the larger San Diego region."
Sherman Heights has easy access to Interstates 5 and 15, and state Routes 163 and 94. It's also a few minutes from the airport and walkable to the unique and vibrant neighborhoods of East Village, Golden Hill and Barrio Logan.
Council member Vivian Moreno, whose district includes Sherman Heights, praised Carr's decision to move his national brand to the neighborhood, which has been designated as an Opportunity Zone by the U.S. Department of Treasury.

"I am excited that Red Door Interactive has chosen the historic neighborhood of Sherman Heights in District 8 for their new offices," Moreno said. "This community, with its colorful and historic homes, breathtaking views, and proximity to downtown, is the perfect location for this full-service marketing company. I look forward to Red Door Interactive becoming part of the vibrant District 8 community."
Mark Cafferty, President and CEO of the San Diego Regional Economic Development Corporation, acknowledged the economic contributions Red Door Interactive has made in San Diego over the years, describing the company as "forward-thinking."
"Reid and the team at Red Door Interactive have always made a name for themselves as a forward-thinking company willing to chart their own path," Cafferty said. "The decision to move their headquarters to Sherman Heights is one worth following. Nearly 20 years ago, the company began a movement in East Village that proved to be monumental for the growth of Downtown San Diego. We look forward to seeing Red Door bring that same vision, passion, and creativity to the historic and vibrant Sherman Heights community."
Red Door Interactive, which also has offices in Denver, CO., and remote employees worldwide, plans to break ground in 2020 with a move-in date of 2021. The company currently occupies an award-winning, ground floor space in the DiamondView Tower at Petco Park.
ABOUT RED DOOR INTERACTIVE
Red Door Interactive is a fiercely independent, full-service marketing and advertising agency. Using data, technology, and top industry talent, Red Door develops breakthrough creative and implements smarter marketing practices, ultimately driving more revenue for clients. Notable clients include Titleist, Bosch, Thermador, Northern Arizona University, ASICS, Shea Homes, among others. Red Door is proud to be recognized as an Ad Age Top 50 Best Places to Work, and has offices in San Diego, Denver, as well as team members all over the world. To learn more, visit www.reddoor.biz.
QUICK FACTS
Red Door Interactive launched in 2002 with a team of four people in East Village

Today, more than 80 employees in San Diego, Denver, Tucson, Salt Lake City, New Orleans, Tijuana, and Manila

The company is privately-held, independently-owned

Future Sherman Heights property is located at 2436-2450 Market Street with 17,596 square feet on 0.404-acre lot

The property and surrounding neighborhood has been designated an Opportunity Zone by the U.S. Department of Treasury

Construction is expected to begin July 2020 with a target move-in of April 2021