Why Our Creative Team Hearts AI (and why you might, too)
What comes to mind when you think of 'AI'? Probably something like, "We're all going to be replaced by AI robots!" Well, we'll see about that!

For our team, having used these tools for more than a year now, Generative AI has allowed us to uncover insights, build on themes, and rapidly explore new ideas – put simply, they have saved us time and inspired new roads of thinking. But, in our experience, while exciting, these tools still have a ways to go before they are an end-to-end creative solution. To show you how we all may learn to love these new tools, rather than fear them, we figured, what better way than through shareable Valentine's Day cards?

With Valentine's Day around the corner, the Red Door team thought it would be fun to illustrate our experience with Generative AI by using a chatbot and image generator to develop printable V-Day cards for our lovely coworkers (and yours). And, since one of our Core Values is "Share," we wanted to share both the process and the outputs with you to give you a sense of where things stand with Generative AI.
Inspiring creative with Generative AI
For this effort, we decided to use OpenAI's powerful combination of ChatGPT and DALL•E 2. OpenAI's mission is to "ensure that artificial general intelligence benefits all humanity." While not the only tools out there -- in fact, there are 100s -- these tools are getting all the attention for good reason. They're easily the leader in the Generative AI game due to their accessibility, price (currently free for basic use), ease of use, and knowledge scope (through 2021).

ChatGPT, as many already know by now, is an AI-powered chatbot that allows for human-like conversations with the technology. It's trained to learn what humans mean when they ask questions. We used ChatGPT to generate initial card copy based on the prompt:

Write fifteen tongue-and-cheek office-appropriate V-Day card headlines to show co-workers you care about them

In seconds, we had our base of ideas and a smile our faces after reading them. For example, "You make my 9-5 look like a 5-9" had us swooning, so we shortlisted it.

Then, we refined the results to make our output a little more personal: Make some of the headlines about instant messaging, Microsoft Teams, Outlook, e-mail, sharing desks, and long meetings

We were pleasantly surprised by the chatbot's use of alliteration. For example, ChatGPT returned "You make Outlook look good" as a headline.

Once the results were in, we used AI-powered image generator DALL•E 2 to create original artwork to accompany the headlines, based on text descriptions. We started with straightforward prompts like, "An illustration in pop art style that communicates 'You make Microsoft Office look good.'"

The prompt returned bizarre results, with alien-like headlines.

Then, we varied our prompts with the goal of returning a wide array of results to pair with our AI-generated messages. We described specific scenarios and styles of imagery, based on our art director's awareness of design styles, artists, and eras. As OpenAI's website says that DALL•E 2 can "combine concepts, attributes, and styles." Here are a few of our favorite results:

A computer, in the style of a 19th century valentine card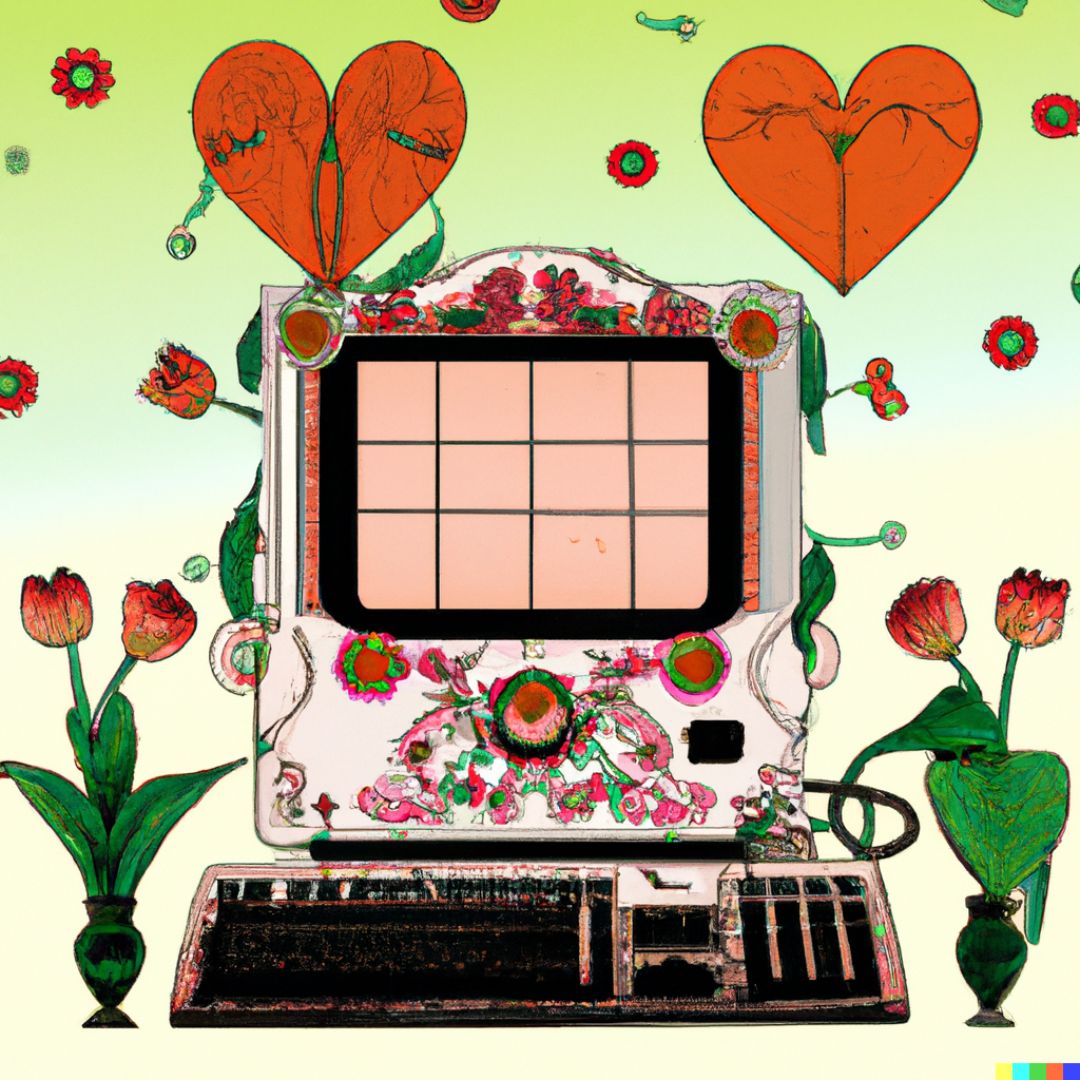 Office friends in the style of vaporwave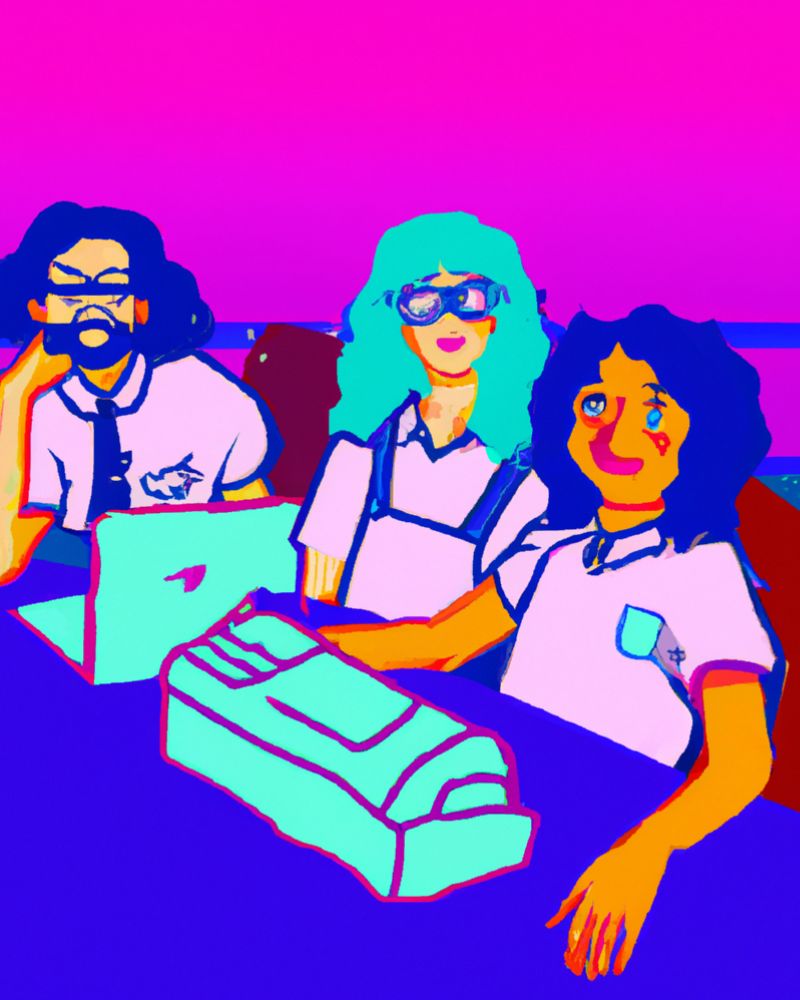 Futuristic valentine illustrations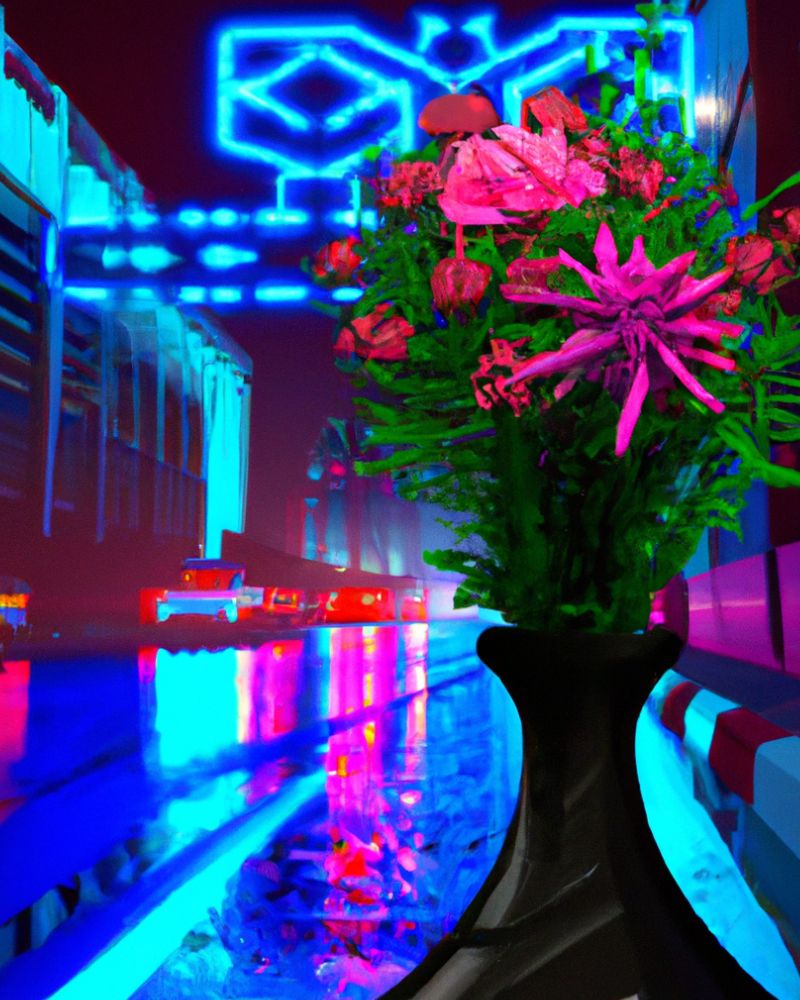 Honing it in with humans
The results got us closer to cute, office-appropriate V-Day cards, but one key element was missing: A critical eye and the human touch.
Our crew of humans refined the ChatGPT prompts, as we built our grade-school-style cards. We looked at current and retro examples for inspiration. Next, we swapped the square AI image for a traditional 4x5 card with front and back and added a 'To/From' section.

We chose the stranger image results to pair with our copy selections, as they fit well with the AI-generated theme. They are definitely something we'd never have produced ourselves; and that's the point!

Our team then designed the card template and refined the typographic approach, creating a red rounded speech bubble that marries the 'chatbot speech icon' with the 'V-Day card message window.' A monospace typeface called OCR-B created for machine reading, ties our theme together.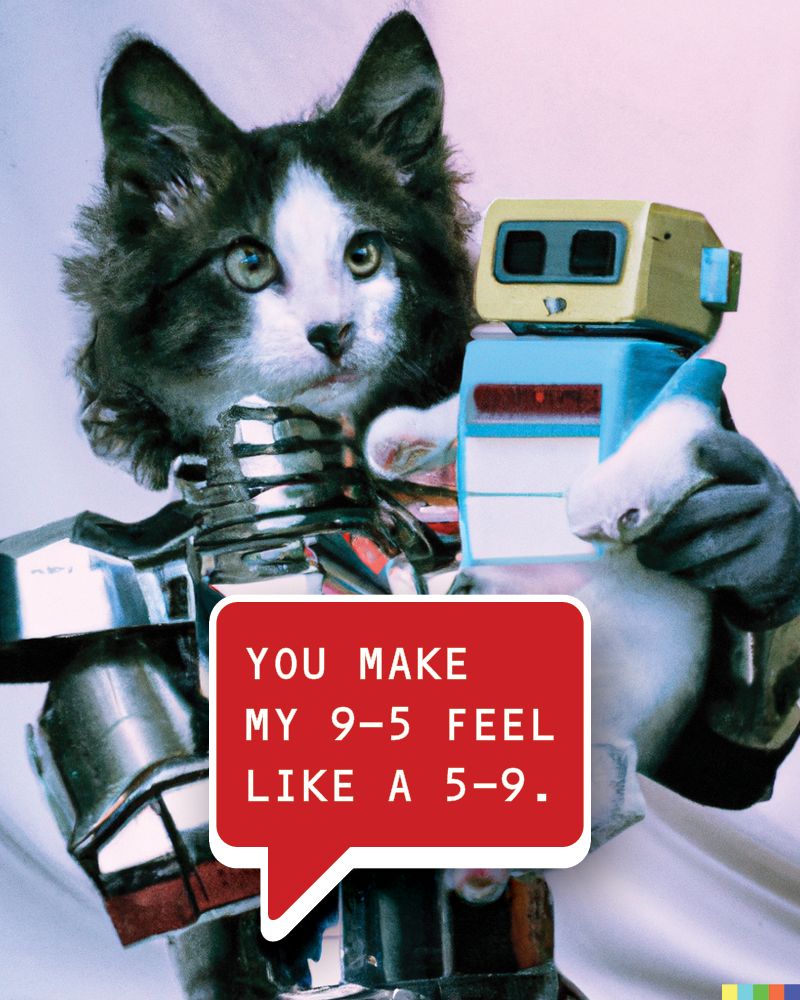 The result: Cards your coworkers will love, and you'll love to talk about.
Our cards = all yours
AI is here to stay, and the possibilities with it are endless. Paired with human thought (and hands), we quickly produced modernized (and appropriately weird) Valentine's Day cards to spread the love and show you how you can get creative with tools like ChatGPT and DALL•E 2. How will you adapt to this new technology? For now, download and print as many cards as your heart desires, or reach out if you want to explore more about what Generative AI can do for you.