What's the best part of your job? If you're thinking "free tacos," then hey, that's cool. But for us at Red Door, it's the people. Genuinely talented, hard-working, nice human beings. Our data analysts are no exception. Get to know two of them, what they love about working here, and what it takes to make the team. We're looking at you!
Meet Bethany Cerdan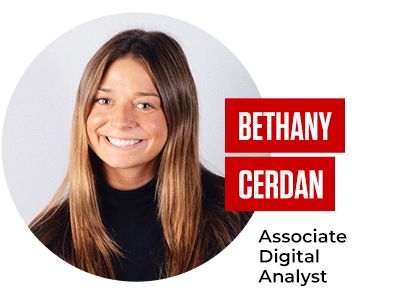 Bethany's a University of Oregon alum, just like our CEO, Reid Carr. Her favorite thing about working as an analyst is helping clients understand why the data looks the way it does. In her own words, "It's such a vital part of successful campaigns, and something I love getting the opportunity to communicate."
Meet Gurisht Aurora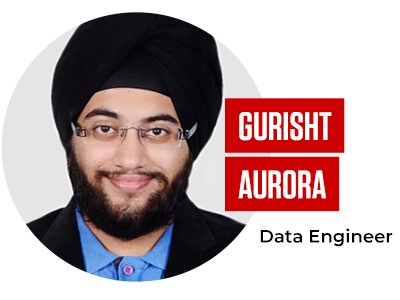 Gurisht enjoys the unique experience of working in data. "Every problem usually requires a catered solution. Being a part of implementing that, being adaptive to changing constraints, and overcoming the challenges along the way, is where the fulfillment in my work comes from."
What's So Special About Red Door?
Bethany on: Her Love for RDI
If you're like Bethany, you enjoy a good team huddle. That's important because there is a lot of that here at Red Door. We meet often (in-person and online) to check on the status of projects, stay connected, and fulfill our promise to Help Each Other Win.
Bethany said, "I love starting my day off with a huddle. It allows me to get my priorities set, while also talking and learning more about my teammates. After huddling, you can find me pulling KPI's, creating decks, or launching user tests."
Red Door's data analysts also train junior team members on analytics tools and methodologies. What kind of tools? We're working with Google Analytics and Adobe Analytics, but if you have suggestions, we're all ears. (That's bonus interview points.)
"Red Door is one of the few companies that actually stays true to their core values."

Gurisht on: Staying True to Values
"Red Door is one of the few companies that actually stays true to their core values, has an open-minded work environment, and provides enough flexibility to get stuff done and have a good work-life balance. All of these factors were appealing to me when I decided to join."
Our Core Values aren't just phrases we use to fill up space on our site. They're truly the foundation of everything we do, every day: Inspire, Share, Evolve, Exceed, and be 100% Jerk-Free. Yep, being kind is big here.
Bethany & Gurisht on: How They Got Into Data
While the details are different, both of their stories start with an internship. While interning at a media company, Bethany got exposed to the 'why' side of marketing and was hooked. She said, "It allowed me to combine my love for math with a passion for the industry."
Here at Red Door, we believe the best data analysts are the most curious. They're constantly on a quest to understand the "why" that lies within the data. Driven by their analytical talents, they enjoy reporting on and analyzing data to help clients achieve their strategic goals.
Gurisht found an interest in Data towards the end of his undergrad studies. He said, "I ended up pursuing a Masters in Computer Science to further my knowledge of the field, started out as a Data Services intern at Red Door, and ended up coming on board full-time."
We're glad they both decided on Data, and to join our team.
What's Essential for Data Team Members?
"Every day, I get the opportunity to collaborate with extremely smart people on the Data team and other teams."

Bethany on: Desire to Collaborate
You've heard teamwork makes the dream work, right? Here at Red Door, we have a similar mantra: "Together WE Evolve to help each other Win." This saying gives us the energy to keep collaborating, create better work, and wow our clients.
Bethany said it best, "Every day, I get the opportunity to collaborate with extremely smart people on the Data team and other teams. I have grown so much since starting at RDI (less than a year ago) because of everyone around me."
So, what makes a good teammate? For Bethany, it's someone "who is eager to learn, eager to teach and easy to work with." She added, "I can truly say everyone at RDI is such a joy to work with."
Thanks, Bethany. Right back at you.
Gurisht on: Inquisitive Mind
"I think one of the most important skills for someone on the Data team to have is to be inquisitive. Everyone at RDI welcomes questions, and is happy to help you get familiar with a project."
It's okay to not know everything right away. We encourage employees to take advantage of opportunities to ask questions and learn from others. And we have plenty of documentation and training to help them along the way. Just take it from Gurisht, "RDI's onboarding is one of the most comprehensive I've ever seen."
Another skill that's not necessarily part of the job description: Kindness. We touched on this earlier, but can't say it enough. We want our employees to help us cultivate a positive work environment, by supporting each other. That's a win for everyone.
Bethany & Gurisht on: Advice for Applying to RDI Positions
If you'd like to get your foot in the door, Bethany recommends showing an eagerness to learn: "RDI has so much to teach, and if you're willing to learn, you'll be on the fast track to success."
Gurisht is on the same page as Bethany. No wonder they're such strong teammates. He said, "Be straightforward about your strengths, experiences, and expectations, and don't hesitate to ask questions during the interview process. RDI is big on new learnings and working on any weaknesses, so it all ends up working well for you — and the team."
Interested in creating something meaningful together? Awesome. Dig into our open Data gigs — and all our benefits.