In the past few weeks, there has been a significant uptick in SEO industry news regarding Google's algorithm updates, causing some industry experts to identify these changes as targeting websites with poor quality content.

Aside from the obvious low-quality practices, many people think Google is also trying to adjust the Panda algorithm to move away from text-based results, as written content is not always the best possible solution for a user's query.

So, what is quality content? Red Door examines how these latest Google Panda updates are changing to fit the way searchers are engaging with content and what they find valuable—and what we recommend you do about it.
What is "quality content" in the eyes of your customers?
Since there aren't definitive steps to creating content, it can be difficult to know exactly what Google wants in order to get your content ranking well.

What is quality content? To be honest, there isn't one simple answer. It is something that many SEO experts are still trying to figure out, simply because it is a dynamic and always changing concept based on the user experience. But what we do know is that traditionally the Panda algorithm has been penalizing practices such as:

• Content scraping (stealing from other sites)
• Keyword stuffing (over optimization of text)
• Cloaked content (using hidden text to rank for keywords)
• Aggressive advertisements (such as intrusive interstitials and pop-up ads)

With this in mind, the Red Door SEO team came together to brainstorm what Google views as quality content and address this Google Panda update, along with some ideas as to how Google is looking to surface more of this content in their search results.
Non-Text Content:
As mentioned earlier, written content is not always the best possible solution for a user's query. Our team believes that ALT text and video information is going to start becoming a stronger ranking factor, as more of this visual content will be key to creating quality content after these Panda updates.

RDI Recommendation: Make sure to use ALT text to label your images and take the time to optimize your video titles, description, and video tags in YouTube.
"Keyword Trigger" Opportunities:
We believe Google will be updating its Panda algorithm to address specific keyword triggers to provide more meaningful content through the "snippet" feature that can appear on some search queries. Identifying keyword triggers that can lead to a snippet being featured can be difficult, but worth the effort as users do find the result valuable to their search.

Some examples of keyword triggers that lead to a featured snippet:

"Tabled" or "Charted" Information:
In this example, the keyword trigger "wedding band sizes" returns a "chart" from www.e-weddingbands.com at the top of the search results, addressing the user experience and probably providing an answer to what they were looking for, right away.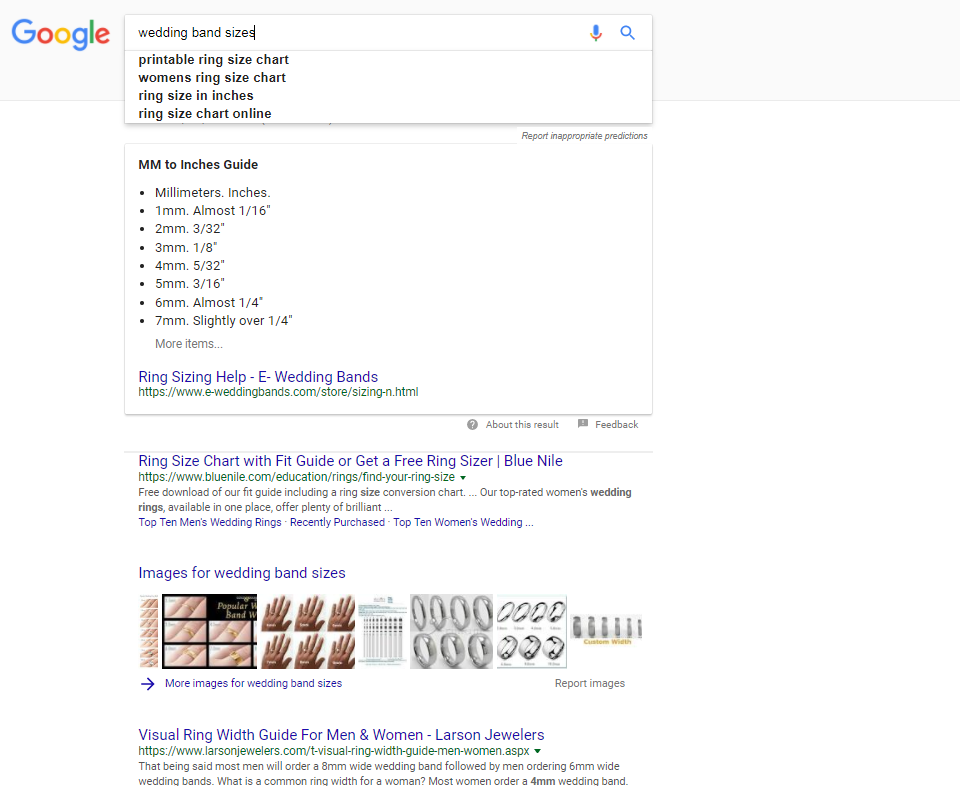 The www.e-weddingbands.com organic result that this featured snippet is pulled from is actually further down the page. However, because they have a table built out on the page with the information, Google is able to pull that content into a featured snippet right away and show it at the top of the results. They consider this to be highly relevant content to the user's experience.

RDI Recommendation: Use table or chart layouts for content, where relevant. This assists Google with laying out information that they feel can easily answer a user's question.

"How To …" Content:
If you are creating content that shows users how to do something, it is a best practice to add videos or a series of images to give searchers step-by-step instructions. From experience studying this area, we know that "videos," "youtube," and images are common items that are getting searched for and are ranking well on the SERP.

We looked at the term "how to caulk a bathtub" as an example: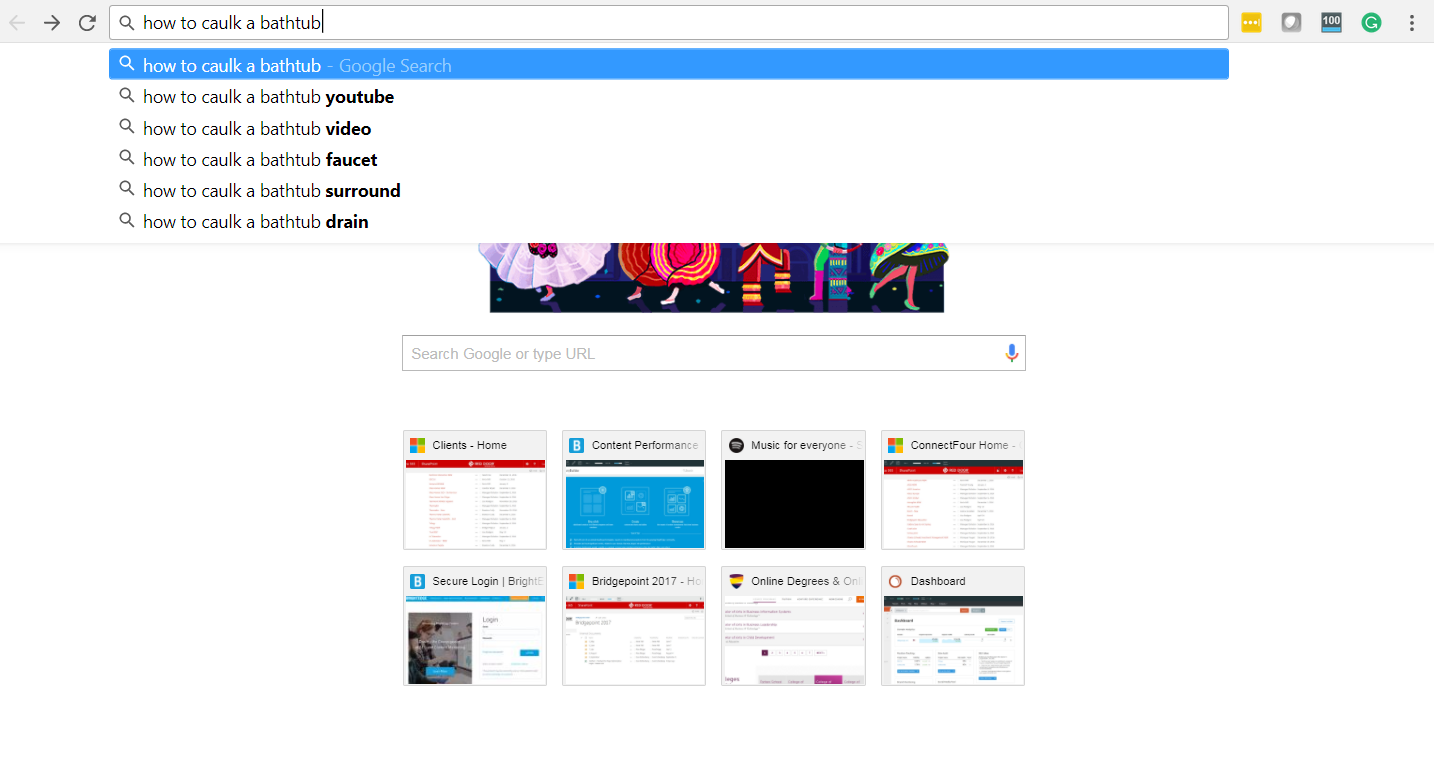 What pops up are other terms people have searched for related to this topic, and some of the queries include "youtube" and "video." Clearly, this topic is one that would have a more user-friendly answer if it included visuals, and so justifies the creation of video or images to support the content.

Here is what the returned result for the page looks like: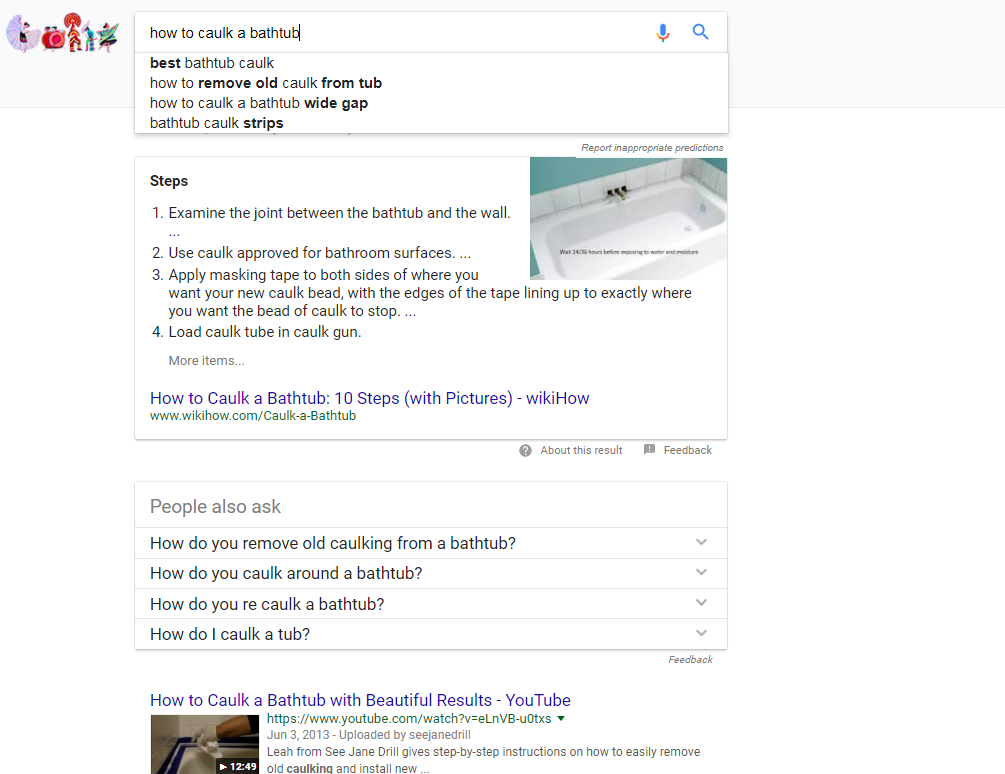 Again, at the top of the organic search results you see a featured snippet. You will see YouTube video content showing up as well.

RDI Recommendation: Include "how to" content where relevant, and incorporate visual content (videos or images) that provide an easy-to-navigate user experience.

[Branded] Product Reviews:
When searching for branded product reviews, results show us that users are interested in videos. As you can see below, when looking for a specific surfboard make (Firewire) and model (Go Fish) reviews, "video" is in the recommended searches and two review videos are located within the top five SERP results.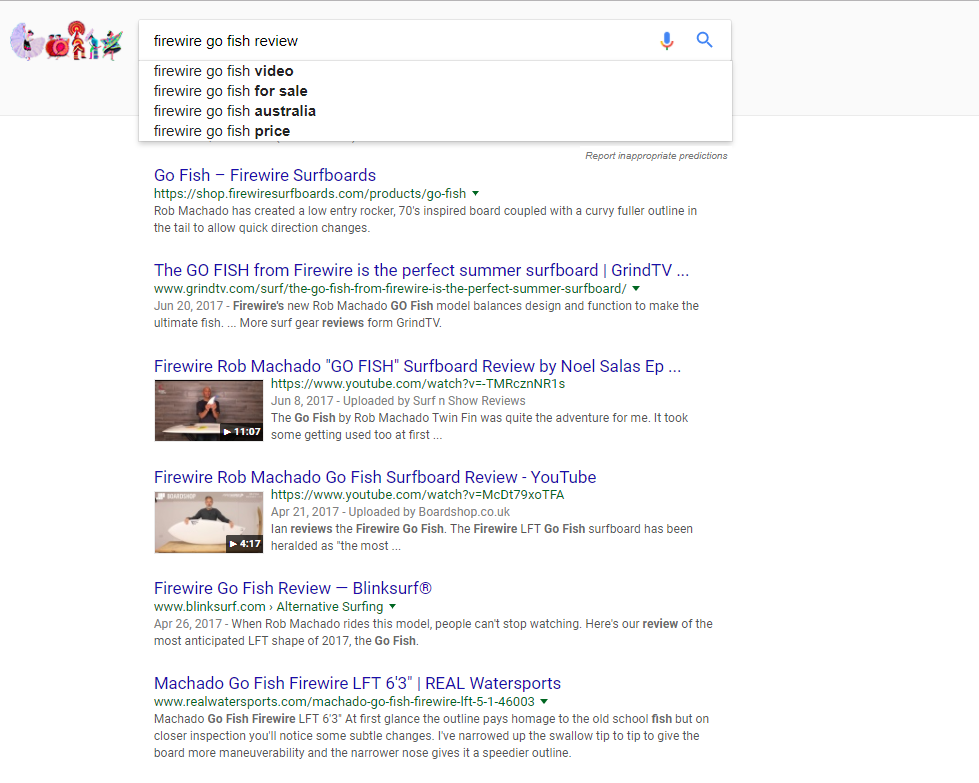 RDI Recommendation: When creating quality content for your products, we recommend incorporating engaging videos and images, as this is what Google is ranking well. Use these videos and images to show the product being used to answer questions that consumers are searching for. This will allow you to have a piece of content that is not only visually engaging, but informative for users as well.
Creating quality content: What's next?
Google seems to be pushing quality updates at a higher frequency than ever before. It has been refreshing its Panda algorithm monthly now, which can benefit or hinder you depending on your content. This is a good opportunity to review your data and pages to see if there has been a positive or negative impact.

For example, if you see that the number of pages you have organic traffic coming into have dropped from previous months, consider creating quality content with the recommendations above. Remember, at the end of the day, it's about the user and their experience. If you try to trick your user and end up making their lives harder, Google will drop you down. If you keep this user mindset first and create quality content that answers the searcher's intent and makes their lives easier, Google will reward you.

For more marketing tips and tactics from our team, sign up for our newsletter below, or contact us directly for more information on how we can help!
Insights
Search Engine Optimization