Meta's new Threads app has officially launched, and it's poised to be a major player in the social media landscape, with 30 million users registering in under 24 hours. In fact, before we go any further, if you haven't yet connected your personal or professional Instagram account (and stayed up way too late into the night reliving some of the early excitement of Twitter in its early days), as well as that of any brands you oversee, get that sorted first.
Back already? You've just uncovered one of the bigger draws of the platform, the seamless integration of Threads and Instagram, allowing us to instantly leverage and connect established Instagram audiences with a growing Threads following.
Now what? How Brands Can Get Started
As part of the first wave of early adopters to the platform, you'll discover a mix of hope and wariness, as marketers, influencers, celebrities, content creators and brands discuss and experiment with starting conversations, incorporating photos and video, and, as more than one social media marketer put it "remembering how to be funny again."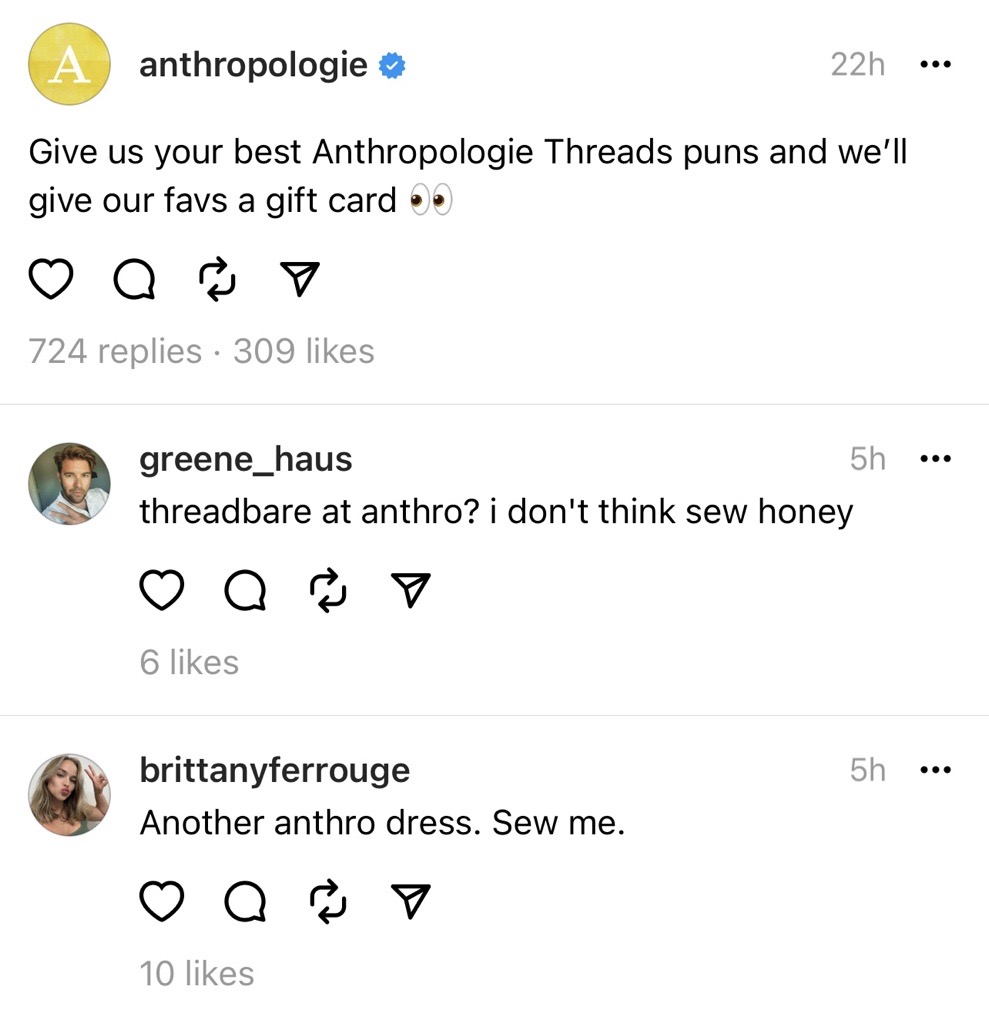 You'll also notice that Threads is still in its early stages, so it lacks some of the features that marketers rely on, such as a follower feed, editing posts, and direct messaging – but we can assume these are in the works. Despite these limitations, brands are already taking advantage in various ways. A quick scan shows Anthropologie offering a gift card for the best "thread pun," Sephora has kept their shopping link in bio and has announced they are now in their "threads era", and Duolingo has "no notes," (but is already trolling McDonalds).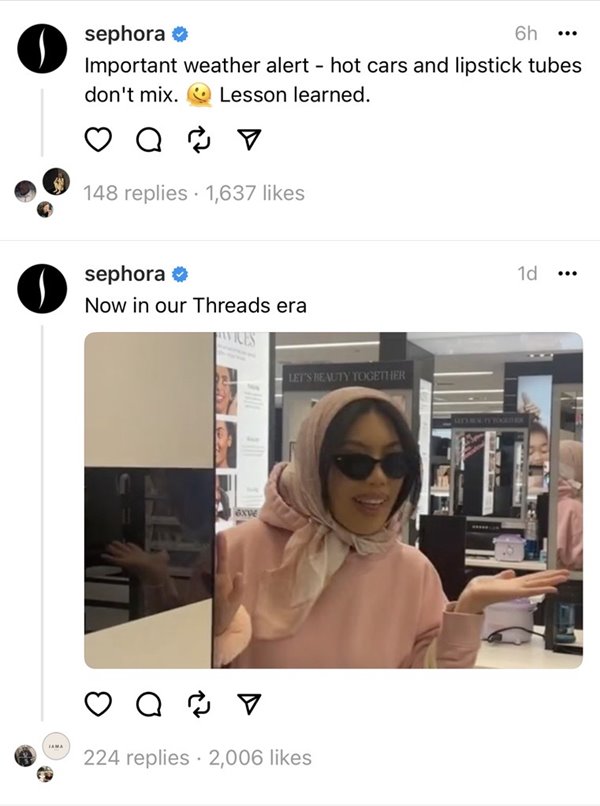 All in all, the fresh energy and lack of ads (Zuck has stated no plans to add advertising until the app has passed 1 billion users), means these first weeks are excellent for low lift experimentation, re-centering (or rapidly developing) brand personality. Marketers should resist the urge to promote in lieu of establishing and reigniting personal relationships and participating in the evolving community, as it defines itself in the near-future. Posts can be up to 500 characters, and they can include links, photos, or videos up to 5 minutes long (hint: enable Giphy as a keyboard to add gifs to your posts).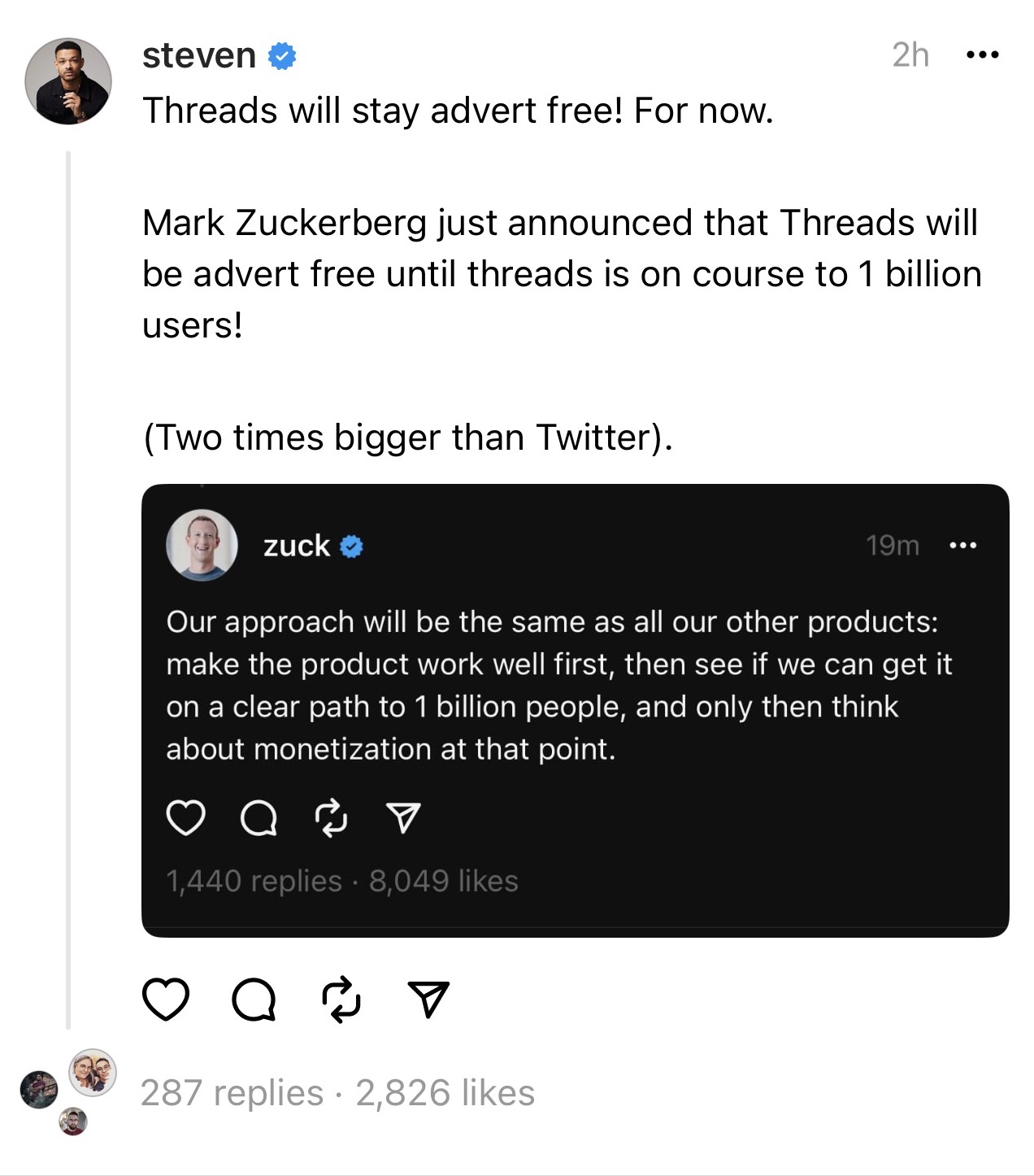 3 ideas for your first Threads post:
1. Introduce yourself and your brand. This is a great way to get started on Threads and to let your followers know who you are and what you do. You can share your company's mission, values, and products or services. You can also share a bit about your team and your culture.
2. Share a behind-the-scenes look at your brand. This is a great way to give your followers a glimpse into your brand's work and to make them feel like they're part of the team. You can share photos and videos of your team at work, or you can share stories about your product development process.

3. Ask your followers a question. This is a great way to start a conversation with your followers and to get to know them better. You can ask them about their interests, their favorite products, or their thoughts on your brand.
Looking Ahead
As a Meta product, there are some privacy concerns about Threads. However, Meta has said that it will not use Threads data for advertising purposes. All in all, Threads is an exciting new frontier for marketers and a strategic move by Meta that may significantly impact the social media environment. CMOs should keep a keen eye on Threads' evolution, evaluate its potential benefits, and consider how it might be harnessed to drive marketing goals.