TikTok has rapidly become one of the largest social media channels, with over 1 billion users. Chances are, your audience makes up a portion of that. If you're not sure where to start, the TikTok Creator Marketplace is the right place. This space is a virtual meeting point, where marketers find and hire creators to make promotional video ads. Interested in getting started? Keep reading for the step-by-step on how to successfully create your first campaign.
Create a TikTok Creator Marketplace Campaign
Step #1: Create a New Campaign
After signing up for the TikTok Creator Marketplace (it's easy and free), log into your account then hit "Find the Right Creator". Once there, you can create a new campaign. Provide a campaign name and other requested information. This is called an Influencer Brief, and it covers:
Brand name

Product/Service description

Campaign objective

Campaign cover (An image that goes along with internal documents)

Campaign timeline

Price cap (For the campaign budget)

Payment method

Product delivery method (Aka, your destination)
Step #2: Find the Right Creator
Once the new campaign is created, click "Creator Search" at the top of the page. There you can adjust search filters to find the right creators for your brand based on:
Country or region

Niche or topic (Like fashion, fitness, foodie, etc.)

Video views

Target audience and their demographics (Example: Females, age 18-25, interested in beauty)

Number of likes, shares, and comments
Creator's device (Android, iPad, etc.)

Follower count (The more followers, the pricier the post. Reference the handy chart below.)
CREATOR TIERS AND ESTIMATED PRICING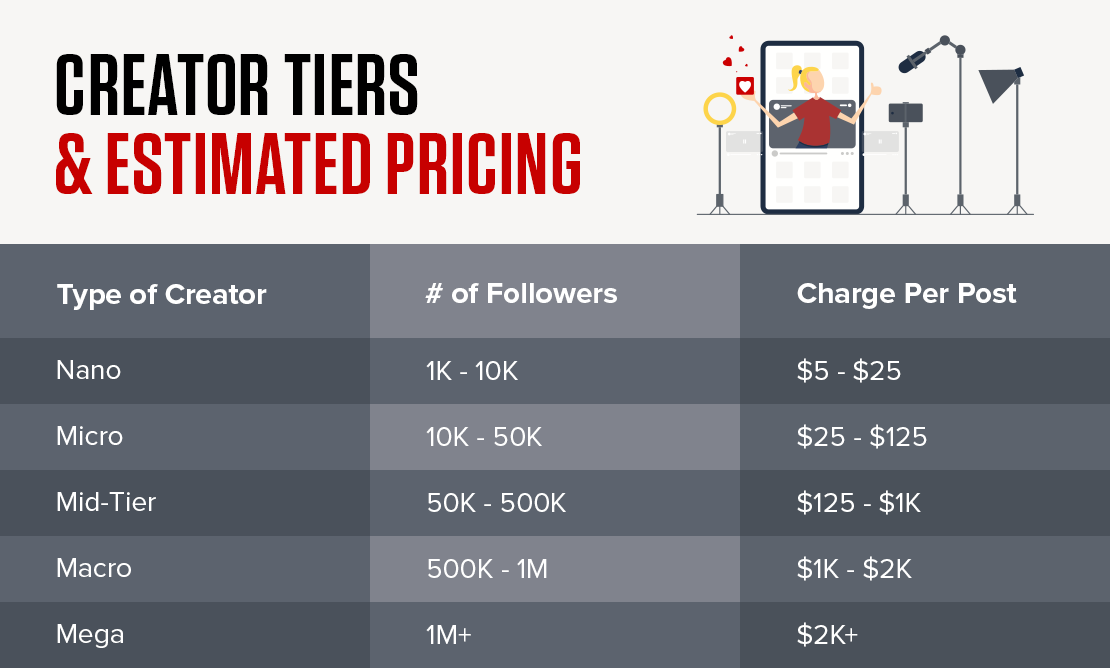 Step #3: Check Creator Insights
Having trouble deciding between all the talented creators? You can drill down to even more detailed audience demographics, sample videos, and performance trends to help you make your shortlist.
Step #4: Create Your Shortlist
Shortlist your favorite creators by clicking "Add to List" on the right side of the screen, while viewing their insights or browsing through your search results. Create a new list, give it a name, and save it. You should see the name of the creator before you hit "Save."
Step #5: Send Your Influencer Brief
Once your shortlist is ready, it's time to send your Influencer Brief to the creators. They'll look it over, and let you know whether they accept or decline your proposal, so be sure to make it worthwhile.
Step #6: Negotiate the Contract
Have a creator that's interested in working with you? It's up to your business to handle the negotiations, agreements, and contracts. This can be a time-consuming process as contracts need to be drafted manually to include the specifics of each campaign.
Step #7: Creator Makes the Content
After signing the contract, the creator develops your promotional video and sends it to you for your complete use. Depending on the contract, there could be an agreement to pay the creator to post the video on their own feed.
Here to Lend a Hand
Whether you have a question about the TikTok Creator Marketplace, or are looking for a dedicated team of social media and paid media strategists to help you get started, Red Door is here for you. Contact us today to make the most of this powerful marketing tool.