Looking to advertise on TikTok? You're not alone. With over 1 billion users, brands are flocking to the platform to reach key consumers — and they're leaning on the TikTok Creator Marketplace to create engaging campaigns (Influencer Marketing Hub, 2022). In this guide, we outline what the TikTok Creator Marketplace is, how it works, its top benefits, and how the different Influencer Tiers affect cost.
WHAT IS THE TIKTOK CREATOR MARKETPLACE?
The TikTok Creator Marketplace is a virtual meeting point, where marketers go to find and hire creators to make promotional video ads. These collaborative campaigns can either be a reward-based or paid sponsorship, depending on the influencer. A reward-based sponsorship can mean many things, like getting free products, a discount code for the influencer and their followers, and more. On the other hand, a paid collaboration is strictly monetary, meaning the influencer will get paid X amount per post (posted on the client's account, their own, or both), based on their follower count. Wondering how much it costs to work with an influencer?? See the breakdown below: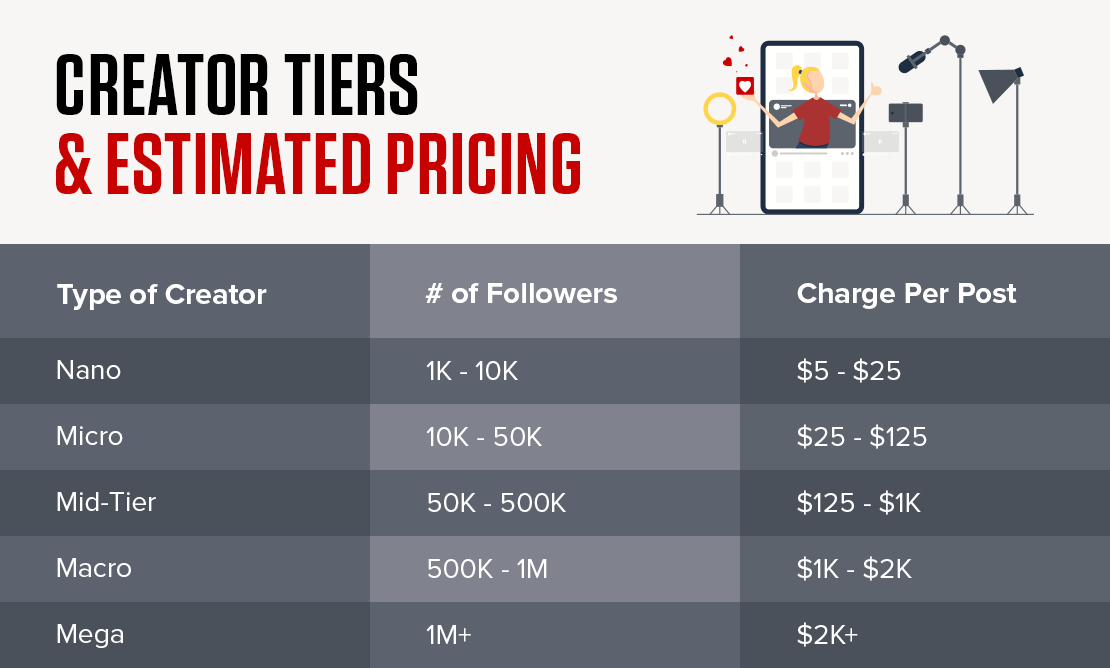 TOP BENEFITS OF USING THE TIKTOK CREATOR MARKETPLACE FOR YOUR BUSINESS
BUILD BRAND AWARENESS — AND FUN
TikTok is an engaging way to get your brand in front of a generation said to have the most influencing power, a group who will soon become the largest cohort of consumers — Gen Z. By advertising on the TikTok Creator Marketplace, you can tap right into this target audience, while experimenting with the many styles of content creators.
LESSEN YOUR TEAM'S PRODUCTION LOAD
On TikTok, it's important to create native, organic-looking videos that mimic the unique type of video content users expect and want from their feed, in order to build interest and ultimately engage your target audience. The TikTok Creator Marketplace makes it easy to find a proven influencer to create TikTok content that not only look native, but perform well, rather than bog down your creative department, which may not have the proper resources.
MAKE INFORMED COLLABORATIONS
While you could try to find a TikTok influencer on your own, the TikTok Creator Marketplace makes it a whole lot easier, by vetting creators for you, and giving you detailed data on them, so you can make a confident decision.
Vetted Creators must meet TikTok's strict eligibility requirements before making it to the marketplace. In order to be eligible, they must have a personal TikTok account, over 100k followers, have posted at least 3 videos within the last 28 days, garnered over 100k likes on their posts within the last 28 days, and be over the age of 18.
Creator data at your fingertips
The TikTok Creator Marketplace gives you access to accurate data on the creator's content, like engagement rate, performance trends, audience demographics, and more, to help you pick the perfect TikTok creator for your ad.
TAKEAWAYS
TikTok will continue to be a powerful marketing tool for anyone looking to reach new audiences and drive additional awareness for their brand. Joining the TikTok Creator Marketplace is a great way to work with content creators to get your brand in front of TikTok's massive audience. The platform is easy to use and provides access to valuable data that can help you make informed decisions about your collaborations.
Questions? Red Door can help.
Backed by our team of paid media strategists, we can help determine if leveraging the TikTok Creator Marketplace is the right fit for you. Contact us today.