With 2016 behind us, Red Door's been putting in the work to strategically forecast how the marketing landscape will transform in 2017. In fact, we're so excited about the upcoming opportunities, we even hosted a Speaker Series workshop on the very subject. Read on as a few of our subject matter experts weigh in on four of the most significant marketing trends to watch in the coming year and how to best leverage these developments in culture to keep up with consumers.
Reality 2.0
"With Virtual Reality hardware now available and affordable, brands can now create an immersive, impactful, memorable, and novel way of leading a customer down the sales funnel."
-Ron Hadler, Sr. Marketing Technology Director
Technological innovations in virtual reality, augmented reality, and live-streamed video are mainstreaming, enabling consumers and brands alike to communicate and share experiences in ways previously only imagined. In the coming months, we expect to see more brands promoting a type of virtual "try-it-out" feature for online consumers. Virtual reality is not only significant to brands offering physical products, but can also give a sneak peek of experiences and services consumers may be interested in.
"Imagine test-driving vehicles without ever stepping foot on a dealer lot, or 'visiting' hotels on the other side of the globe before booking a vacation. This true 'try before you buy' customer experience will eventually become a marketing requirement for certain types of products."
-Kathy Cullen, Sr. UX Architect
Check out Volvo's virtual reality test drive feature.
Reality 2.0 does not exclusively -- or even primarily -- refer to virtual reality, however. More social media channels are becoming media content curators and sources of live streaming content. Chatbots are reaching a maturity level that enables marketers to deliver a quality, one-to-one marketing experience at scale on popular social messaging apps, including Facebook Messenger and Twitter. In sum, people are accustomed to living online and their expectations for the next, more intense, more "real" form of communication is only natural. As consumers become increasingly specific with their personal needs, bots are transforming to meet them in the middle: imitating human interactions, but performing at an efficiency that supersedes human capabilities.
"Imagine saying to your device: 'I need a black dress for a cocktail party tomorrow night – not too expensive – that will make me look fabulous.' The device responds, 'Do you need shoes too?' And a few seconds later you're presented with a list of options that are your size, perfectly match your tastes, and can be delivered the next day. Although that exact exchange may be a few years off, bots are becoming exponentially more powerful by the day. We've gone almost full circle, except now instead of humans needing to speak computer, computers can speak human."
-Kathy Cullen, Sr. UX Architect
Be the Change
More than any other time in recent memory, political discourse is at the center of attention and conversation around the world. Consumers are frustrated with bureaucracy and on high alert for cultural and social signals that brands send out. Brands will find that they're operating in a consumer climate that is at once incredibly sensitive to their actions and increasingly difficult to avoid. Those brands that elect to remain on the sideline risk missing out on meaningful conversations important to their consumers. Consumers are frustrated with the lack of action by the system and are looking to buy products and services from companies that can change things for the better.
"Instead of taking a stance in the political conversation just for the sake of participating, analyze your audience's interests to gain a full understanding of what is important to your consumer and create a plan on how to navigate the situation accordingly. Having a pulse on what actually matters to your audience will help you create a data-driven strategy to tackle what means most to them and communicate effectively."
-Heather Pimentel, Social and Content Marketing Strategist
The crux of this trend is to know your brand, your company values, and your consumers. Overall, you're going to see brands start to take a stand – it might be very pointed commentary on current events leaning one way or the other, or something less overt, like a more inclusive message or socially progressive or conservative stance. You may even find traction on social issues important to your consumers that are otherwise politically benign. It's a sliding scale, and it's up to us as marketers to assess where brands fit, what consumers want, and what position you can take that is true to what your brand stands for.
So how should brands approach this?
"There are a few straightforward social media strategies that companies should implement to highlight their commitment to corporate social responsibility to help build their social media shield and gain supporters.
1) Share it and don't be shy about talking about it. Companies today are not only promoting philanthropy through social networks, they're building unique Facebook pages and Twitter profiles for these important programs.
2) Be transparent. Online consumers are savvy and being open and communicative is vital to reputation management.
3) Seek to engage. "there's power in numbers" and social media provides companies – who actively engage – with an influential, built-in network of passionate consumers that become followers of a brand when interested in what it's doing."
-Emily Spears, Manager, Display and Social Advertising, Cross Channel Marketing
Take Uber and Lyft as an example here:
Without diving into the details, Uber and Lyft took what the public thought to be very different approaches to reacting to the recent Executive Order regarding immigration. Social media lit up with the hashtag #deleteuber in response to Uber's actions, and we used the social listening tool Netbase to track social media conversations around these brands.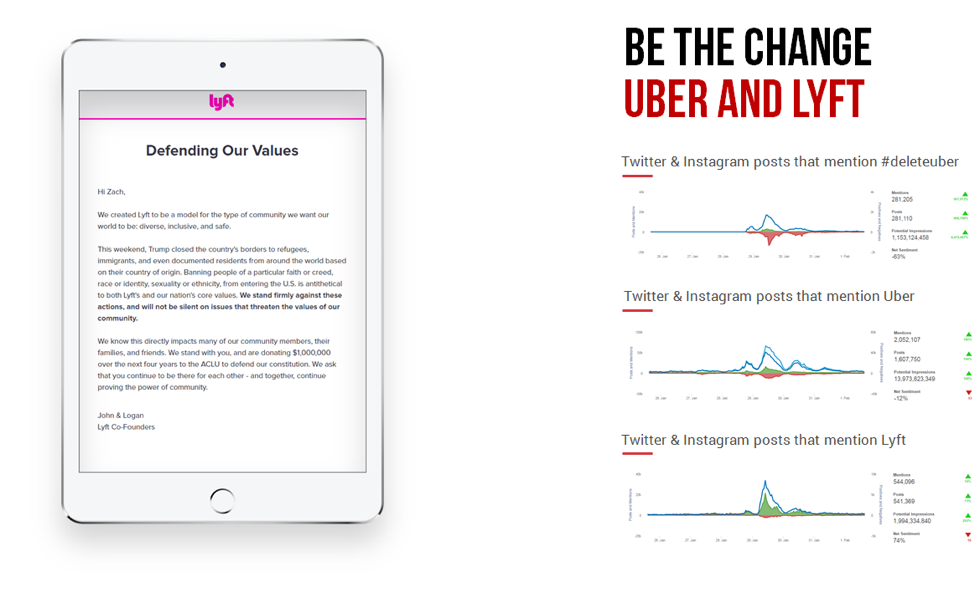 In the top chart, you'll see that there were nearly 300,000 mentions of #deleteuber in public Instagram and Twitter posts (this doesn't even include Facebook) in the days following the event. Social conversation around Uber more broadly also spiked, with a substantial increase in negative mentions. The social media public didn't love Uber's response to the Executive Order. Lyft, on the other hand, released the statement above. The result: a massive spike in positive mentions, which you'll see in the green in the bottom chart. It boils down to knowledge of your brand, your audience, and how the public – and more importantly, your consumers– will interpret your actions.
Data Driven Content
Consumers have grown increasingly skeptical of advertising as they face an ever growing deluge of content and messaging from more and more brands. In order to stand above the fray and get noticed, brands need to up their content game. Brands should expect to leverage the vast amount of consumer data available to provide tailored, relationship-building experiences to their audiences. And be ready to entertain; you'll need to provide compelling content that your audience will care about. If you think about it, this presentation and blog are themselves a form of data driven content: know your audience, what matters to them, and provide it in a [hopefully] engaging format.
"It's important that brands match the intent of the consumer to their respective point in the purchase journey. As different audiences have different preferences in how they consume content, having structured, easy to scan, in-depth content with video and text is more important than ever. If the content answers the consumer's question, they can smoothly transition to the consideration phase of the funnel just as clear CTA's will bridge the gap between content and conversion."
-Jared Gardner, Manager, SEO, Cross Channel Marketing
You can use data to make content and use data to target relevant audiences with said content. This is a Mint (budgeting and financial info tool) infographic based on men's wedding expenses that they've tracked in their budgeting data. They repurposed it into an infographic, and targeted the very audience from which they got the data.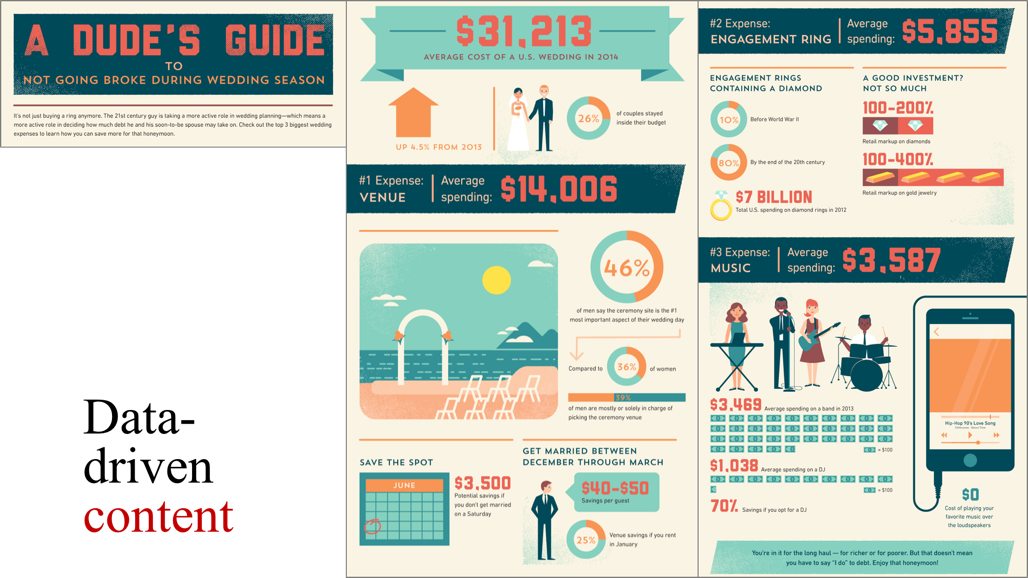 Marketing Beyond Millenials
Marketers and brands alike have spotlighted Millennials as the generational crème de la crème for years. But it's time to recognize the marketing power of the generations bookending Millennials: Gen X, who are in the peak of their careers (and purchasing power), and Gen Z, who begin to turn 21 in 2017 and blossom into full-fledged consumers. Brands should approach this trend by understand how to optimize communication with these generational audiences, zeroing in on addressing their particular needs and desires to position you as their trusted problem solver, and optimizing media targeting and content form/location for these audiences.
Gen Z
For a crash course on Gen Z: Unsurprisingly, Gen Z leads the nation in tech savviness and adoption. They're digital natives that have grown up producing content. This ends up being a significant differentiator between Gen Z, younger millennials, and older millennials and beyond, as they basically exist on a continuum that runs from Content Producers to Content Sharers.
"Gen Z consumers are digital natives, so marketers must act that way, too. They expect brands to move as seamlessly around digital devices as they do, and to create a unified experience across in-store, digital, and mobile."
-Emily Spears, Manager, Display and Social Advertising, Cross Channel Marketing
How do you best reach them? Music, humor, celebrities, and social media personalities all make Gen Z more receptive to advertising. Unsurprisingly, they are especially active on Snapchat and Instagram, and are receptive to messaging in the form of images, GIFs, memes, and videos. Especially videos. In fact, by the numbers Gen Z's favorite website is Youtube. 90% of Gen Z claims to watch content on YouTube everyday, and more than half visit YouTube multiple times throughout the day, everyday.
Why Target Gen Z Consumers?
Think of Gen Zers as two-pronged consumers: individuals consuming for themselves, of course, but also as influencers on their families' purchase decisions. Nearly 2/3 of Gen Z's parents say they seek their kids' input on family purchase decisions, a 30% increase over their own parents. While your company may not cater specifically to Gen Z, you may yet have an opportunity and need to craft messaging directed towards them.
Gen X
"Gen Xers grew up before the Internet, then learned to adapt to digital technology in their early adulthood. Their age leaves them with one foot in the past and one in the future—and that leaves marketers confused about which platforms should be used to reach them. Millennials spend most of their time on digital media, Boomers spend most of their lives in the offline world and Gen X is right there in the middle."
-Emily Spears, Manager, Display and Social Advertising, Cross Channel Marketing
A quick primer on Gen X: Gen Xers are skeptical, cynical, self-reliant, and they don't particularly trust advertising. This likely isn't news to you. Gen X skepticism factors into what advertising they respond to – personalized, branded messaging is highly effective. There are key differences in shopping between Gen Xers and Millennials: they are more brand loyal, and while they too prefer shopping online to in-store, it's to a weaker degree.
Why Target Gen X Consumers?
Like Gen Z, you have the opportunity to think of Gen Xers as two pronged consumers: Appeal to their own sensibilities, and appeal to them as parents. Your brand can be a reflection of their parenting choices and approach.
Ultimately, the moral of the story is to know your audience and your brand. When you know what your consumers want and what you can provide, you can be confident in your marketing and business decision making.
Keep a look out for these emerging trends taking form throughout the year and let us know what else you've noticed in the comments below.