WHY PINTEREST?
Over the last few years, Pinterest has quickly grown to 454 million monthly users (which make up 12.4% of all U.S. social media visits), and 52% are female. The platform is unique as it allows advertisers to use components of search, social, and display — all in one. As people continue to search for more organic-looking content, Pinterest has become one of the most effective platforms for increasing awareness, engagement, and sales.
Pinterest drives real sales. The app continues to evolve to support how users search and browse online. Pinterest makes it easy for brands to sell their products and for users to make those purchases. The "Explore" and "Shop" features of the app have been very successful. "Explore" shows results for searches while "Shop" sorts all of the products that can be bought directly in the platform, which is extremely helpful . About 70% of Pinners say they are inclined to make a purchase even if their original intention on Pinterest was not to shop that day.
Pinterest is a place of inclusion, diversity, and positivity. Within the past year, Pinterest has optimized its advanced technology to provide more inclusivity. Pinterest has been actively promoting a variety of diverse products and creators to maximize inclusion among those looking for relevant products or ideas. This shift has helped decrease bias in shopping experiences and has created a space for brands looking to establish a more inclusive overall approach. Pinterest is all about maintaining a positive platform and that translates to better results for brands. Think: A stronger sense of trust, a better reputation, and more dedicated buyers.


WHAT CONTENT IS BEST FOR PINTEREST?
Pinterest is a highly visual platform, featuring content that feels authentic and seamlessly blends promoted pins with organic pins. It has become a place for inspiration, as people mostly search for gift ideas, recipes, and DIY projects. The most popular categories include Fashion, Food & Drink, Beauty, Home Décor, and Travel.
In order for advertisers to be successful with Pinterest, they need to catch users in the planning and consideration phase. These users are there to discover new ideas or products and are looking to act. When we create paid campaigns, we need to think about the following questions:
When will my audience be researching information or inspiration around my product?

Consider seasonality and trends

What types of terms will they use to find the information?

How-to searches
Top-10, 15, etc. searches
​Trending ... searches

What type of creative will stand out the most?

Video – Think about music, style, etc.
Static images – Colors, trends, text overlay, CTAs, etc.

Are they searching for something less specific that could still be related to my product?

Example: A product ad for protein powder could target searches for "Best At-Home Workouts" and be relevant.
TOP PINTEREST FEATURES
On the topic of trends, Pinterest has a feature called Pinterest Trends, which allows advertisers to look up what is trending on the platform. It also lets them view monthly trends for specific keywords, to find the best ways to optimize campaigns. Trends match up very closely to what is relevant. For example, on September 1st and top trends included fall outfits, homecoming dresses, easy dinner recipes, fall nails, fall décor, Disneyland, and more. Knowing all of that, it is essential to align content to current trends and find ways to associate your product or service with what the audience is looking for.

There is also a feature called Pinterest Predicts. In Pinterest's own words, this tool is a "not-yet trending" report — a window into the future, from a platform where people go to plan it. In 2020, Pinterest reported that 8 out 10 predictions came true. This is a great planning tool for content.

The platform also offers Pinterest Premier, a new way to buy video, which supports privacy-friendly targeting. This is especially important as data privacy updates continue to roll out and targeting options become increasingly limited. Pinterest Premier provides the option to buy video placement/positioning within the Pinterest home pages, allowing brands to reach a larger audience through either a particular demographic or interest category.
ADVERTISING ON PINTEREST
Marketing Objectives
Pinterest offers many marketing objectives to fit different marketing strategies, including brand awareness, video views, consideration (traffic), conversions, and catalog sales (shopping). The objective you choose should match the campaign goals. It will affect additional campaign settings like targeting, bidding, and available ad formats.
Marketing objectives also determine the minimum spending required to begin a campaign and budget needed to drive results. For example, awareness tactics run on a CPM model and have a minimum bid of $2, while website traffic objectives that run on a CPC model have a minimum bid of 10 cents.
Placements
Advertisers can choose their desired placements within the platform. Available placements include home feeds, search feeds, related feeds, and story pins (this is brand new). Pinterest recommends that you use all placements, in order to increase the possibility of someone seeing an ad.
Targeting
By using Pinterest's targeting capabilities, advertisers can leverage precise tools to get ads in front of their most valuable users. Targeting options include demographic, interest, keywords, "act alike" (look-a-likes based on preset audiences), customer lists, and automated targeting based on pin information.
Expanded targeting is also available. By selecting expanded targeting, Pinterest will automatically serve ads to people searching for similar keywords or interests.
Creative
Before promoting a pin, it needs to meet the following standards:
Saved to own business profile
Saved to a public board
Includes a destination URL
No link shorteners in destination URL or description
Not a third-party video or GIF - Follows Pinterest ad standards
Pinterest offers a ton of great options for creative.These range from standard static imagery, to video, carousel, shopping, and collections.
Creative best practices include using vertical formats, text overlay (keep this to a minimum), videos, including logos and CTAs on pins, and using descriptions to add more context. Learn more about how to develop professional, clean-looking images for Pinterest here.
Our top recommendations for video: Pinterest advertisers have been most successful by using video across all marketing tactics (awareness, consideration, and conversion). This includes both max-width videos and standard video pins. In 2020, Pinterest users were 2.6x more likely to make a purchase after viewing brand video content in the platform.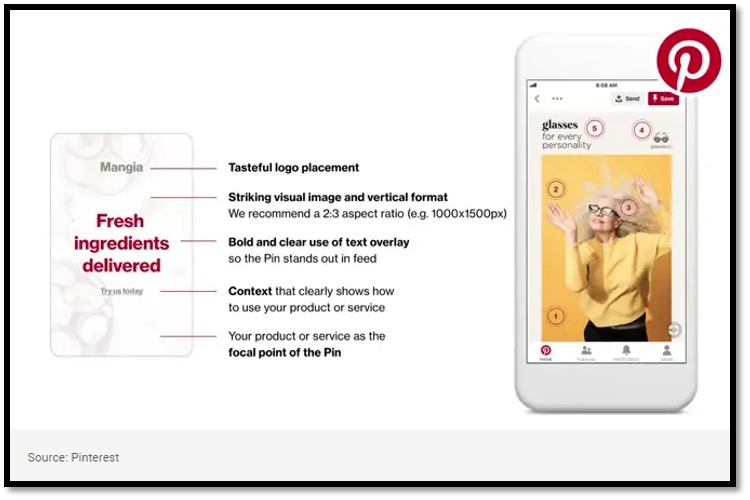 For more details on Pinterest creative best practices, click here.
For more details on Pinterest creative specs, click here.

Pinterest users were 2.6x more likely to make a purchase after viewing brand video content in the platform.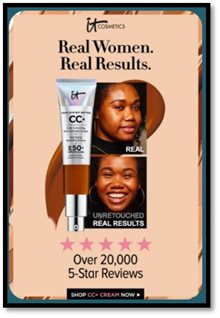 INDUSTRY-SPECIFIC EXAMPLES
Many brands in our portfolio happen to offer products in the top Pinterest categories, and could benefit from running ads on the platform. While we don't want to give away all of our secrets, here's a teaser of what we would do:
Beauty Brand:
Product Focus: Dryers, Curlers & Straighteners
Targeting Focus: People searching for hair-styling tips, how-to videos, best hair products, event hair inspiration, etc.
Creative Focus: Static and video creative that shows off what the product can do, including a focus on top product features, before-and-after hairstyle shots, diversity across different hair types, and more.
Current Trends to Consider:

Search filters by hair type: Pinterest now offers the ability to search for content across six different hair type filters.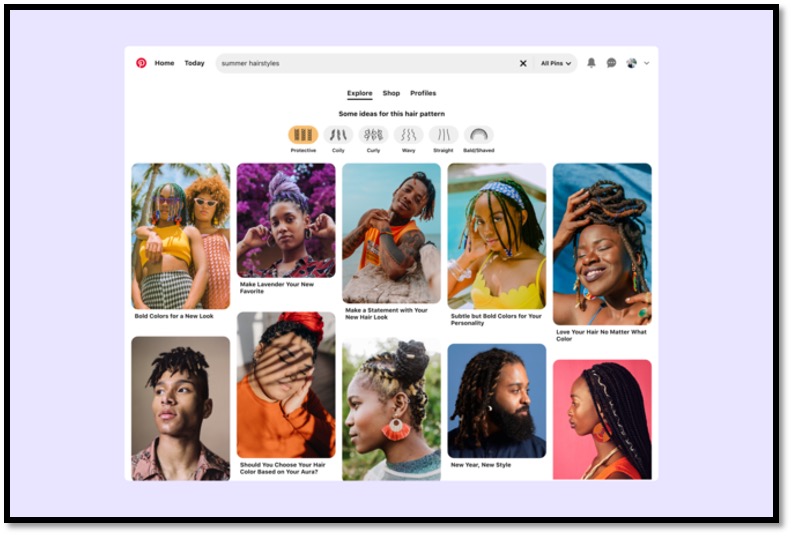 Fast-Casual Restaurant:
Product Focus: Menu
Targeting Focus: People searching for easy lunch ideas, healthy food, DIY recipes, etc.
Creative Focus: Enticing food shots and GIFs
Current Trends to Consider: People working (and cooking) from home, healthy options for lunch and dinner, DIY recipes, places with takeout, etc.
Health & Nutrition:
Product Focus: Collagen, Protein, Vitamins
Targeting Focus: People searching for ways to stay healthy, fitness motivation/inspiration, workout ideas, new year's resolutions, etc.
Creative Focus: Static imagery that showcases the product.
Current Trends to Consider: Products that improve health and help people lose weight. Plus, trending supplements (and their health benefits), healthy recipes, and workout tips.
WE'RE HERE TO HELP
Is your brand missing out on reaching customers where they're at: on Pinterest? Let's change that. Contact us to get started!