Google Marketing Next 2017 continued the trend of Google presenting advertisers with big changes. This year's live stream covered a ton of different topics, but we want to focus on some of the big items that will have a direct impact on day-to-day optimizations, reporting, and analysis. Particularly, the new AdWords user interface, machine learning capabilities through Google Attribution, in-market targeting capabilities, store sales and visits campaign measurement, and Accelerated Mobile Pages (AMP) ads and landing pages.
AN UPDATED USER INTERFACE TO IMPROVE ADVERTISERS' EFFICIENCY
For starters, let's review what will have the biggest impact on a day-to-day basis for AdWords – what you'll actually see in the tool when you log in. Just like buying or trying anything new, it will take users time to adjust. However, Google has made great strides in the new organization of data and insights, with recommendations available to help advertisers accomplish optimizations in a more efficient manner. According to Google, a media agency beta tested the new layout and saved "30% more time when completing everyday tasks."

Why is this new UI so much more efficient? One reason is the overview tab, which will be the new "default view" of an account/campaign. It displays tables outlining:
The biggest changes for performance metrics

A device performance report

A heat map of dayparting metrics
These insights will allow advertisers to quickly identify what's on fire and where to prioritize an optimization session.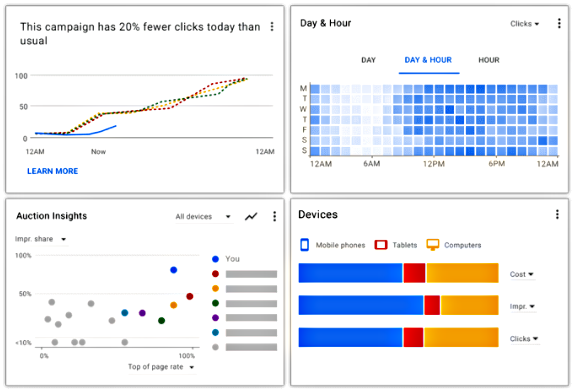 Example of data insights from new interface (Source: Making Marketing Easier with New Tools for Productivity)
However, it's not yet possible to select which data cards are shown, as they rely on Google to choose the most relevant insights. There is a limited ability to update the data show, through the dropdown menus or by selecting campaigns and returning to the overview tab.
Another important update is the direct integration of a landing page report in the UI. This enhancement will allow advertisers to quickly paste a URL and determine if it's mobile friendly or not. Advertisers know how important it is to have a mobile- focused or responsive page option; however, there may be clients that are still reluctant to dedicate resources to building these pages. This report will provide a simple analysis that can be relayed to a client or supervisor to help build the case for new landing page development. After all, "a one second delay in mobile page load can decrease conversions up to 20%."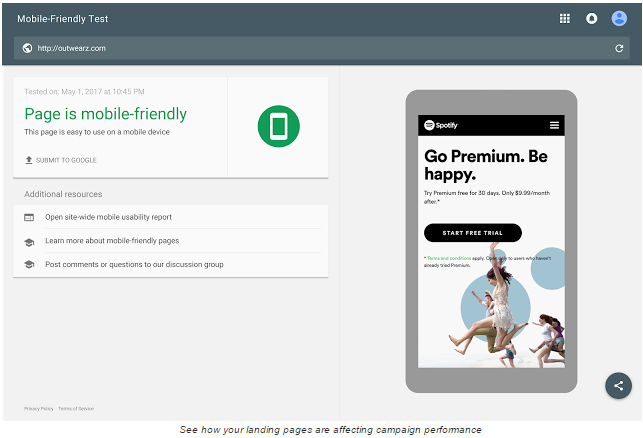 MACHINE LEARNING THROUGH GOOGLE ATTRIBUTION
Another key theme from this year's Marketing Next event was the improvements and inclusion of machine learning for all of Google's marketing products. This includes Google Attribution, a product that has the potential for huge insights. According to Google, its intent "is to answer the question that has challenged marketers for ages, 'Is my marketing working?'" By integrating the data sources of AdWords, Analytics, and DoubleClick Search, Google Attribution can analyze performance and automatically send the results back to advertisers and analysts for easy reporting and optimization.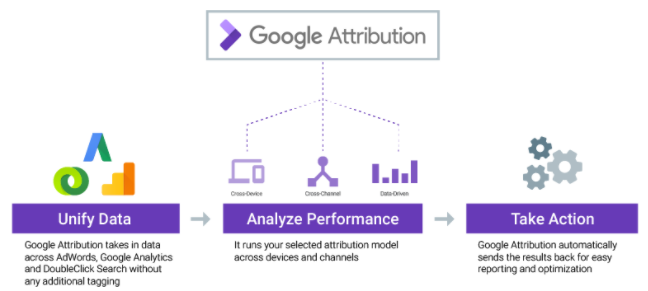 Google Attribution example model (Source: Powering Ads and Analytics Innovations with Machine Learning)
Moreover, Google Attribution will allow advertisers to expand beyond last-click attribution, which has been the default option for most advertisers. By adjusting to data-driven attribution, advertisers will be able to leverage machine learning capabilities to determine how much credit to assign each step in the consumer journey.
Advertisers will now be able to see how important top-of-funnel media efforts are in contributing to lower funnel or direct response campaigns. This data can help inform the conversation with clients or within your company around the cost benefit analysis for running campaigns that are not directly conversion based, but can impact lower funnel direct response efforts.
IN-MARKET TARGETING CAPABILITIES FOR SEARCH CAMPAIGNS
Google says, "people are often searching with the intent to buy." It's not hard to see why Google decided to expand in-market audiences from the display campaigns to search campaigns. There are countless in-market audiences that are relevant for different advertisers. Google will use the power of machine learning to better understand a user's intent and serve ads accordingly. This will be an intriguing shift as it has the potential to pivot campaign strategy away from trying to understand intent from a keyword level to an audience-intent focus.
STORE SALES AND STORE VISITS CAMPAIGN MEASUREMENT
In 2014, Google rolled out the store visit measurement to help advertisers determine how their digital efforts contributed to in-person visits. While this is still being rolled out to advertisers, Google has now measured over 5 billion store visits using AdWords. To further help advertisers, Google is introducing store sales measurement at the device and campaign levels, allowing advertisers to track in-store revenue in addition to the store visits delivered by search and shopping ads.
Here's how Google will be able to track this information:
By collecting email information at the point of sale for a brand's loyalty program, an advertiser will be able to import store transactions directly into AdWords.
If you can't do this, you'll be able to take advantage of Google's third-party partnerships which capture "approximately 70% of credit and debit card transactions in the United States." This is a direct entry into the attribution field that a lot of third-party companies have been trying to solve.
If you're worried about this being a time-consuming addition to your reporting, Google was quick to point out how seamless they are making this level of detail: "After you opt in, [Google] can automatically report on your store sales in AdWords."
In addition to the other product releases mentioned above, this will be another great way to show value from digital efforts to your clients or supervisors. Advertisers will be able to measure the impact of search campaigns with better accuracy, all the way down to the bottom line. As the consumer purchase journey in any vertical continues to become more and more fragmented, it's great that attribution reporting is adapting to help measure different digital channel efforts throughout that journey, wherever it is taking place.
IMPROVING USER EXPERIENCE WITH AMP LANDING PAGES AND ADS
If you've experienced AMP pages, you know how great of an experience it is to have nearly instantaneous load times on a mobile device. Expanding beyond organic listings, Google is now allowing advertisers to link users directly to an AMP page from their search campaigns. The speed increases will improve mobile experiences for potential customers and likely help conversion rates.
To ensure that ads aren't lost in the AMP landing pages, Google announced that its display ads will be automatically converted to a new AMP format. These ads load up to five seconds faster than regular ads without a loss or change in creative. Saving five seconds in load time for an ad will help more people see your message, boosting clicks and nearly all other metrics.
Demo video used by Google displaying load time.
As a team that has been running display campaigns on AdWords, we found it surprising that Google allowed ads to be served on mobile that took more than five seconds to load for as long as they have, but the new speed increases are a major upgrade for all advertisers.
Which update do you think will have the biggest impact on your AdWords or DoubleClick Search account? Was there anything you wish Google would have elaborated on more? Leave us a comment below to discuss or connect with Adam G. and Aaron T. on LinkedIn to further the conversation.
Insights
Data Analytics & Visualization
Paid Media