Facebook and Snapchat are finally stepping into the influencer marketing space, following the likes of the influencer gatekeeper, Instagram. Facebook announced its new "Brands Collabs Manager" dashboard, intended to help brands connect with relevant influencers to establish deals and partnerships, while Snapchat recently launched Snapchat Storytellers, which aims to connect brands with content creators in the space.
Facebook Brands Collab Manager – Creating Influencer Collaboration Opportunities
Facebook's platform is designed to connect brands with relevant influencers based on specific promotion requirements. Brands can search for influencers based on the demographics of their target audience, interests, engagement, and even personal details like relationship status or education. The influencers highlighted through the funneled targeting have a percentage match in their profile thumbnail, indicating how well they align with the brand and their promotion requirements. In addition, the influencer's content category (i.e. food, fitness, beauty) and follower count will be displayed.

If the brand wants additional insights on an influencer, they can click though to their profile where specifics related to their geographic location, preferred post type (i.e. video, photo, etc.), and even their past brand collaborators.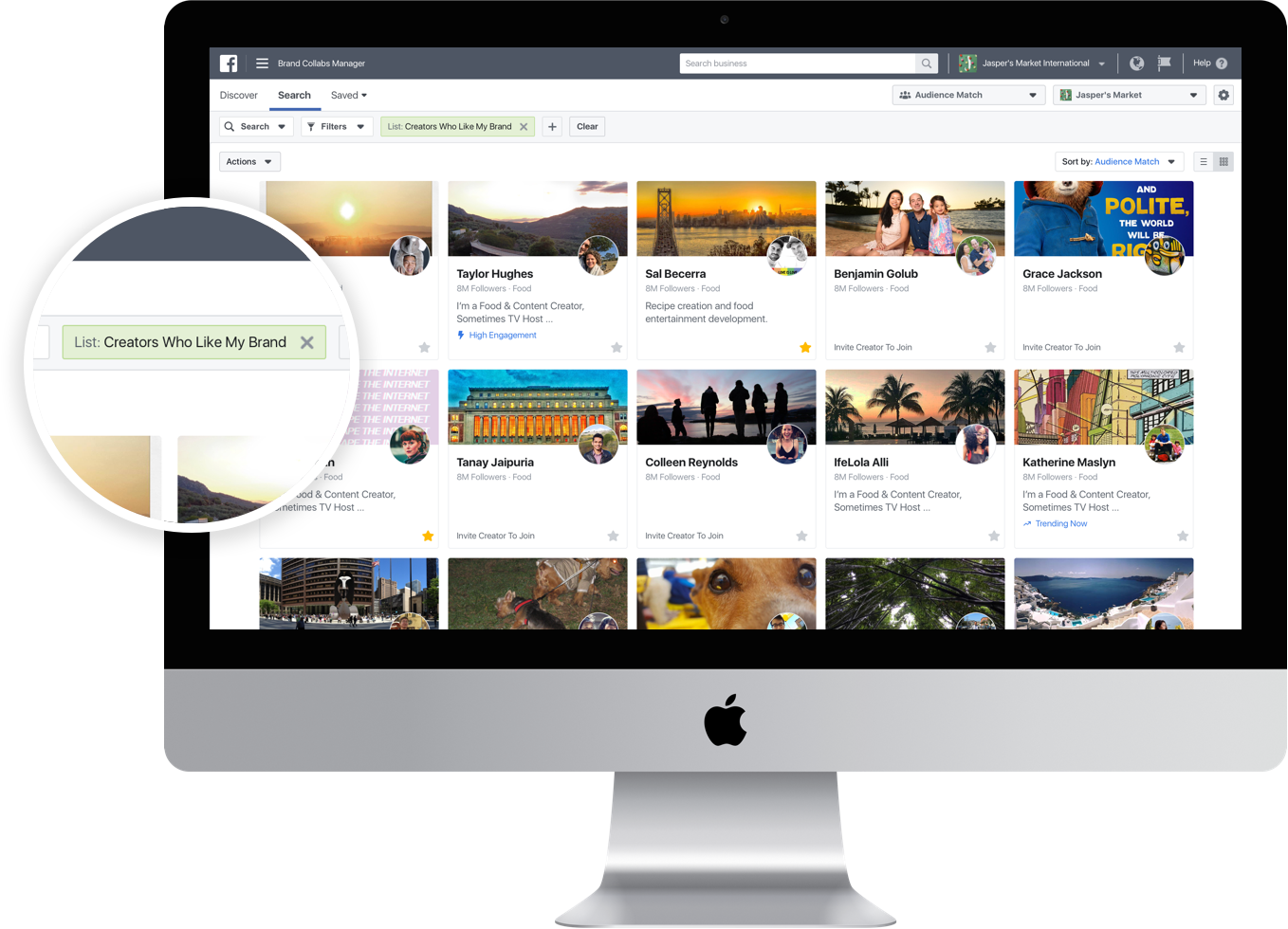 This Brands Collab Manager is designed to tie in with Facebook's sister application, Facebook Creator, where any individual or profile could have access to "live creative kits" to make videos with easy-to-add intros, outros, theme songs, graph frames, and more. The goal of Facebook Creator was to create a single application where users could easily manage their online presence.

Currently, the Brands Collab Manager is available to limited brands and creators. In order to gain access, you must apply via Facebook.
SnapChat Storytellers – Insights through Creator Connectivity
The Storytellers addition to Snapchat's platform marries influencer reach with Discover and Stories advertising campaigns. A Snap spokesperson said the main goal of Snapchat Storytellers is to help the creator community make connections with brands, as well as to help brands learn from the expertise of those creators. In other words, brands will be able to connect with influencers across the platform to feature in ads for Stories and Discover. Alternatively, they can collaborate with brands to help offer creative direction.
Why These Platforms Matter
Brands are turning away from traditional celebrity endorsements, and looking to spend their marketing budgets on bloggers, YouTube creators, Instagram stars, and more. In fact, according to MuseFind, 92% of consumers trust influencers more than celebrities when it comes to product endorsements.

Influencer marketing is one of the fastest growing categories in advertising and projected to be a $5-10 billion market by 2020, according to research by Media Kix. While Instagram and YouTube have heavily capitalized on the influencer trend, providing monetary incentives for creators with the highest following or subscribers, Facebook and Snapchat have been lagging up to now. The launch of these collaboration tools proves how vital this new form of marketing has become, and is a clear indication of the movement toward advertising that's not only highly targeted, but relevant to users.

As Snapchat struggles to attract advertisers to its platform, the Storytellers program may be a welcome addition. The move could easily facilitate well-designed ads without brands having to pay for pricey video production—instead, they can rely on the expertise of content creators. At the same time, Storytellers offers a prime opportunity for content creators to monetize their services as part of a revenue-sharing system.
Gen Z's Influence on Influencer Marketing
The question of whether influencer marketing will be as successful as it is on Instagram and YouTube is yet to remain. Although Facebook still reigns in global popularity with over 1.94 billion active users per month, there is a wave of migration away from Facebook with Generation Z. Categorized as people born between 1995 and the mid 2000s, Generation Z could be changing the social media landscape— especially for those active on Snapchat.

According to Piper Jaffray's 2017 teen survey, 47% of teens consider Snapchat their favorite social media, followed by Instagram. Only 9% of teens consider Facebook their favorite social channel.

Even with Facebook's efforts to introduce influencer marketing, the numbers show they could be fighting an uphill battle with Gen Z, which is projected to account for nearly 40 percent of all consumers by 2020. Their big focus will need to be on the creators themselves. For Facebook to compete, especially in terms of video content, it needs popular creators to post in the app. YouTube's monetary incentive to its creators has led to its success in both content creative and as a source for influencer marketing. Facebook will have to create an incentive plan that benefits not only the brands, but the users as well.

At Red Door, we always strive to be on the forefront of new technologies, and will continue to keep you updated as the social influencer landscape evolves. If you have any questions about Facebook Brands Collab Manager, Snapchat Storytellers, or how influencer marketing can transform your brand, feel free to contact us and we'd be happy to help.