Over the next few months, Facebook will be making updates to the News Feed algorithm to give people more opportunities to interact with those they care about—returning to the foundation on which it was first created.

Facebook reported that they received feedback from its users that brands and page posts were crowding the News Feed too much, making it difficult to see and engage with anything else. Now, the social platform is working to re-center the core of their business to focus more on the meaningful relationships and connections between people on the network.
Implications for Brands
As these algorithm changes go into effect, there are certain implications for brands to consider:
Posts that spark conversations and interactions between people (friends and family) will be prioritized over public content, and will be shown first in the News Feed. For example, these posts could be a friend seeking advice, a friend asking for recommendations for a trip, or a news article or video that prompts discussion.

Facebook is also working to improve the user experience and decrease the amount of spam posts and engagement-bait posts. This means posts that encourage the following will be devalued: tag, comment, vote, react, and share baiting ("Like this if," "Comment with this emoji if," "Share with a friend...").

Pages may see their reach, video watch time, and referral traffic decrease.
Implications for Influencer Marketing
As the platform pushes toward prioritizing authentic conversation, it's now critical that brands invest in influencer relationships and utilize influencer campaigns to drive their message on Facebook. This is because influencers have more authentic conversations than any other "publisher," growing their pages by making personal connections with their fans and creating content they know will be meaningful and impactful. As long as the influencer relationship is aligned with your brand, your messages can be retained by a specific engaged audience.

According to eMarketer, almost 92% of marketers plan to use Instagram for influencer marketing programs. However, Facebook isn't far behind, with 77% of marketers saying this will be a channel of focus for influencer efforts.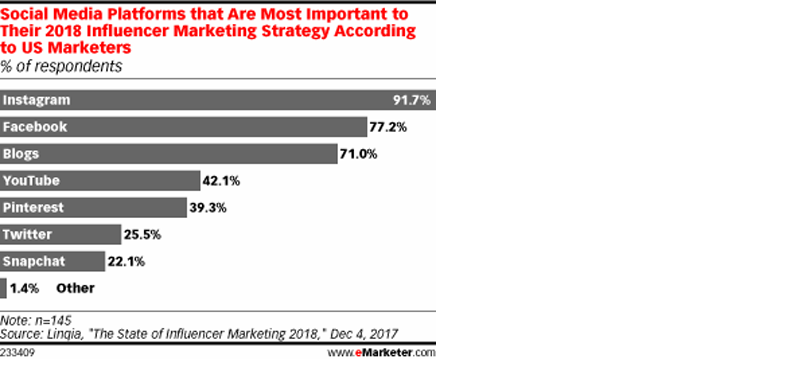 Facebook has already implemented measures to better activate influencers, with many rolling over to business pages for advanced analytics, and expanded features like the Live Contributor role that allows influencers to lead live streams on brand pages.

In addition, as publishers turn to advertising, CPM/CPA costs are expected to increase. In order to combat this, it's becoming essential for advertisers to segment part of their media budget for influencer-related programs.

Below are some thought starters around how to bring influencer relationships to Facebook:
Invest in micro-influencers. Particularly on this channel, to have your brand involved in the most authentic influencer content. Not to mention, influencers typically see higher engagement rates, leading to top placement in the News Feed.

Create Facebook groups of local influencers. Provide them with exclusive brand information, retail events, ecommerce sales, etc. By giving them exclusive content, your audience could be more incentivized to share it.

Use Facebook's Live Contributor feature. Have an influencer host a Q&A on your Facebook. Cross-promote on the influencer's channel to drive their audience to a brand page.

Provide exclusive coupon and deal codes to influencers. Have them post on their Facebook page the "create an offer" medium. Have the influencer cross-promote on other relevant platforms to drive users to their Facebook page.
Implications for Facebook Advertising
Though the changes do not directly impact Facebook Ads, they are expected to receive an indirect impact as less organic post reaches will likely increase demand for Facebook advertising. And, as a result, will raise advertising prices over time. However, despite this potential impact within the ads auction, Facebook reminds us that "engagement is a very small part of ads ranking—we rely on many other data points to determine what ads people see to ensure relevancy and value. As our ads auction already optimizes for user value, we encourage advertisers to continue focusing on driving real business outcomes."

Now, more than ever, strategic content promotion will be a necessity in order for page content to reach the right consumer to complete a desired action. The content that is created for your brand channel should focus on what is most impactful to your current audience, with messaging that engages and inspires them to take a desired action.
Tips for Brands on Facebook
RDI recommends prioritizing a strategy that focuses on creating content that resonates with your fans and customers, while staying true to your brand. For example, businesses can proactively reply to customer questions on their content via comments or messaging, create Events to connect with customers in the local community, upload relevant videos or film live video, and provide important or exclusive updates about products or services in a helpful or unique way.
Leverage the human element of a brand. Tell real, emotional or people-centered stories.

Offer content on Facebook fans cannot get anywhere else. Produce content that's shareable, entertaining, and adds value to fans' daily lives.

Encourage discussion and conversation among fans as proactive community management becomes increasingly more important.

Test various content themes to determine what performs best organically.

Consider Facebook Groups for creating engagement and discussion off of the brand page and equip those group members to advocate for you.

Leverage Facebook Messenger to communicate directly with fans, or consider exclusive offers via Messenger Ads.

If it's applicable, consider asking your loyalists to update their preferences to see your posts first. People who want to see more posts from Pages they follow can choose "See First" in News Feed Preferences to make sure they always see posts from their favorite Pages.
Overall, brands should prepare for a downward trend in engagement KPIs until they're able to adjust content for their audience in 2018. With the algorithm change in mind, it's now going to be more important for brands to embrace a human element, provide value, start conversation, and stir emotion in their fans. And, for brands to speak to their fans, they'll need to focus on educational, shareable, and entertaining content.

Comment below or contact us directly for more tips on effectively reaching and engaging your audience in an ever-changing marketing world.