What is Event Coverage and Why is It important for Brands?
Red Door has been covering events and designing shareable experiences ever since brands have been on Twitter (that's 2006, for reference—an eternity in digital marketing terms). With our years of experience, we're sharing what live event coverage means to us, and how we can best support our clients, showcase an engaging experience to the end consumer, and overall, drive the best possible results.
First, what do we mean by "event coverage"? Is it Erin Andrews on the field covering an NFL game? Live tweeting along with a panel of experts at SXSW? A recap of the excitement at a music festival? Really, it can be a little of all of that (disclaimer—we have no relationship with Erin Andrews, but would totally love an intro).
Loosely defined, "event coverage" is a tactic used to take an event that your brand is either creating or participating in, and amplifying the experience across digital channels in real or nearly real-time.
At Red Door, we view event coverage as anything that spans from bringing attention to performance based events (like sporting competitions), to highlighting an event your brand is the sponsor of, to giving an inside peek into an exclusive product launch party, to creating and amplifying experiential booths and activations. Any event that will lead to earned conversation about your brand is an opportunity for event coverage, allowing you to amplify a curated story around the experience across owned and paid media (if you need a refresher of earned vs. owned vs. paid media, take a look at this blog post).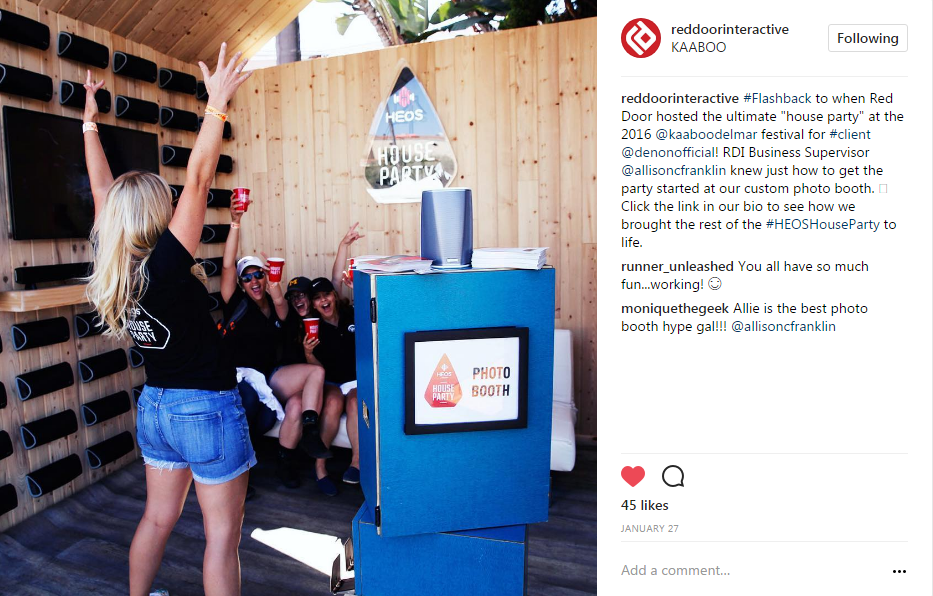 Initiating earned conversation about your brand by providing a look at an amazing experience may lead to the creation of the infamous "FOMO effect" (the fear of missing out). In this day and age of being ever-connected, missing a moment of fun will cause many online users to embark upon their own initiative to learn all about your brand's event and engage with your content. To fully activate digital FOMO, we love using real-time apps like Instagram Stories, Snapchat, Facebook, and Instagram Live to help give exclusive messaging to our audience during an event.
Events can also be a critical moment to bridge the on-to-offline gap. If users can see something online and then experience it on the ground (like our 2015 New York City Marathon Activation), it helps create a cohesive and digestible message for your brand—and will get people excited to participate and share!
Event Coverage Process and Scalability
Think your brand's events aren't large enough to be coverage-worthy? Think again! The most important piece of advice we have for any brand wanting to do event coverage is that everything is scalable. While the "full" planning process may include input around how to craft an event experience to ensure it includes multiple shareable moments, and likely follows most of the steps listed below, some events may not require all of this input. Sometimes a "big ideas" portion can be excluded and can be planned using a strategic brief, run of show, and other more tactical plans. It all comes down to the business goals and desired outcome from the event.
Day-of coverage can also scale. From full-day coverage on social media, live video, and a photo/video crew, to remote coverage and post-event curated coverage, the right amount depends on the event itself, your goals, and the amount of impact you'd like to see.
Key Event Coverage Considerations
Every event takes planning and preparation to make sure the on-the-ground team is ready for anything that may occur. There are a few key considerations we always recommend when planning event coverage:
Event coverage is more than just digital. It spans on-the-ground activation teams, photo and videographers, key storytellers or influencers, and media. Make sure all teams are in communication before, during, and after the event. We find it best to create third-party briefings with desired outcomes for each team so everyone is aligned on expectations.

Working with PR teams is essential for the success of an event. They should have input to the event's plan, narrative, timeline, and run of show, as well as help coordinate any on-the-ground communication with key stakeholders and media.

Be prepared for change. Event coverage is exciting because it is unpredictable. Be ready to follow a plan, but have your eyes and ears open for unplanned moments that can be capitalized on in your brand's owned channels.

Find the right photographer: depending on the goal of the event, finding the right photographer is crucial. If this is to get traditional media placement, find a photographer that understands how to shoot for that. Creating content for social has a different look and feel, and will require a photographer that actively creates content for those channels.
5 Examples of the Event Action
Now that we've talked about the ins-and-outs of planning for event coverage, let's consider how these plans can come to life.
2015 LA Marathon with ASICS America
To generate buzz around the Los Angeles Marathon, of which ASICS was the title sponsor, and to make it relevant to a local and national audience, we took an integrated approach to deliver engaging, real-time content. Working with the ASICS teams and other partners, we helped expand the digital reach of their event activation—with huge spotlights illuminating the sky at every mile along the city's race course.
By integrating an offline activation to our digital social efforts to tell the story of event weekend, our #LightsonLA hashtag trended second in Los Angeles, two night prior to the big race. Building upon these successes through real-time photography, videos, social media posts, and influencer engagement, we continued the digital success as ASICS' social presence outranked all competitors on race day.
2016 San Diego County Credit Union Poinsettia Bowl with SDCCU
SDCCU was the title sponsor of the San Diego Country Credit Union Poinsettia Bowl, and while their customer base resided primarily in Southern California, fans of the teams playing were located in various parts of the nation—tasking Red Door to have both a local and national mindset when creating and promoting content. With a nimble photo and video crew in tow, we helped bring this hometown event to life online to the local audience as well as to those watching from afar. Real-time game updates, quick turnaround videos capturing the action on and off the field, and paid social media integration led to the brand's hashtag trending both locally and nationally on game day.
With videos becoming such a popular medium on social channels, we focused even more efforts on real-time video in 2016 than our coverage in 2015 and saw an increase in video views and total social media engagements 150% and 112%, respectively.
2015 New York City Marathon with ASICS America
To create buzz around ASICS, the footwear and apparel sponsor of the 2015 NYCM, Red Door paired with influencers to deliver an authentic experience of marathon participation—sharing their journey all the way from the start of their training to the end of the race. For three months, we partnered with a photo and video team to help curate influencer-filmed footage to show what it was like to be, or become, a marathoner, allowing the online audience to connect with these event stories on an emotional level, even before the event occurred. In total, the webisode series garnered over two million video views on ASICS owned channels.
To extend event participation to those who may not have been running, but instead were supporting a runner, we created a digital marathon sign generator, filled with crowd-sourced phrases. The sign generator was visited over 11.5K times and 842 digital signs were shared on social media. To further the offline integration, the top shared signs were printed and handed out along the race course on marathon day.
HEOS House Party with HEOS by Denon
Denon had previous experience attending trade shows and various technology-related events, but in 2016, they asked us to help identify additional lifestyle-related music events where they could showcase their products' immersive sound experience to the public. We pinpointed the 2016 KAABOO Del Mar "mixperience" as an opportunity to create an engaging, hands-on experience for festival goers.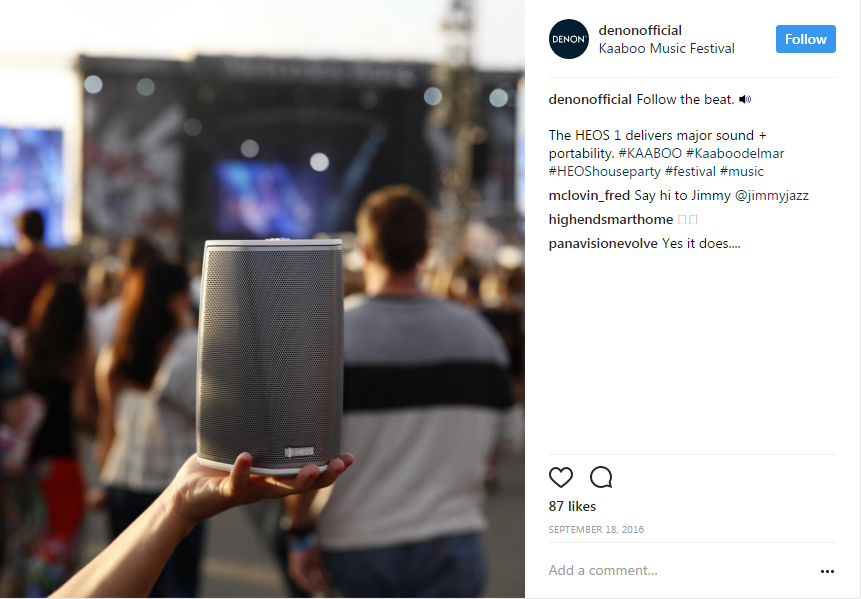 However, because we didn't want to just be another booth in a sea of branded pop-up tents, we decided to bring to life the full at-home sound experience by hosting the ultimate HEOS House Party—complete with our own mini house, a kegerator full of local craft [root] beer, and HEOS-branded red Solo cups! Along with inviting event attendees to participate and share their experience via a photo booth, real-time posts on the brand's social channels, and an hourly speaker giveaway contest that engaged both event attendees and online followers, we invited two influencers to the event to share their experience with their digital audience. These efforts lead to a hashtag reach of over 5.8M and 1,550 contest entries.
French Open with ASICS
In an effort to help grow share of voice in the tennis industry, we worked with ASICS to create an event strategy for the Roland Garros (a.k.a the French Open). From aligning on main messages and integrating on-the-ground activations, to creating a visual storyboard and working directly with a photographer, we were able to tell the athletes' stories during the tournament—and all from our couches in San Diego (remember that time difference, people!).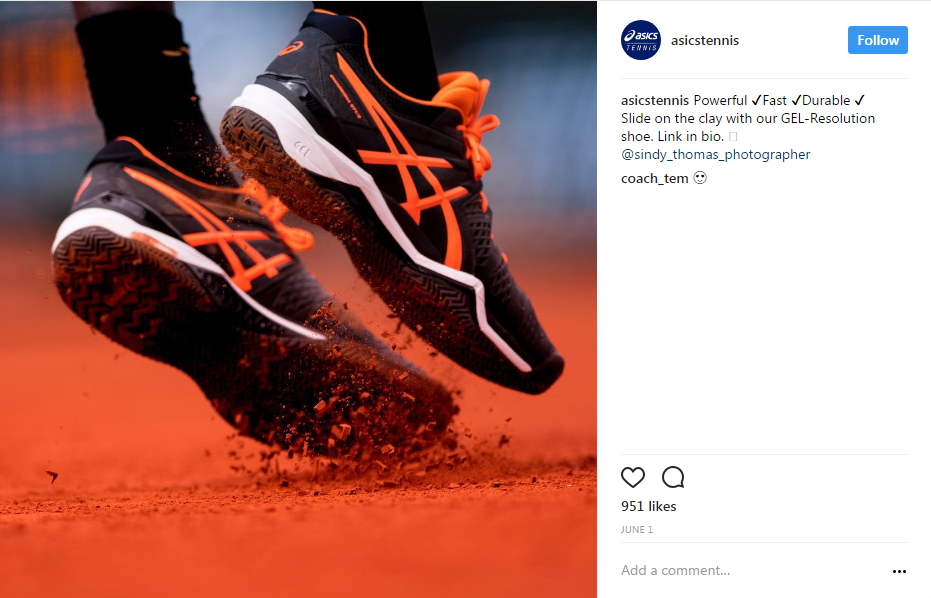 Covering remote events takes alignment from all teams on and off the ground, a clear communication plan, and often some work at odd times, but making sure we're bringing an awesome experience to our clients' consumers is always first and foremost. While our experience with event coverage spans a range of industries and event types, we've noticed (and likely you have now, too) a few trends as it relates to performance across these different initiatives, including: an increase in share of voice around the client, increased engagement with owned content, and the amount of quality content that can be produced on-site and used for ongoing content creation.
We want to continue this coverage! Leave us a comment below and tell us of an event coverage campaign you enjoyed seeing online, or tweet to us @reddoor.
Social Media
Event Marketing
Work