For most beer enthusiasts, Stone Brewing needs no introduction: as a trailblazer in the craft world, they're already known and celebrated for their bold, in-your-face approach and fierce dedication to quality. But as consumer behavior has continued to evolve, Stone set out to develop a new style of beer, with a whole different vibe—a Mexican lager called Buenaveza.
Crisp, flavorful, and downright crushable, Buenaveza is the first of its kind in an arsenal of IPAs. To ensure they could generate as much awareness and hype as possible, Stone looked to us to position their exciting new beer, and create a summer campaign that would launch it to the masses.
The challenge: Breaking into new territory
With this opportunity came a unique challenge: not only did we have to find our way into a crowded market, but also appeal to a different mindset and larger audience set than what was typical of Stone in the past. In doing so, we also had to strategically align on how to leverage the Stone heritage—while it was important for consumers to know that Buenaveza was backed by the same high level of quality and experience, we wanted it to be able to stand alone as its own brand, with the potential to open up new avenues in the future.


The approach: Leaning into SoCal authenticity
After digging into consumer research and the competitive landscape, we developed a strategic message to serve as our campaign north: "Buenaveza inspires better." It's a singular thought, but carries a bold message, and so our first task was to explore the different ways of unpacking this proposition. There was the legacy perspective, positioning Buenaveza as the next iteration in a long line of superbly crafted beers, but also a rich story around ingredients, getting into how Buenaveza is brewed with real sea salt and lime. After developing and working through several creative ideas, we arrived at a concept centered on capturing the Buenaveza lifestyle—thus coining the mantra, "It's All Buena."
But what makes that lifestyle different? Taking a look at the other big players in the Mexican lager category, we determined that we weren't trying to compete for the same space: we wanted to establish a position that could be uniquely our own. We don't claim to be a Mexican brewer, but rather inspired by the flavors and styles that have helped shape the Southern California culture we're a part of. To us, this lifestyle is less about escaping to pristine beaches and more about enjoying a surf session with your buddies; real people sharing experiences together in favor of posed models picked out of a magazine. Because to us, "It's All Buena" is an anthem, an authentic SoCal vibe that Buenaveza fits right into.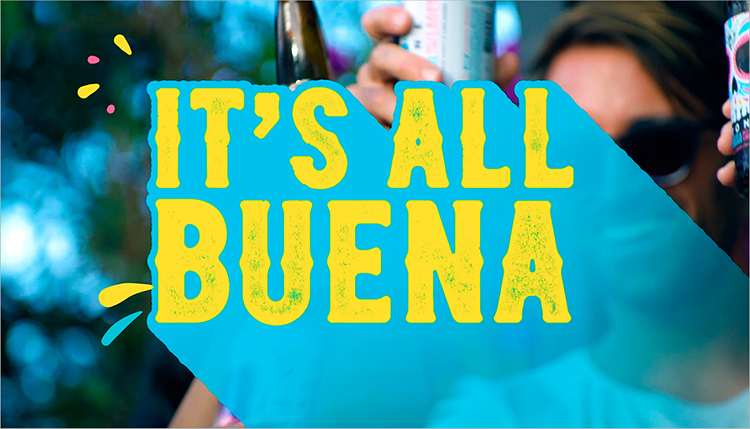 The execution: Crafting the "It's All Buena" look & feel
In building this campaign, we started by brainstorming all the scenarios that could be accentuated by an ice-cold Buenaveza—watching a ballgame with friends, coming in from a day at the beach, gathering around a backyard BBQ. We wanted to make sure everything felt aspirational yet still real, with a welcoming tone that was instantly relatable. From there, we built eye-catching posters, digital ads, and other creative assets to bring these Buenaveza experiences to life, taking cues from the product packaging for an extra fun flair. Lastly, to really make a splash in the market, we concepted, scripted, and produced a 30-second commercial. It was a whirlwind effort spanning three days and five filming locations, but ultimately we were able to round out our campaign with a spot that captured the Buenaveza mindset.
Since launching in the summer of 2021, the "It's All Buena" campaign has already seen a lot of positive reception, and we are looking forward to working and growing alongside this exciting brand in the seasons to come.
Good insights. Good teamwork. It's all buena.
Cheers.