All SEO people understand the importance of optimizing for those high-volume, non-branded terms that have the potential to drive a boat load of traffic to your site. However, while these terms should definitely be a huge part of your overall SEO strategy, you can't neglect all of the branded search queries your business can generate from its other brand marketing efforts.

For a lot of businesses, branded terms make up the majority of their organic traffic. If people are looking for your brand or products by name, its likely they are deep in the sales funnel, just dying to throw their money at your business. A study back in 2012 found that branded keywords have over 2x higher the conversion rate than non-branded keywords. So, if a huge chunk of your organic traffic is coming from branded search queries, and these people are more likely to convert, then optimizing for your brand on the SERPs (search engine result pages) should be an integral part to your SEO strategy.
3 strategies to optimize for your brand
Anchor Text
First, you need to make sure you are ranking for your own brand name. In a world where almost every word in the English language has been trademarked, it can be difficult to 1) find a business name and 2) compete with all the other organizations or people out there with a similar name. Even a coined name can have stiff competition. This is where solid anchor text becomes so important.

Anchor text is the visible, clickable text in a hyperlink. Google uses the anchor text to decipher what the pages on your site are about.

Nixon, a watch making company from California, is a good example of how important anchor text and branded searches can be for a business. Richard Nixon, the 37th president of the United States, was quite the hurdle to jump over on the SERP. The search "Nixon," which currently has over 100,000 searches a month, used to be taken by the ex-president.

BEFORE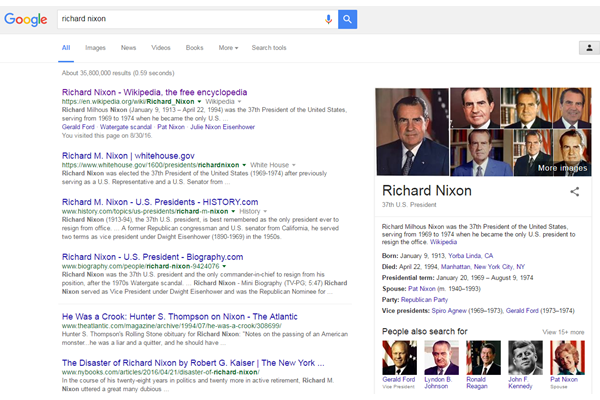 Ouch! That would not be cool to have the only U.S. president to resign from office rank in front of you for your brand name. So the guys at Nixon launched a strong link building campaign with an emphasis on anchor text that needed to come in the form of "Nixon" or something similar like "Nixon Watches" to help Google make out the difference between the two. No "click here" crapola.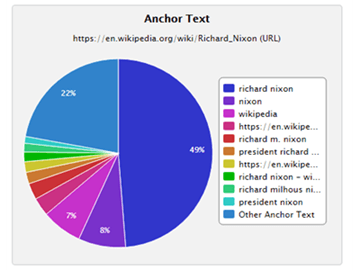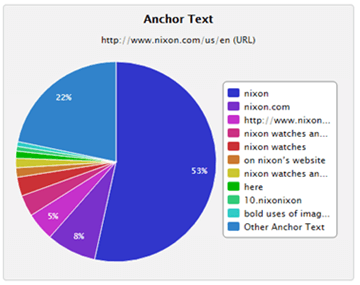 Google was quickly able to conclude that people searching by "nixon" MUST be referring to the watch company and not Richard Nixon who usually gets referred to by his full name. Above, you can see the difference in anchor text for Richard Nixon and the brand Nixon. "Nixon" made up 53% of the anchor text for the brand while only 8% for Richard Nixon's Wikipedia page. The clear differentiation in anchor text surely made an impact.

AFTER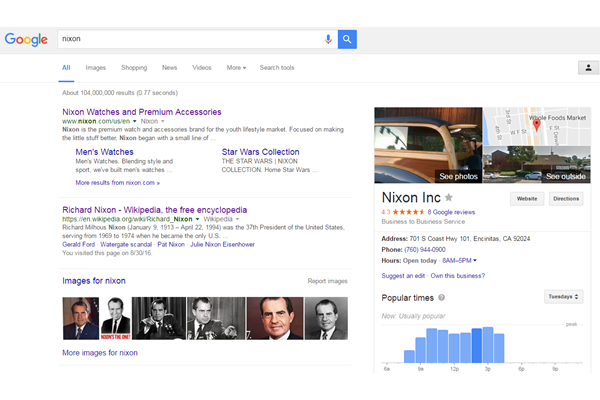 Most new businesses expect to rank for their brand and product names right away, but too often are disappointed to find that it's not that easy. My buddies at Seager Co, a western surf style clothing brand in their first year of business, were discouraged to see that Corey Seager, a young rookie on the Dodgers, dominated the whole first page of Google for the term "Seager."
My advice: build some solid links with "Seager" or "Seager Co" as the anchor text and hope that Corey gets sent back down to the minor leagues…of the SERP, that is.

Serve up the right pages
Once you are ranking for your brand, the second thing you need to consider is what is actually showing up from your site. It's not enough to just make it into that first spot!

Your most relevant and useful pages should be showing up to help answer queries about your brand or products. This is typically the homepage or product category pages. For example, you wouldn't want your contact page ranking for your brand name. Make it as easy for the searcher as possible to get the information they are hunting for.

Your title tags and meta descriptions should clearly show the searcher that they are in the right place. Once they click, the site should be easily navigable and help guide the consumer to what they need.

To fix any issues here, start by finding all your branded terms, including mid and long tail terms people search by, and identify returning results that aren't optimal. Prioritize by search volume and the searcher's intent, then fix them up with some simple on-page optimization. Shouldn't be too difficult when dealing with branded terms.

Rand Fishkin sums it up best in his White Board Friday feature below:
Own the first page
Alright, you're feeling pretty good now that you're showing up for your brand AND the right pages are showing up for the appropriate searches. But don't stop there compadre—it's time engage in complete domination of the first search engine result page.

A recent study shows that the top 5 results account for 68% of all clicks. Results from 6 to 10 are less important, but I like the idea of owning the whole first page. Don't you?

Paid Search
If you want to own as much real estate on the SERPs as possible, paid search is a must. Other brands could be bidding on your branded terms, dropping them right in front of everything you are already showing up for. It's considered a best practice to bid on your own brand terms because the CPC is cheap and it's worth owning that extra real estate to ensure that click.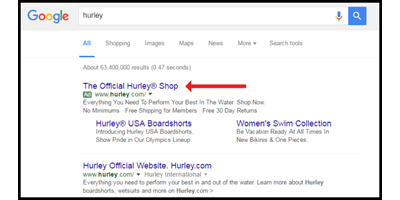 Sitelinks
Sitelinks are the 2-10 links that show up underneath your first organic result. Sitelinks are important because they take up a ton of room and function as an outline of your website on the SERPs, with navigation to your other important pages. Google ultimately determines whether it provides sitelinks or not, but you can help Google out by submitting an XML sitemap and having a website with a logical hierarchy. If pages are showing up that you don't want under your result, you can easily demote them on your search console account.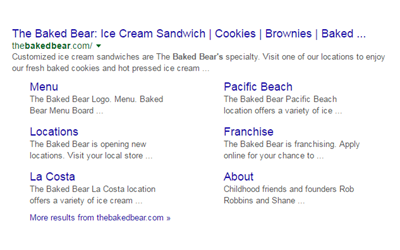 Search Box
If you have an internal search function, then you have a solid chance of a search box showing up on Google. If it doesn't seem to be showing up, you can create some simple schema markup so Google can identify it on your site and put it on the SERPs for you. Search Engine Land has a great article about schema markup and shows how easy it can be to inject into your HTML.

Knowledge Graph
Google introduced the knowledge graph back in 2012 to help users discover information quicker and easier. Knowledge graphs are starting to show up more and more for small businesses. It's definitely not out of reach if you are a smaller or newer brand. All it takes is, again, some simple schema markup and you could make it into that fancy box over there on the right side. A lot of times, businesses have a knowledge graph already populating, but there is room for improvement. Google pulls information automatically from your site and can miss things if you don't make it easy for them. You want to make sure that you have all your social channels, a solid description, reviews, and accurate contact information, etc. correctly showing in that highly visible graph that draws the eyes of searchers.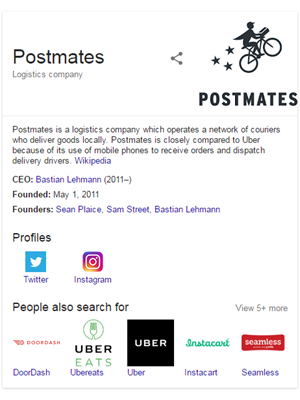 Map Results
If your business has a brick and mortar location, you should make sure map results are showing up when people search for you. To do this, you need to make sure your business is registered through Google My Business so Google can access and display your map listing with the correct information.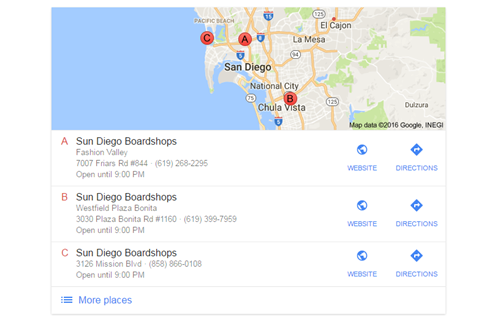 Barnacle SEO
Now let's talk about how to steal the rest of page 1. You can claim this space by using social media giants like Wikipedia, YouTube, and large review sites and latch onto their ranking power—thus the term "barnacle." By making sure your business has a strong presence on a variety of platforms, you have the chance of having page 1 all to yourself. When your brand is searched, these sites should take up the rest of the page, below the fold.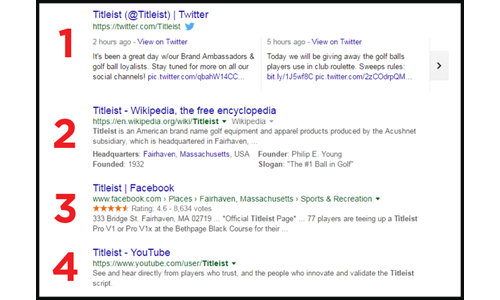 In conclusion, branded searches are extremely important and can't be overlooked. Your brand campaigns that take place on social media, PPC, and many other channels do all the hard work, finally leading to that branded search. It can often be a last channel touch point for consumers who are about ready to convert on one of your products or services. By applying these few, easily implementable strategies, you can help your brand stand out on the SERPs and provide a better experience to the user.
Insights
Search Engine Optimization